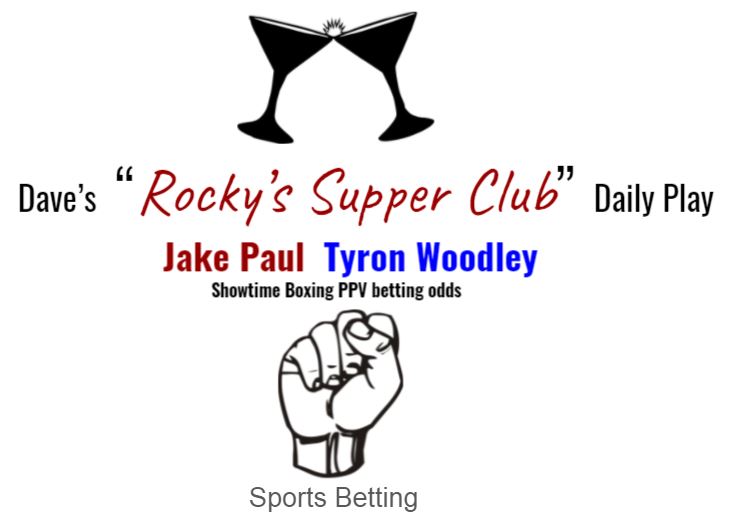 Jake Paul v Tyron Woodley: Betting Preview
Dave Carney 8/25/2021
What's on the table today?: Jake Paul v Tyron Woodley Showtime Boxing match
I admit, I never thought this idea of YouTube star turned pro-boxer had much legs. I never thought Jake Paul, or his brother Logan, would be able to survive an actual fighter of any professional accord. I was wrong.
After Jake Paul knocked out Wisconsin's own Ben Askren, I started to think there might be a lot more to these Paul brothers than I originally gave them credit for and I'm not alone in that camp. As a matter of fact Mike Tyson, Evandar Holyfield, and Floyd Mayweather have all co-signed their support or actually SIGNED up to be a part of an exhibition (Mayweather did that) showing these guys really do have a draw, and really do deserve some modicum of respect in the ring.
This Saturday in a Showtime PPV the former MMA champ Tyron Woodley is taking on Jake Paul in a boxing match that once again see's Jake Paul as a betting favorite. No, this is not a misprint……Paul is favored quite heavily to beat Woodley.
Online sportsbook Bovada has released the Jake Paul vs Tyron Woodley odds with Paul listed at -200 and Woodley coming back at +160. This means you would have to bet $200 to profit $100 with a Paul win, while a $100 bet on a Woodley victory would profit you $160.
Looking at the Paul vs Woodley odds, our sports betting calculator tells us Paul's odds of -200 represent an implied win probability of 66.67 percent while Woodley's odds of +160 have an implied win probability of 38.46 percent.
there are things Paul does that are very impressive. When he fought Askren, he hurt the former Olympian to the body with a straight right, which opened up the shot to the head a little later and put Askren down.
Woodley was always very adept at maintaining distance and then blitzing forward with incredible power that often dropped his opponent. This is a step up in competition for Paul, though he is the younger fighter and definitely has deceptive power.
This fight is legit, and has been a work-in-progress for some time, so the anticipation by both fighters is real. I know that Paul has been a surprise in the ring, and he very well may continue this surprising win streak on Saturday but I've see too much of Woodley in his career to bet against him here.
Yes Woodley is 39, and yes Tyron has lost 4 in a row…but those were in the cage and this is in the ring. I'm cautiously optimistic that Woodley takes this one and at +160 I like the value.
My Prediction: Woodley wins in a decision
---
**For more info on TOTAL plays, OVER/UNDER, and PLUS/MINUS plays, TEASER cards and more, check back through some previous columns for detailed information**
REMEMBER – don't bet based upon my recommendations. Do your research. Stay in your lane