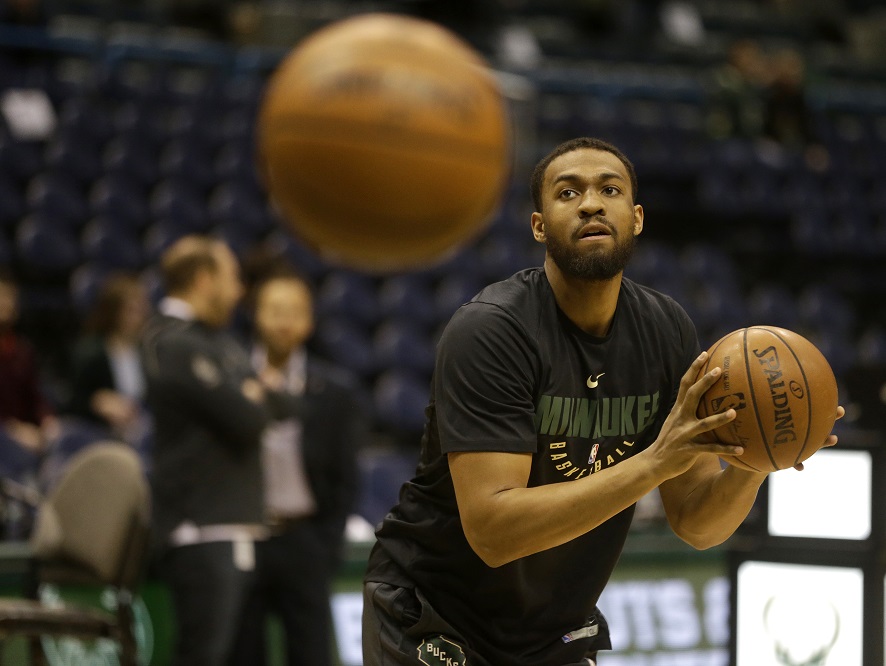 The Bucks need to trade for DeAndre Jordan now, even at the expense Jabari Parker.
The Milwaukee Bucks need to do whatever they can to land Clippers center DeAndre Jordan.
They need to do it now. Trade Jabari Parker if needed.
At first glance that might sound crazy, and makes me look unqualified to do my job. That's probably true on both accounts but hear me out. I am not advocating for the Bucks to trade Parker, unless they absolutely have to, and if then, under some very specific conditions.
A few weeks back Skradie and I were recording one of our post-show podcasts (Overtime), and we discussed the idea, based upon the initial rumor of Jordan coming to the Bucks. How much would it take, who would the Bucks have to give up, and should they be willing to give up Parker in a deal?
We decided, after a very brief debate, that the Bucks should be willing to do pretty much anything to get Jordan – except trade Parker.
After the loss to the Indiana Pacers on Tuesday night however, a debilitating 109-96 embarrassment that wasn't as close as the score indicated, it became painfully clear the Bucks need to pull out all the stops and go after the only center currently in the NBA that actually has a skill set antiquated enough to be perfect. At least for Milwaukee.
The current NBA features a "stretch" player at almost every position, widening the court to up-tempo and free-wheeling play opportunities, even for the big guys that used to have to lumber around the paint. What happens often times for the "stretch" bigs is this: They fall in love with scoring, taking flashy 3s, and ultimately caring less about what it is a center is traditionally charged with, manning the middle.
Jordan will have none of these problems. Jordan can't score outside of six feet, which is precisely what the Bucks need. Jordan is a hyper athletic throwback that doesn't need to score, doesn't need the ball to be productive, and gobbles up rebounds and blocks like they're going out of style, which sadly they are.
The Bucks issues don't have much to do with offense, even though they can be inconsistent at times. Giannis Antetokounmpo provides enough prowess that he's claimed second in the race for the NBA scoring title, Khris Middleton can drop 20-25 a night and make it look easy, and Eric Bledsoe has the potential to break out huge every night. The issues for the Bucks are squarely on defense, and that's why, under the right circumstances, it may be time to consider trading Parker to get it done.
Parker remains one of the most fascinating players for the Bucks for a couple of reasons. One, he showed some serious potential when did play. Two, he didn't play much, and that leaves more to the imagination.
What the Bucks do about Parker – he will be a restricted free agent at the end of this season and trends in the NBA show he will get a maximum-contract offer at least one team, if not a few. The Bucks can ultimately match any deal with the provisions of the rookie contract, but that would carry its own risk because Parker will know the Bucks didn't want to sign him to the kind of deal they signed Antetokounmpo, but perhaps felt they had to in order to remain in control of his playing fate.
With Parker coming off his second ACL injury, to the same leg, in the span of less than three calendar years, the Bucks are sure to be extra cautious with his rehab, letting it take as long as they can reasonably get away with, and extra cautious you'd assume with his contract.
Now that I've laid out the risks with Parker, his contract, and some of the reasons the Bucks should be willing to at least entertain the idea of trading him, I'd like to re-state my initial point. I don't want the Bucks to trade Parker. I think he's still got a very bright future. I also don't think the Bucks will ultimately have to trade him either, but if they do, it'll have to be under some very specific circumstances.
The mechanisms of how a Jordan trade to the Bucks could work surprisingly offer both teams some pretty good options when compared with the kinds of trade deals some teams have had to take just to unload or acquire certain players.
The first scenario in a Bucks/Clippers trade for Jordan would not include Parker. It would however have to include another young piece of the Bucks hopeful core, Thon Maker. In order to make the numbers work, the Bucks would also have to include a combination of Mirza Teletović, Tony Snell, Matthew Dellavedova or John Henson. Maker, with a combination of two of those players, plus the Bucks first round draft pick in the 2018 draft might be enough to get a deal.
From the Bucks perspective you do give up a lot in the potential department with Maker being called a future MVP by former MVP, Kevin Garnett. You also lose the right to take a player in the middle of this year's draft, supposedly loaded with talent, that could also help the team long term, and possibly right away. The Bucks would also lose a couple of less than desirable contracts, while netting the difference maker in Jordan they sorely need.
For the Clippers, a couple of serviceable veteran players to accompany Blake Griffin, and a load of upside with Maker and the 2018 draft pick.
Likelihood of this hypothetical scenario working out (according to me): 75%
In the second scenario for a Jordan-Bucks marriage, there will be some serious seller's remorse to be sure, as Parker would find his way out of town. The deal for Parker will be one of the most debated in team, and perhaps, league history, if Parker reaches full potential and turns into the perennial all-star Bucks management envisioned when they drafted him No. 2 four years ago. If the Bucks win a championship with Jordan, Antetokounmpo, Middleton and Bledsoe though, a lot of that seller's remorse will be forgot.
The working parts in this deal would be quite a bit more complicated that the first, but may be the only solution to getting a deal done if scenario one doesn't pan out.
Bucks trade Parker, Dellavedova and John Henson. These players MUST be included as their contracts vs. production are horrible and need to be shed.
Clippers trade Jordan along with their 2018 1st round draft pick (top three protected they received from the Atlanta Hawks). The Hawks are horrible this year, and will be for the foreseeable future. Even if the Hawks pick falls into the top three, the rights to the pick will remain with Milwaukee until pick protection expires. This is how the Celtics got so good so fast – future first rounders, kicked down a couple years, that turned into gold.
Clippers trade their 2019 1st round pick (top 14 protection from the Grizzlies). Same situation applies as the Bucks will either draft outside of protection in this year, or wait until pick protection expires.
Clippers trade their 2020 2nd round pick.
The obvious take away for the Bucks in this hypothetical is the loss of Parker. The obvious take away for the Clippers in this instance is the loss of not only Jordan, but a boat load of draft leverage that they made need to facilitate other deals in the future. Would either team really be willing to give up so much just to make a deal?
Likelihood of this hypothetical scenario working out (according to me): 25%
After examining all of the possible ways Jordan could make his way to Milwaukee, I'm actually left with more questions than answers on the "how." The "why" on the other hand is clear as a bell. The Bucks will be nowhere but treading water until they can get a real difference maker in the middle. The only player the Bucks can get that would fill that role is Jordan, and they have to go after him like the franchise depends on it., because it may.