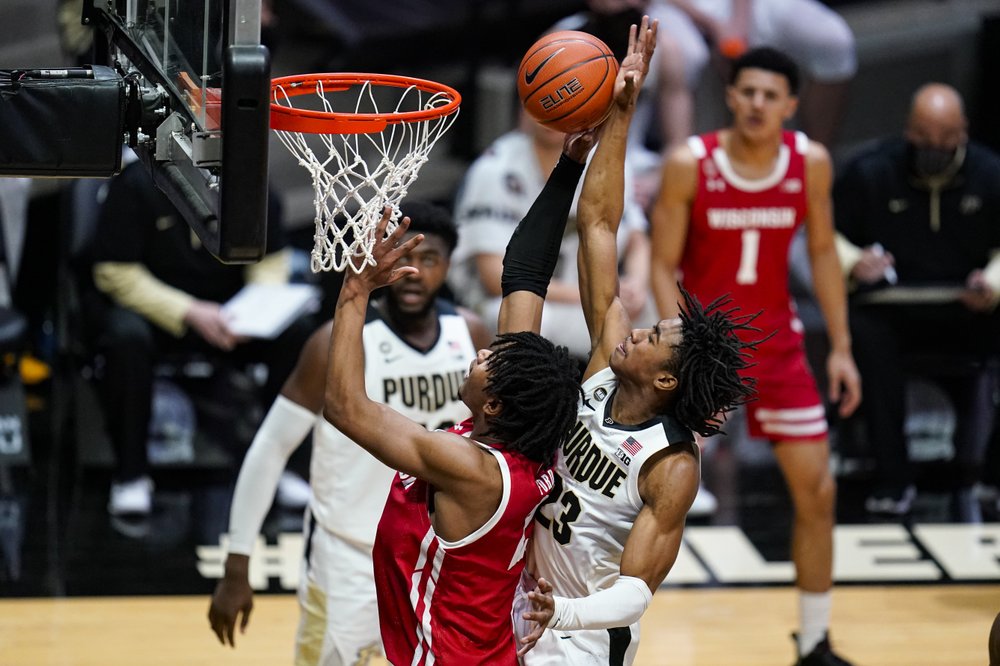 Nearly a career low in minutes Tuesday for La Crosse native Jonathan Davis, in another loss for the University of Wisconsin men's basketball team.
Davis scored two points on 1-of-4 shooting in 16 minutes of action as No. 23 Purdue beat 25th-ranked Wisconsin 73-69. The 6-foot-5 freshman did have two blocks and two rebounds.
Off the other bench, 7-foot-4 freshman Jaden Ivey scored a career-high 21 points, including nine straight during one stretch, in 18 minutes to lead Purdue (17-8, 12-6 Big Ten).
Scoring just two points has happened only two other times this season for Davis, who also went scoreless one time.
The Badgers (16-10, 10-9) have lost four of five — all to ranked opponents. The lone win came to unranked Northwestern.
The regular-season finale doesn't get any easier, as the Badgers take on No. 5 Iowa at 11:30 a.m. Sunday on FOX.
---
TOP PHOTO: Purdue guard Jaden Ivey (23) comes from behind to block the shot of Wisconsin forward Aleem Ford (2) during the first half of an NCAA college basketball game in West Lafayette, Ind., Tuesday, March 2, 2021. (AP Photo/Michael Conroy)