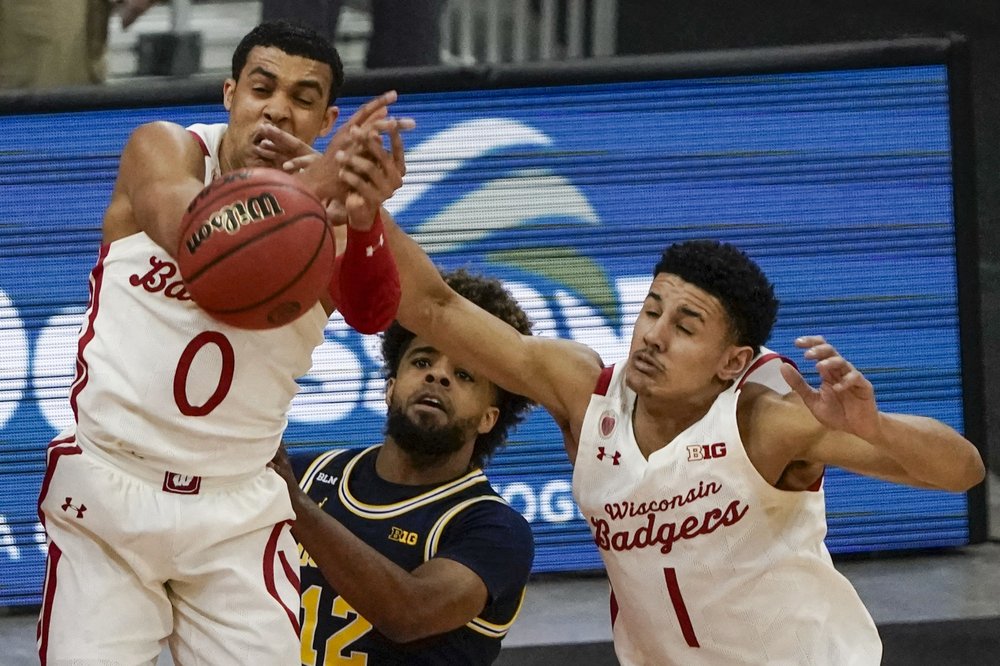 La Crosse's Davis scores 11, but rest of Badgers go cold in 2nd vs. No. 3 Michigan
The University of Wisconsin men's basketball team had one basket in the final 7 minutes, 45 seconds Sunday in a 67-59 loss to third-ranked Michigan at the Kohl Center.
That lone field goal came from La Crosse native Jonathan Davis with 4:45 remaining, putting No. 21 Wisconsin up 55-54.
Wisconsin hit four more free throws after Davis' jumper, and were outscored 8-0 in the last 1:52.
The Badgers scored just 20 second-half points, after being up 39-27 at halftime.
Davis scored eight of his 11 in the second half, going 4-for-5 from the field. The rest of Wisconsin (15-7, 9-6) shot 3-for-23 in the second half, missing its last 11 3-pointer against Michigan (14-1, 9-1).
Up next for Wisconsin, No. 15 Iowa on Thursday at the Kohl Center. Including Michigan, the Badgers play ranked opponents five of their final six regular-season games.
---
TOP PHOTO: Wisconsin's D'Mitrik Trice and Jonathan Davis go after a rebound against Michigan's Mike Smith during the second half of an NCAA college basketball game Sunday, Feb. 14, 2021, in Madison, Wis. (AP Photo/Morry Gash)