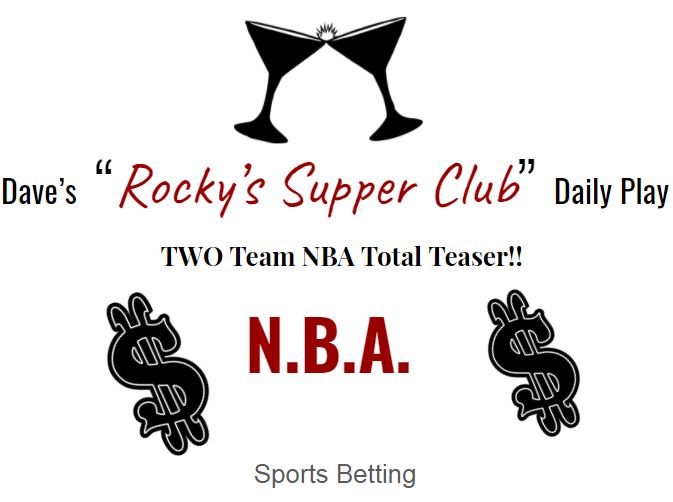 Just Teasing!
Dave Carney 1/6/2021
Overall record: (1-0 on NBA Totals) / (0-1 (ATS) NBA) 
How did I get here?: Yesterday I picked up my first win of the New Year as the T-wolves and Nuggets easily went OVER the Total of 226 in a Denver 123-116 win at the Pepsi Center.
The free-flowing style of play is exactly what we expected considering both Denver and Minnesota don't play particularly good defense, and both teams do have the ability to score the ball; the Nuggets more than the Wolves, but both clubs can put the ball in the hoop.
The point spread for this game yesterday looked way too big (DEN -11) at tip, I decided I wanted no part of it, and that turned out to be a good call with the Nuggets margin of victory being just 7 points.
Total betting, along with Teasers, which I'll get back into below, are looking to be the thrust of my 2021 NBA strategy.
**For more info on TOTAL plays, OVER/UNDER, and PLUS/MINUS plays, TEASER cards and more, check back through some previous columns for detailed information**
What's on the table today?: Thanks to my friends at Betnow.eu I was able to find a Two-Team-Teaser for two of tonight's NBA games, utilizing the TOTAL's for the action.
The Two-Team-Teaser works the same as a Four-Teamer (which we covered in past column's), but the odds can be tricky when trying to find Two-Teamer's utilizing the TOTAL number for the bet.  When betting against the line (point spread) in the NFL or CFB, you can adjust the number by 6. In the NBA generally you'll get 4 or 5 points to start, and that holds on Betnow.eu when placing a Two-Team-Teaser on the TOTAL number.
It's always important to consider when betting Teasers or Parlays what kind of odds you're getting from the book. It's always fun to win, but if you're paying too much for the win (i.e. taking disadvantages minus money odds) over the long run it will be a BAD strategy. With Betnow.eu in today's play, I'm going to bet two NBA games, use the TOTAL numbers, and will only pay -110/100 (standard for most all bets), meaning I will use my regular metric of betting $110 to win $100.
https://www.betnow.eu/sportsbook-info/teasers (Go HERE for more info or to sign up)
Today I'm going to tease these two match ups and will back it up with some solid stats:
(NYK/UTA) TOTAL of 213 ½ (UP) five points to 218 ½ (taking the) UNDER 
(MIA/BOS) game TOTAL of 218 (DOWN) five points to 213 and take the OVER.
Starting with the Knicks and Jazz game we see great trends to the UNDER play (even without the tease) and the Knicks hit hard by injuries. New York tonight will be without as many as five regular rotation players and struggles to score averaging just 103.3 per game. The Knicks are also playing solid D no matter who's on the floor thanks to new coach Tom Thibodeau, giving up just 105.1 a night.
The Jazz likewise a good defensive team allowing a bit more than the Knicks at 110, but average just 109 a game despite some offensive explosions in the early offerings.
Both teams are hammering the UNDER plays this year with New York coming in UNDER in 71.4% of their games this season while the Jazz are hitting the UNDER 57.1% of the time. By virtue of our tease, we now take a line of 213, bet it UP to 218 and feel really solid about the UNDER play. I can easily see a 101-96 type of game here.
Moving over to the Heat and Celtics in Miami, as this is where our tease really comes into play. The total is 218, and Boston can score putting this total in a tricky spot. The Celtics are averaging 113.4 on the season, but over 116 in their last five. Miami is averaging just 105.8, but Boston is giving up 112.5 making the OVER, even without the tease a decent play. However, without Kemba for Boston, and a really up and down Heat team this is a dangerous total. 
When we tease the total of 218 (down) to 213 however, and take the OVER, now we've put ourselves in pretty good shape to cover that number.
The Celtics have also been good on the OVER front when entering the game as an underdog, which they are tonight (+3.5), going 3-1 in the OVER as a dog, and 2-0 as a road dog.
Since I liked both of these games on their own merit, taking the totals, I wouldn't have necessarily thought of teasing them had I not found such great action at Betnow.eu. One thing I cannot stress enough as I get deeper and deeper into this world of sports betting is the importance of shopping odds. If you're getting TERRIBLE odds, it doesn't matter how many times you win, you'll NEVER make money…and that's what this is all about.
Oh yea, and fun too!
REMEMBER – don't bet based upon my recommendations. Do your research. Stay in your lane.