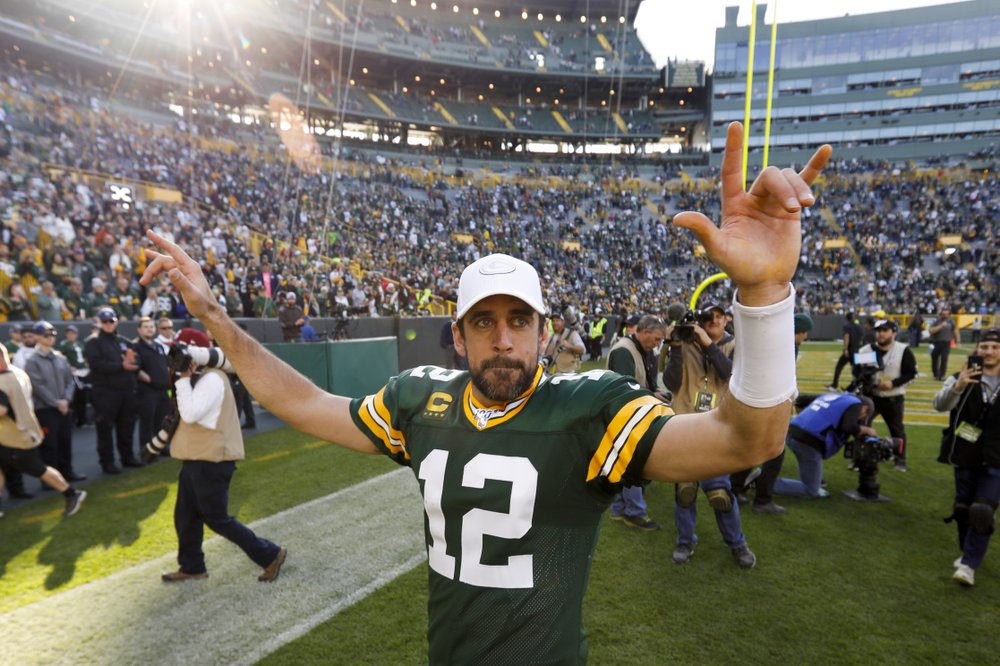 Aaron Rodgers for MVP?
It's funny how sports science works — at least I think it is because I don't really know what sports science is. I think it means that if you're an athlete, and somebody shades you, or decides to knock you off your pedestal before you're ready, you're scientifically driven to go out and try to kick some ass.
This morning I started noodling on something — something that very well may turn out to be sports science. In 2011, and again in 2014, the NFL released its list of its Top 100 players. This is a list of all of its Top 100 players, not just the specific position group.
Both those years, Aaron Rodgers didn't make the list. Again, this is a list put out by the NFL.
Now, if you're a Green Bay Packers fan, you might already have an idea what 2011 and 2014 were for Rodgers — MVP seasons.
In 2011, Rodgers may have had his crowning, on-field statistical achievements — throwing for well over 4,500 yards and 45 touchdowns. The fact that Rodgers threw just six interceptions that season highlighted what an incredibly efficient, surgical-like, tactician he was on the field.
The 2014 season didn't see Rodgers reach the same number of touchdowns ("only" 38), but his play on the field was, once again, masterful.
Every season since Rodgers has become a starting quarterback for the Packers — and been mostly healthy — he's only thrown for less than 4,000 yards twice. He has never thrown fewer than 25 touchdowns in a season in which he's played most of the games.
In 2019, to many, Rodgers regressed big time. Even though the Packers won 13 games, went to the NFC Championship, and were being led by a first-year head coach, the fact that Rodgers was a tick off from vintage "Aaron Rodgers," set alarm bells ringing. I can't say I didn't think Rodgers looked a little different, but I mean, come on, he had a first-year coach, a new system, and he is getting just a "little" older.
What the Packers did in 2019 should actually give more credence to the fact that Rodgers could win an MVP in 2020. Rodgers still threw for over 4,000 yards, still had 26 touchdowns to only six interceptions and, again, the team reached the damn conference championship!
Installing that offense for a second consecutive year, adding weapons like AJ Dillon, and Josiah Deguara, might just turn this Packers offense into something the 49ers had last year. Which again, nearly won a Super Bowl, and beat the pants off the Packers.
It's hard to say that Rodgers will have the kind of statistical season he enjoyed in 2011 or 2014, but it's not really that much of a stretch. In 2014, Rodgers threw 38 touchdowns, and yes, led the Packers on a great run. But who's to say that couldn't happen again this year? What the threshold for becoming an MVP for Rodgers is really the question mark. He's set the bar pretty high.
I would surmise that in sports science terms, we'll see a motivated Rodgers, after his team drafted Jordan Love in the first round, didn't draft him a wide receiver, and he's heard all the talk that he won't finish his career in Green Bay.
Rodgers is going to really be motivated.
If the Packers can repeat the same success they had last year, hopefully even get a little further — maybe a Super Bowl — and the numbers commiserate with even something close to last year, I think Rodgers has got a great shot to be MVP.
So much of this is still, pie-in-the-sky, but ask any sports scientist and they'll tell you, pie is a pretty big part of the periodic table. So look out for a motivated Rodgers, and possibly another MVP season.