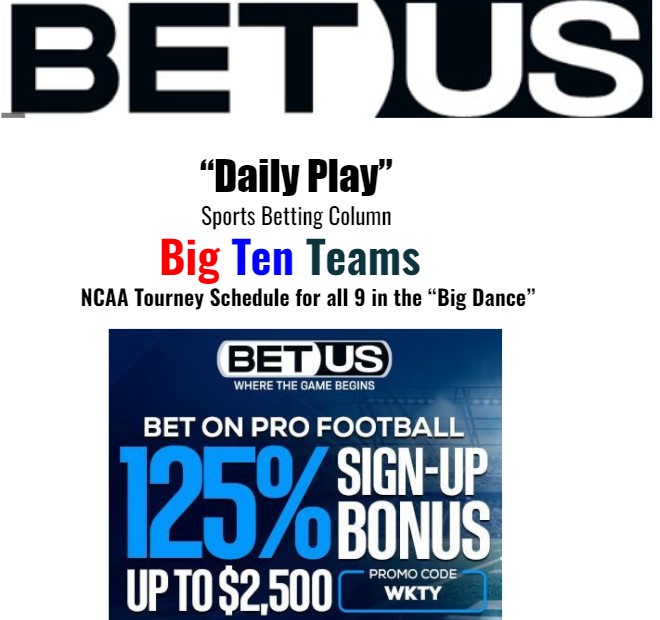 Big Ten teams in March Madness (matchups and game times)
Dave Carney 3/14/2022      
What's on the table today?: Big Ten teams in March Madness (matchups and game times)
The Big Ten Conference has tied a conference record with nine schools selected to compete in the 2022 NCAA Division 1 Men's Basketball Championship, it was announced Sunday on the NCAA Men's Basketball Selection Show on CBS. Illinois, Indiana, Iowa, Michigan, Michigan State, Ohio State, Purdue, Rutgers and Wisconsin will all be taking part in this year's tournament. All games will be televised on CBS Sports, TBS, TNT or truTV.
The Badgers will open tournament play on Friday (March 18) against No. 14 seed Colgate in Milwaukee, giving Wisconsin a true home-court advantage, a rarity in the NCAA Tournament. Purdue will also play in Milwaukee and is matched up against No. 14 seed Yale on March 18, but it's Iowa who I've been most impressed with after this Big Ten Tourney, and a team I'm feeling could REALLY make noise in the "Big Dance".
Iowa captured its third-ever Big Ten Tournament title and its first since 2006 with a solid win over Purdue. The Hawkeyes will play in the Midwest bracket and will face No. 12 seed Richmond in the first round on March 17 in Buffalo, New York. If the Hawkeyes can get past their first 2 opponents, I think they've got a pretty decent shot to make it all the way to the National Championship game. The way Iowa has been playing since the start of the Big Ten Tournament should have ALL the teams in the field of 68 very nervous about playing them. The ascension of Keegan Murray along with the speed, quickness, and shooting of the Hawkeyes is truly formidable.
Below, the dates, times, and matchups for ALL nine Big Ten team in this years' NCAA Men's Basketball Tournament:
Tuesday March 15th: #12 Indiana vs #12 Wyoming 8:10pm TRU TV

Wednesday March 16th: #11 Notre Dame vs #11 Rutgers 8:10pm TRU TV

Thursday March 17th: #11 Michigan vs #6 Colorado St 11:15am CBS

Thursday March 17th: #12 Richmond vs #5 Iowa 2:10pm TRU TV

Friday March 18th: #10 Loyola Chicago vs #7 OSU 11:15a CBS

Friday March 18th: #14 Yale vs #3 Purdue 1pm TBS

Friday March 18th: #13 Chattanooga vs #4 Illinois 5:50pm TNT

Friday March 18th: #10 Davidson vs #7 MSU 8:40pm CBS

Friday March 18th: #14 Colgate vs #3 Wisconsin 8:50pm TBS

Sign up and wager on College/Pro basketball all season long at BetUS and use the promo code WKTY to claim your 125% deposit