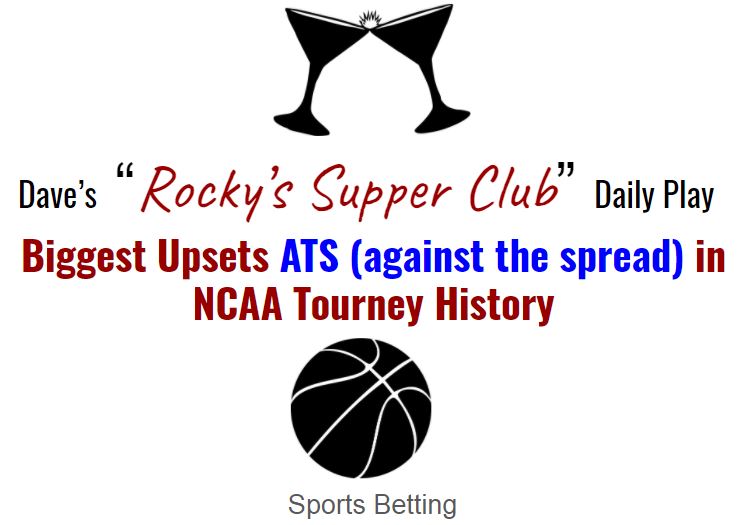 Biggest upsets ATS (against the spread) in NCAA Tourney History
Dave Carney 3/22/2021    
What's on the table today?: A look at the biggest upsets (against the spread) in NCAA Tournament history.
Over the weekend March Madness owned up to its name with a wild flurry of upsets, including #15 Oral Roberts beating not just #2 Ohio State, but also #7 Florida to become the first #15 seeds to ever reach the Sweet 16.
Other big upsets saw #13 North Texas beauty #4 Purdue before getting knocked off by #5 Villanova, #13 Ohio rocked #4 Virginia, #12 Oregon State took out # 5 Tennessee before beating #4 Oklahoma State and advancing to the Sweet 16. Number 14 seed Abilene Christian also stunned # 3 Texas 53-52, and of course, Sister Jean's Loyola of Chicago, a number 8 seed, were able to throttle the life out of number one Illinois sending the Ramblers back to the Sweet 16 for the second time since 2018.
These upsets, not even including Wisconsin's surprising 85-62 win over UNC on Friday, are why we love March Madness. You just never know. 
Now, taking a look back at the BIGGEST upsets ATS (against the spread) in March Madness history you'll see one thing that carries throughout: no matter how big of a favorite you're SUPPOSED to be, you better go out there and lay it all on the line. Your opponents will, and if you're not careful (this year Gonzaga, Michigan, Baylor as the number one seeds left), you're liable to get caught up and make it into this very dubious list. Thanks to Radio.com for the supreme leg work!
March Madness: 5 biggest betting upsets in NCAA Tournament history
2001 – No. 15 Hampton (+17.5) beats No. 2 Iowa State 58-57
1997 – No. 15 Coppin State (+18.5) beats South Carolina 78-65
1993- No. 15 Santa Clara (+20) beats No. 2 Arizona 64-61
2001 – No. 15 Hampton (+17.5) beats No. 2 Iowa State 58-57
1997 – No. 15 Coppin State (+18.5) beats South Carolina 78-65
1993- No. 15 Santa Clara (+20) beats No. 2 Arizona 64-61
2018 – No. 16 UMBC (+20.5) beats No. 1 Virginia 74-54
2012- No. 15 Norfolk State (+21.5) beats No. 2 Missouri 86-84
**For more info on TOTAL plays, OVER/UNDER, and PLUS/MINUS plays, TEASER cards and more, check back through some previous columns for detailed information**
REMEMBER – don't bet based upon my recommendations. Do your research. Stay in your lane