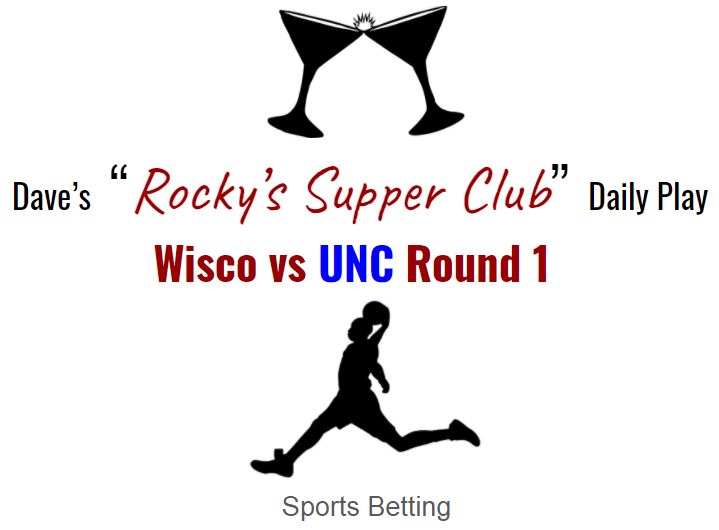 Can the Badgers beat UNC? NCAA Round 1 betting preview
Dave Carney 3/19/2021    
What's on the table today?: NCAA Tourney: Wisconsin vs UNC (Betting Preview)
If you've watched the Badgers recently, you know what I know. This team is not very good right now. Especially considering that Wisconsin was the Pre-Season #4 team in the nation according to the Associated Press.
The Badgers have lost four of their last five games, and outside of beating a weak PSU team in the Big Ten Tourney, have looked bad in the process. Wisconsin isn't being forced into bad shots each and every night which if you weren't watching them play you might think they were, they're just simply not making them. If you're in the wrong spot on the court, I'll count that as a "Coaches mistake", but if you're in the right spot as a team and you just can't make the play, that's a "lack of talent".
Over the past five games, again four of which were losses, Wisconsin is giving up more than 70 points in four of them which is a real problem since the Badgers can't score. The Tarheels on the other hand have been scoring with relative ease of late averaging over 84 points per game over their past four, while limiting the opposition to under 67 a contest. This does not bode well for Wisconsin at all.
Furthering the trouble for the Badgers in this matchup is their relative lack of rebounding prowess, especially on the defensive backboards. North Carolina is a beast on the offensive glass gobbling up a whopping 41% of their missed shots on average, meaning that if Wisconsin doesn't do a great job of boxing out and getting the defensive board, chances are they'll suffer on the second chances, reducing once again the Badgers ability to dictate pace which is key to their hopes to win.
As far as a play ATS (against the spread) is concerned, I would lean strongly towards taking UNC (-1.5) based upon the way Wisconsin and North Carolina have played of late, and because the recent trends also tell us that UNC (-1.5) is statistically a better bet:
North Carolina is:
6-2-1 ATS in their last 9 games.

3-0-1 ATS in their last 4 neutral site games.
Wisconsin is:
0-3-1 ATS in their last 4 neutral site games.

1-5-1 ATS in their last 7 games vs. a team with a winning straight up record.
The total play tonight on the other hand might be something to look at as the number opened at 142 ½ but has since come WAY down to 137….that's a big five and a half points down from the open showing that TONS of money came in on the UNDER play at 142 ½. 
With the Total now down to that tasty 137, an OVER play might be something to consider, but again, faith in Wisconsin to score enough is really what I'd be cautious of, but taking the OVER 137 seems like it could be a good play.
Any way this game works out, I hope that you can still enjoy a wild weekend of great basketball action, enjoy some really nice (at least that's the prediction) weather, and get a chance to take part in something (March Madness) that maybe you didn't even know how much you missed until it wasn't here last year…
**For more info on TOTAL plays, OVER/UNDER, and PLUS/MINUS plays, TEASER cards and more, check back through some previous columns for detailed information**
REMEMBER – don't bet based upon my recommendations. Do your research. Stay in your lane