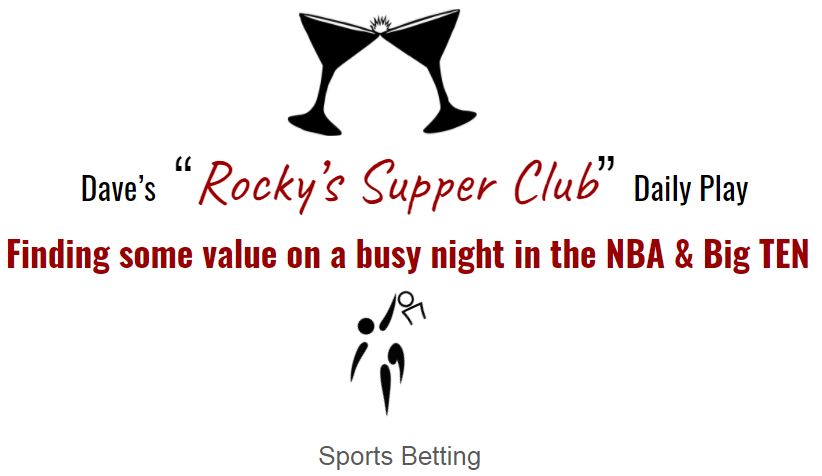 Finding value in a busy night of hoops
Dave Carney 2/2/2021
What's on the table today?: Today I'm looking to find some value in the NBA and College Hoops on what is a very busy night for both.
After reviewing the matchups I've identified these matchups which may provide some value, as well as a link to a website for each that can walk you through more of the details.
MEN'S COLLEGE BASKETBALL: Butler at Marquette (info from StatSalt.com has Marquette as the betting favorite and suggests taking the OVER, and Marquette to COVER) https://statsalt.com/games/ncaab/2-2-2021/butler-vs-marquette-prediction-4475/
Power Ratings from Scoresandodds.com however show that despite what the prediction at StatSalt says, the value very well may land with BUTLER in this matchup.
Butler  vs.    Marquette
Butler is 6-3 (66.7%) in moneyline bets in their last 9 games against MARQ for 2.45 total units won   Bet on BUTLER Moneyline
Butler is 5-4 (55.6%) in spread bets in their last 9 games against MARQ for 0.55 total units won Bet on BUTLER Spread
Butler is 6-3 (66.7%) in over bets in their last 9 games against MARQ for 2.45 total units won Bet on Over
NBA BASKETBALL: LA Clippers at Brooklyn Nets (info from ScoresandOdds.com says take the OVER) https://www.scoresandodds.com/nba/clippers-vs-nets 
However, the total for tonight's game is a whopping 241 ½ which does make you pause a bit. We know these teams can score, and we know that the Nets don't like to play D….at all, but still, 241 ½ is a big number.
My friends at ScoresandOdds.com might be onto something when all is said and done, regardless of how big tonight's total is with the Nets scoring no less than 132 points in each of their last three games. The Clippers aren't putting up THAT many points, but for Los Angeles the last three games have seen them reach totals of 129, 116, and 109. Doing some quick math says that if Brooklyn scores like they have been, and the Clippers get what they've gotten over the past few games the OVER should be the play.
For the Nets, the OVER has come in 72.7% this season to the tune of 16-6, while the Clippers have gone OVER 57.1% or 12-9 so far. 
If you're like me and making a play on that TOTAL scares you a bit, perhaps tonight would be a good night to play a PARLAY and combine the Butler/Marquette with this one or another game that interests you tonight. There's plenty to choose from! 
OTHER NOTABLE GAMES & LINES FOR TUESDAY FEBRUARY 2nd:
College Hoops:
ND (-5) vs Wake Forest
Iowa (-9 ½) vs Mich St
Baylor (-5 ½) vs Texas
Wisconsin (-8 ½) vs Penn St
NBA:
TOR (-6) vs ORL
IND (-5) vs MEM
BOS (-2 ½) vs Golden State (total 227)
 **For more info on TOTAL plays, OVER/UNDER, and PLUS/MINUS plays, TEASER cards and more, check back through some previous columns for detailed information**
REMEMBER – don't bet based upon my recommendations. Do your research. Stay in your lane