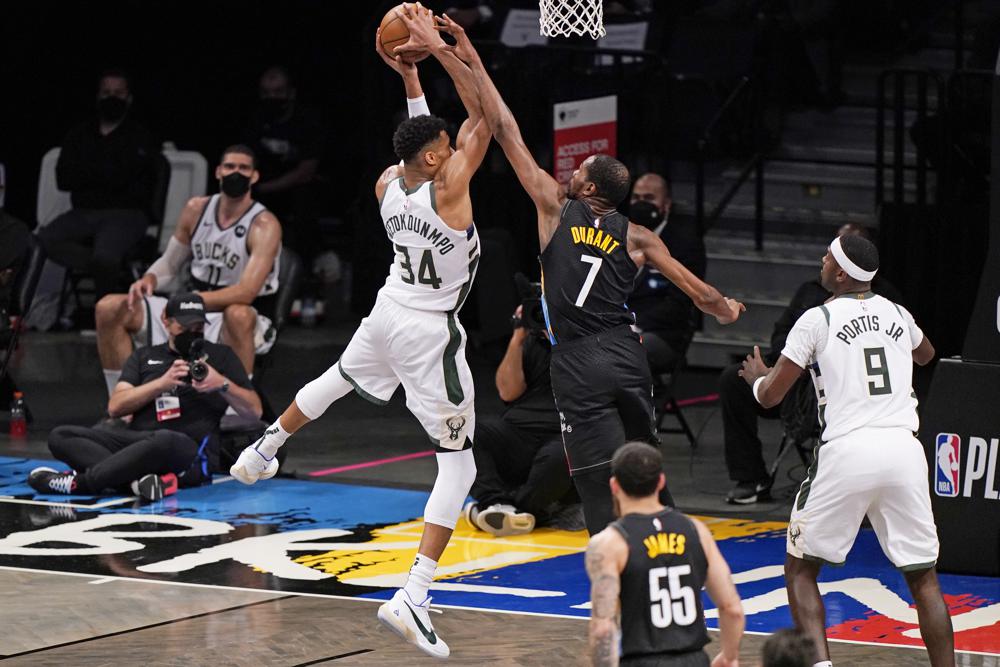 Bucks embarrassed in Game 2, while Chris Paul puts on clinic in west semis, perhaps leaving Milwaukee fans wondering, 'What if?'
It was over after the first quarter.
For the first time this season, the Milwaukee Bucks never led, and never had a chance Monday — down by as many as 49 — in a 125-86 loss to the Brooklyn Nets. Game 3 is at 6:30 p.m. Thursday at Fiserv Forum.
Perhaps getting on the home court will change things but, again, the Bucks failed to play any semblance of team basketball or take advantage of Brooklyn's weaknesses.
Milwaukee had a pathetic 14 assists on 37 of 84 shooting (44%). They went to the free-throw line just nine times, only had two steals and doubled up Brooklyn's turnovers 16 to 8.
The Nets have no answer for Giannis Antetokounmpo or Brook Lopez inside, unless neither of them go inside.
All indicators pointed to that being the place to be, since the Bucks shot just 8-for-27 from beyond the arc. They are now a combined 14 of 57 (24.6%) from deep in the first two games of this second-round series.
Kevin Durant and Kyrie Irving combined for just 54 points. "Just" because the rest of the no-name nets scored 71, including 13 each from Joe Harris and Bruce Brown.
Antetokounmpo, the reigning two-time MVP, was 8-for-15 from the field, scoring 18 points. he went 0-for-3 from deep and 2 of 7 from the line. The 26-year-old added 11 rebounds, four assists a block and three turnovers.
Lopez was just 4 of 10 from the field, scoring 10, while Khris Middleton shot 7 of 20, for 17 points.
Meanwhile, the other game Monday saw 36-year-old Chris Paul work the Phoenix Suns into a 122-105 win over the Denver Nuggets, and Bucks fans must just wonder, 'What if'?
Paul's numbers weren't out of this world but they were extraordinary — 8 of 14 shooting, 21 points, 11 assists, six rebounds and just one turnover — and the entire Suns team was involved.
Four guys scored 20 or more and, more importantly, Phoenix had 30 assists on 46 field goals.
That's not to say Jrue Holiday isn't a superb addition to the Bucks, but he's not setting up the offense or his teammates like Paul. But few do, as Paul's one of the best point guards in NBA history.
And, the Suns are playing a Nuggets team with the NBA's MVP in Nikola Jokic, along with a bunch of riff raff, versus the Bucks playing two of the best pure scorers in NBA history.
Holiday didn't have a bad game, but the assists weren't there. He scored 13 on 6-of-10 shooting with three assists, four rebounds.
---
TOP PHOTO: Brooklyn Nets forward Kevin Durant (7) tries to block a shot by Milwaukee Bucks forward Giannis Antetokounmpo (34) as Bucks center Bobby Portis (9) looks on during the third quarter of Game 2 of an NBA basketball second-round playoff series, Monday, June 7, 2021, in New York. (AP Photo/Kathy Willens)