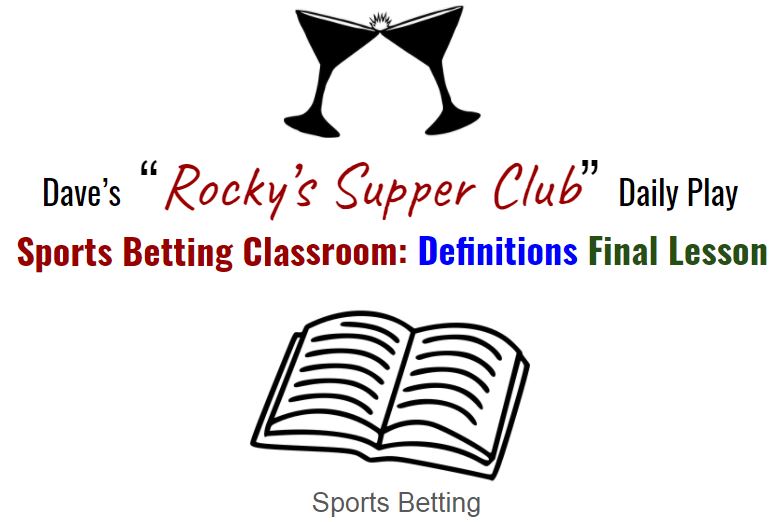 Sports Betting Classroom: Definitions final Lesson
Dave Carney 4/23/2021      
What's on the table today?: Sports Betting Classroom: Definitions (Final Lesson)
Finally, as we conclude our Sports Betting Classroom work, we complete what will be our official WKTY Sports Betting Glossary with a wrap up of Terms & Definitions you'll need/want to know.
With less than a week until the NFL Draft, the NBA postseason is approaching fast, and Major League Baseball offering some really interesting story lines….let's go make some money now that we're all better BETTORS!
Thanks again to the fine work by our friends at The Action Network for being such a great resource and a go-to spot for sports betting information.
Final Lesson (Terms & Definitions)
Limit

– The most money a sportsbook will take on a single event.
Lines

– Another term for the odds.
Middle

– This occurs when you bet on both sides of a game and have an opportunity to win both bets. For example if you bet on Team A +10.5 and Team B -7.5, you win both bets if Team B wins by 8-10 points.
Off the Board

– A game or event that sportsbooks will not allow you to bet on. Oftentimes a game is taken off the board if there is uncertainty surrounding a player's injury status or the weather.
Pick 'Em

– An instance in which neither team is favored. In spread based sports like basketball or football, this is a line of 0.
Prop Bet

– A bet on something other than the outcome of a game. Common prop bets include an over/under on points scored, passing yards, or strikeouts by an individual player.
Run Line

– In moneyline sports like baseball or hockey, you can take the equivalent of a spread — the run/puck line. This alternative allows you to add runs for the underdog, or subtract them from the favorite. This means that a favorite has to win by at least two runs for you to win your bet, while an underdog could either lose by one run or win straight-up to win the bet. The benefit of this is that you can bet more lucrative lines on favorites, but because baseball and hockey are such low-scoring games, this can be a risky proposition.
Runner

– An individual who places a bet on behalf of another person.

Steam Move – A sudden, drastic and uniform line movement across the entire sports betting marketplace.