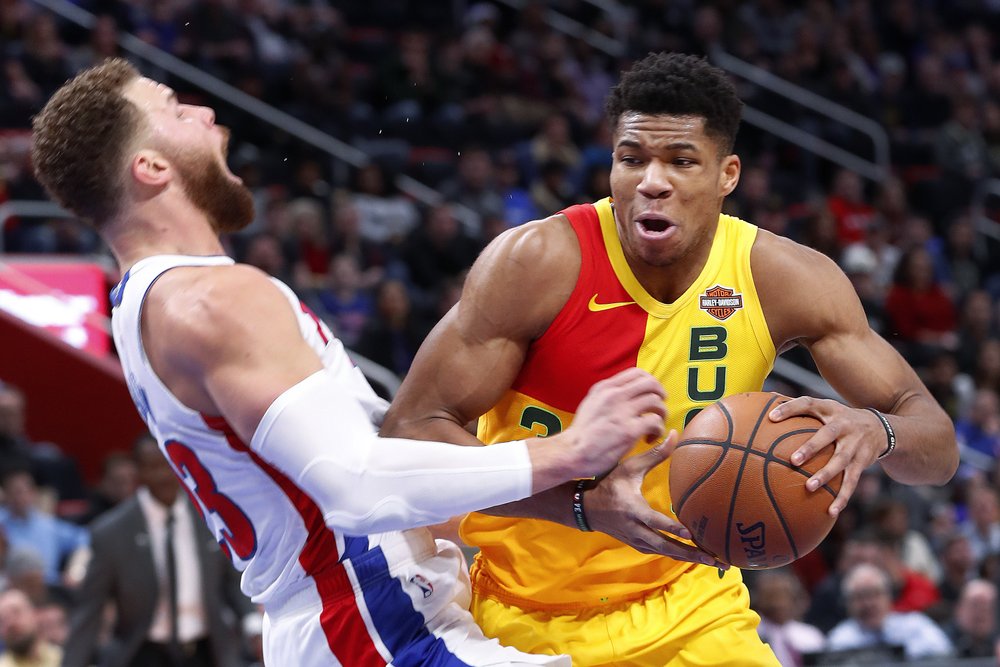 Just before Thursday's regular-season finale, the Milwaukee Bucks found out who they would get in the first round of the NBA playoffs.
In what was basically a formality, the Bucks lost to the Oklahoma City Thunder 127-116, sitting their starters except Khris Middleton, who scored 21 in 17 minutes.
Milwaukee (60-22), which has the best record in the NBA, will play the Detroit Pistons (41-41) in the first round — a team they were 4-0 against this season. this season.
No. 1 Milwaukee vs. No. 8 Detroit

No. 2 Toronto vs. No. 7 Orlando

No. 3 Philadelphia vs. No. 6 Brooklyn

No. 4 Boston vs. No. 5 Indiana
The Bucks haven't won a playoff series since the 2001 season when the "Big 3" of Sam Cassell, Ray Allen and Glenn "Big Dog" Robinson lost to Allen Iverson's Philadelphia 76ers in the Eastern Conference Finals.
Since then, the Bucks have lost in the first round eight times, including the past two seasons.
This season, however, should be different.

Oddly enough, the Bucks haven't played the Pistons since January 29 — since Thon Maker was sent to Detroit in a trade that brought Nikola Mirotic to Milwaukee. In four games against each other, the Bucks have won by an average of 14.8 points — two of those were by 23 points.
Giannis Antetokounmpo's scoring and rebounding against the Pistons this year was way below his averages.
He was 6.9 points below his 27.7-point average and 3.7 rebounds below his 12.5 average. The rebounds would make sense, with Drummond out there — but Drummond's numbers (see below) are way off, as well. And, Antetokounmpo did still shoot 58.3 percent from the field and average 7.0 assists.
As for Blake Griffin and Drummond, both started and played 30 or more minutes for the Pistons in all four games against Milwaukee.
Griffin had some peculiar numbers against the Bucks, averaging 24.3 points, 8.3 rebounds and 7.0 assists. But, he shot just 42.3 percent from the field and averaged 7.0 turnovers — yes, 7.0 turnovers. This season, Griffin has averaged 24.5 points on 46.2 percent shooting, to go with 7.5 rebounds and 5.4 assists.
Drummond's splits, on the other hand, are way down. For the season, he's averaged 17.3 points, 15.6 rebounds, 1.8 blocks and 1.7 steals. Against the Bucks, Drummond averaged 13.8 points, 10.5 rebounds, 1.5 steals and just .3 blocks.
The only other real threat on the Pistons is roller coaster-like point guard Reggie Jackson. His splits versus the Bucks look great — 17.5 points on 56.9 percent shooting, along with 4.3 assists, 3.0 rebounds, and just 1.0 turnovers.
But, game to game, it's hard to tell which Jackson shows up. The 28-year-old went for 19 points (8 of 10 FGs), 11 assists and 25 points (10 of 15 FGs), 5 assists in two games against the Bucks this season. In the other two, he was at 11 points (5 of 11 FGs), 4 and 15 points (6 of 15 FGs), 5 assists.
The Pistons also traded away their starting shooting guard midseason with basically no replacement.
Ironically, at one point, the Bucks had traded for Detroit small forward Stanley Johnson, but then he ended up being involved in a three-way trade bringing the Pelicans' Nikola Mirotic to Milwaukee instead — that sent Maker to Detroit, as well.
Malcolm Brogdon only played in two of the four games against the Pistons this season and Mirotic didn't play in any. Neither will play in this series.
Zaza Pachulia will be back in Milwaukee. The NBA champion averaged 7.0 points, 4.5 rebounds against the Bucks this season.
As for Maker, after requesting the Bucks move him, his change of scenery hasn't done much.
The 22-year-old is averaging 8 more minutes a game but just .9 more points (5.6) and 1.1 more rebounds (3.6), while shooting 6 percent worse from the field (38.2).