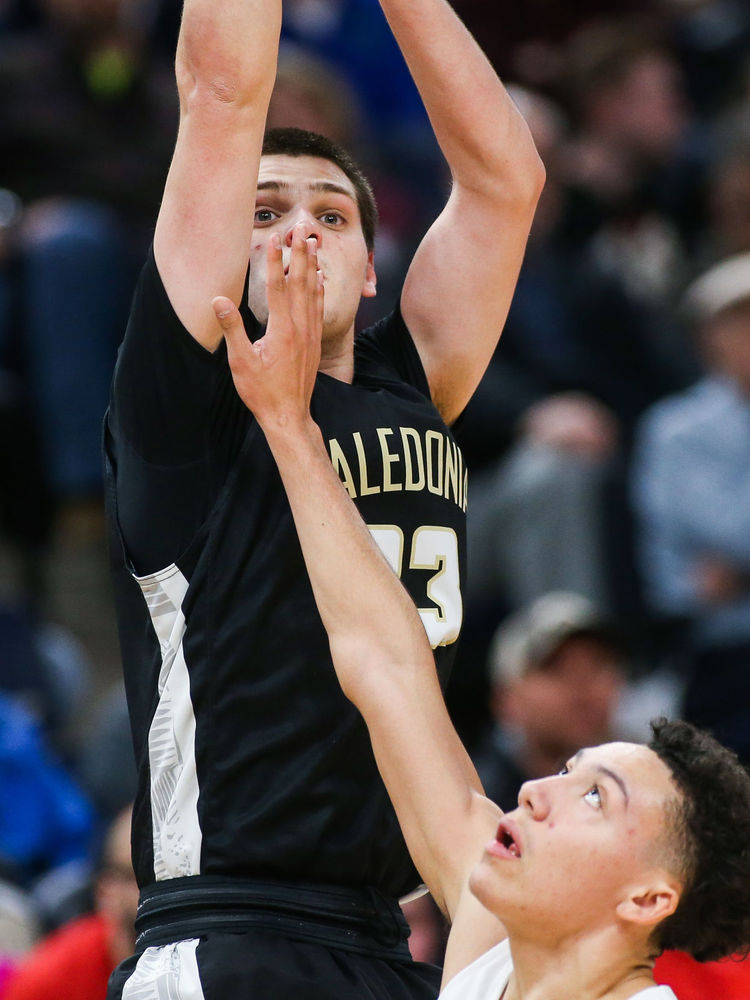 Caledonia can't keep pace in losing state championship
For the fourth time in the past five seasons, the Caledonia High School boys basketball team has found its way to the MSHSL state tournament.
And, for the second time in those four trips to state, the Warriors were in the state championship.
Caledonia, however —ranked fourth in the final AP poll — couldn't stick with the defending state champions, losing to second-ranked Minnehaha Academy, 73-60 at the Target Center on Saturday.
The Warriors (28-5) were down 43-31 at halftime but pulled within 59-57 with 8:15 remaining. That, however, was as close as it got.
The Redhawks (28-4) closed the game with a 14-3 run. The Warriors didn't have a field goal the last 5:13. Minnehaha shot 61.9 percent from the field in the second half to Caledonia's 40.7%.
This was Minnehaha's second win over Caledonia this season. The first came 79-75 back on Feb. 17.
The Redhawks won the state title last season — the only of the past five seasons Caledonia hasn't made the state tournament. The Warriors also lost the state title back in 2015 to Melrose Area, 63-51. They took third in 2014 and lost in the first round in 2016.
To get to the state title game, Caledonia took out fifth-ranked and second-seeded Brooklyn Center on Friday, 73-67.
In the championship loss, the Warriors couldn't contain Jalen Suggs, who finished with 27 points, eight assists and five rebounds. He was 11-for-17 from the field.
Teammates JaVonni Bickham was 7-for-8 from the field in scoring 17 points, while Price Aligbe came off the bench to grab 15 rebounds for the Redhawks, who shot 54.7 percent from the field for the game.
The Warriors won the rebounding battle 33-26 — both teams had 15 offensive rebounds — but the Redhawks won points in the paint 46-34.
Owen King, a South Dakota State recruit, scored 22 for Caledonia. He was 9-for-17 from the field and 4-for-7 from beyond the arc. Teammate Marten Moren scored 17.
Caledonia had eight assists as it went 22-for-55 from the field (45.5%). The Redhawks had 14 assists on their 29 field goals. The teams combined for 34 turnovers — 16 by Caledonia.
PHOTO:
Caledonia's Owen King (23) shoots in front of Minnehaha Academy's Lorenzo Smith during the Class AA state championship game Saturday, March 24, 2018, at the Target Center in Minneapolis.
Andrew Link / alink@postbulletin.com / @ALinkPhoto on Twitter