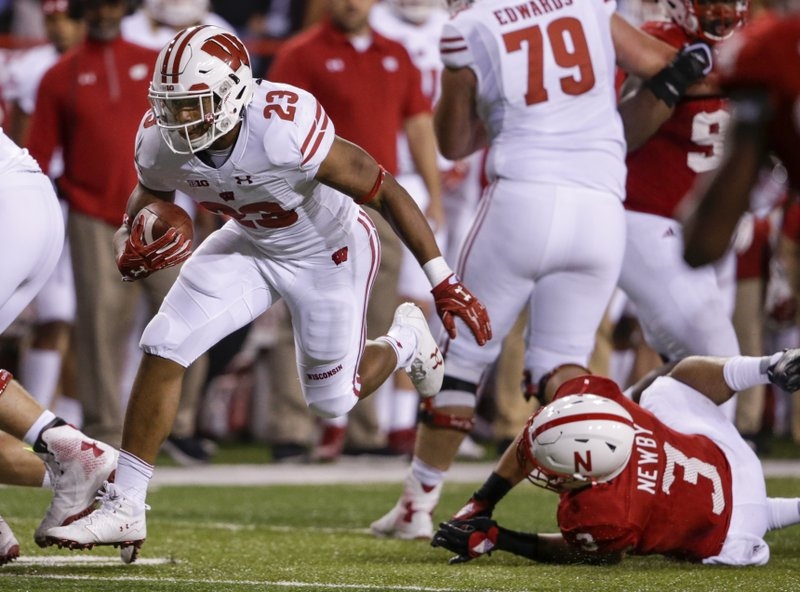 MADISON, Wis. (AP) — No. 6 Wisconsin develops quality running backs as if it's an automobile assembly line.
A new version comes out every few years or so, but production rarely tails off.
Freshman Jonathan Taylor is the latest star to emerge at Wisconsin (12-1), where the ground game traces its roots to the 1990s and Barry Alvarez's days pacing the sideline as coach.
"That's first of all our philosophy, is we're going to be a physical team, we're going to run the ball, be able to run the ball and it starts with the offensive line," said Alvarez, now Wisconsin's athletic director. "Backs, they want to come where they can run the ball."
The Big Ten's leading rusher, Taylor also ranks third nationally at 142.1 yards per game. With 1,847 yards going into the Orange Bowl on Saturday against No. 11 Miami, Taylor needs 79 to break the major college rushing record for a freshman of 1,925 set by Oklahoma's Adrian Peterson in 2004.
Boasting an impressive blend of power, speed and agility — especially for a freshman — Taylor went from starting training camp as an afterthought to becoming a finalist for the Doak Walker Award given to the nation's best running back, an honor won by Stanford's Bryce Love.
Coach Paul Chryst has been especially impressed with how Taylor has stayed even-keeled as attention from defenses and the media mounted with each big game.
"First it's being able to do it, and then it's to be able to do it consistently," Chryst said recently. "He's done a good job of staying in the moment and handling things as it comes."
Taylor's success can be attributed just as much to an offensive line that has stayed relatively healthy and returned to the high standards of play across the front after Chryst spent two seasons developing young talent.
Just take a look at the way that the line manhandled Iowa in a 38-14 win on Nov. 11, a week after the Hawkeyes had routed Ohio State. Center Tyler Biadasz, a redshirt freshman, made highlight reels for an open-field pancake block after pulling left to help spring receiver Kendric Pryor free on an end-around TD run.
"My freshman year, we were nothing like we are today, as far as just how we prepared and how we kind of went about business," right guard Beau Benzchawel said. "We know what it takes to be one of those great offensive lines … Compared to where we were, it's night and day pretty much."
The 6-foot-6, 317-pound Benzchawel, who went to high school in the Milwaukee suburb of Grafton, is the perfect example of another Wisconsin staple — the homegrown offensive lineman with NFL potential.
New Orleans Saints tackle Ryan Ramczyk, of Stevens Point, was the latest draftee, after the rookie was selected in the first round. Cleveland Browns tackle Joe Thomas, a 10-time Pro Bowler who went to high school in Brookfield, is the current bar for Wisconsin success in the NFL; his ironman snap streak was cut short by a season-ending triceps injury in October.
Alvarez established the foundation for the program's current success after going 117-74-4 in 16 seasons as head coach, not including a 1-1 record while filling in during bowl games in the midst of coaching transitions in 2012 and 2014.
Wisconsin was 1-10 in Alvarez's first season as coach in 1990; by the 1993 season, the Badgers finished 10-1-1 and beat UCLA in the Rose Bowl. Brent Moss had team highs of 1,637 yards rushing and 16 touchdowns on 312 carries, with Terrell Fletcher running for 996 yards and nine scores.
Speaking last month from his office overlooking a corner of the end zone at Camp Randall Stadium, Alvarez provided a history lesson on Wisconsin's prodigious rushing attack.
"That was our plan, our plan for success here," Alvarez said. "If you're in a different part of the country, if you have an overabundance of skill players, if you're in a more populated area with a lot of speed, then maybe you feature something else."
Not to say the Badgers don't have speed or quality at other skill positions — the receiver position is loaded with promising young playmakers including sophomores Quintez Cephus and A.J. Taylor, along with freshmen Pryor and Danny Davis.
If quarterback Alex Hornibrook can cut down on interceptions next season, an improved passing game should provide balance and keep defenses from focusing entirely on Jonathan Taylor. That, in turn, could make the running game even more productive.
Running backs "want to come to a pro-style offense," Alvarez said, "and if you want to run the ball, you're going to get a chance to run it here."