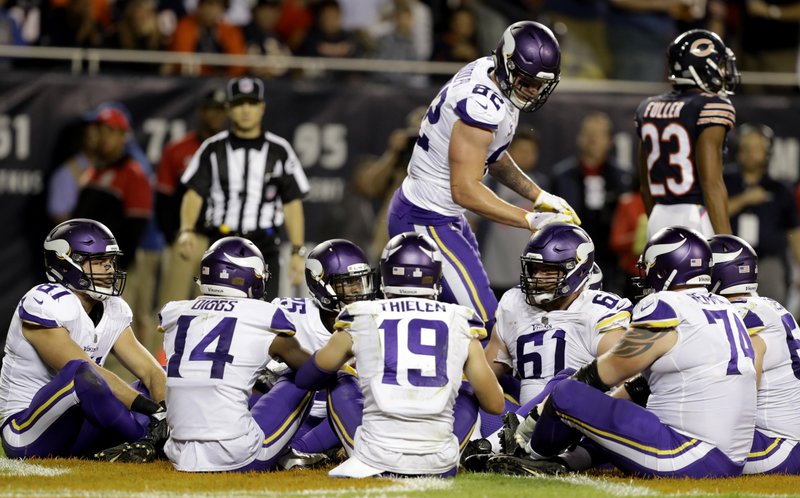 MINNEAPOLIS (AP) — The Vikings will be the first team to play a Super Bowl at home.
Case Keenum, who became the starter when Sam Bradford was injured and still has to answer questions about possibly losing his job to Teddy Bridgewater, is poised to do what Daunte Culpepper and Randall Cunningham couldn't do.
Keenum had another solid performance and the defense shut down a high-powered offense in an impressive 14-9 victory at Atlanta. Then Minnesota (10-2) jumped into the top spot in the NFC when Seattle beat Philadelphia (10-2).
The Vikings are close to securing the NFC North. Getting home-field advantage throughout the playoffs only enhances their chances of hosting the Super Bowl.
But they still have to get through tough teams with better quarterbacks. Minnesota's defense is outstanding and Keenum has been excellent.
In a big game, though, Keenum or Drew Brees? Keenum or Russell Wilson? Keenum or Carson Wentz?
The Vikings could end up with the No.1 seed and lose a home game in the playoffs. Their fans have seen that before so slow down on those Super Bowl plans.
Here are more overreactions following Week 13:
___
OVERREACTION: Josh Gordon will save the Browns (0-12) from going winless.
REALISTIC REACTION: Four catches for 84 yards in his first NFL game since 2014 doesn't suggest he'll make enough impact to prevent Cleveland from losing out.
___
OVERREACTION: Andy Reid has lost control of the team. Too many costly penalties cost the Chiefs (6-6) in a loss to the Jets (5-7).
REALISTIC REACTION: Lost control is too harsh, but the team lacks discipline.
___
OVERREACTION: The Patriots (10-2) don't need Tom Brady to win. Brady had no TDs and one interception and New England still routed Buffalo 23-3.
REALISTIC REACTION: Brady completed 21 of 30 for 258 yards. He wasn't great, but effective.
___
OVERREACTION: Jimmy Garoppolo is the answer for San Francisco. He led the 49ers (2-10) to a comeback win in his first start.
REALISTIC REACTION: Garoppolo could become a franchise QB, but beating the Bears isn't too impressive.
___
OVERREACTION: Look out for the Ravens (7-5) because their offense is hitting its stride.
REALISTIC REACTION: Losing cornerback Jimmy Smith is a big blow to the defense, and one solid performance by the offense isn't convincing.
___
OVERREACTION: Alvin Kamara locked up Rookie of the Year honors with an excellent game against the Panthers.
REALISTIC REACTION: He's the front-runner but Kareem Hunt and Leonard Fournette are still in the race.
___
OVERREACTION: Losing Aaron Rodgers was a blessing for the Packers (6-6) because it allowed them to work on their run game.
REALISTIC REACTION: Rodgers is a future Hall of Famer. Enough said.
___
OVERREACTION: The Chargers (6-6) will win the AFC West.
REALISTIC REACTION: They're on a roll but it's a three-team with the Raiders (6-6) and Chiefs and no real favorite.
___
OVERREACTION: All the Giants needed to be competitive was to bench Eli Manning.
REALISTIC REACTION: No one other than Ben McAdoo would've started Geno Smith over Manning and now McAdoo is gone.
___
OVERREACTION: Beast Mode is back. Marshawn Lynch had a 51-yard touchdown run and his first 100-yard rushing game since coming out of retirement.
REALISTIC REACTION: The Raiders need to keep giving him the ball.
___
OVERREACTION: The Legion of Boom is back. The Seahawks held the highest-scoring offense to only 10 points in a 24-10 victory over Philadelphia.
REALISTIC REACTION: Seattle's defense was ferocious, but penalties and sloppy play by Wentz cost the Eagles. Plus, no one can replace Richard Sherman and Kam Chancellor.