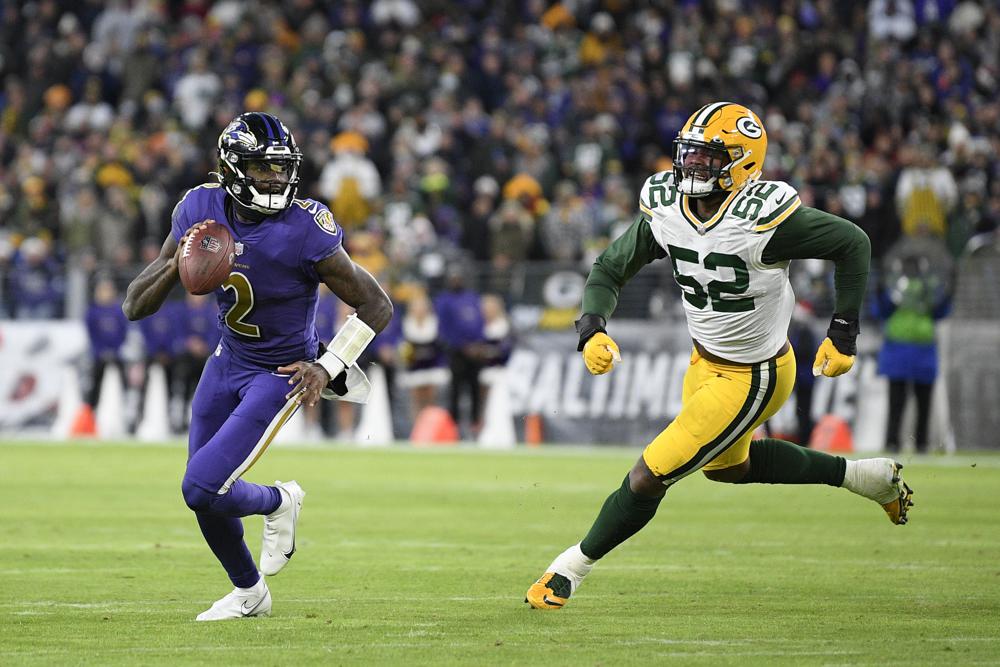 Packers' Rashan Gary seizing all the opportunities he gets as he works his way back from torn ACL
GREEN BAY, Wis. (AP) — Green Bay Packers outside linebacker Rashan Gary is making the most of his limited workload as he comes back from a torn anterior cruciate ligament.
---
LISTEN: Lions-Packers on WKTY begins Thursday with pregame at 5 p.m. Kickoff at 7:15 p.m. Tune in on 96.7 FM / 580 AM. Postgame to follow.
---
Gary has been on the field for only 26.3% of the Packers' defensive snaps, yet his 3½ sacks put him in a tie for sixth place among all NFL players. He had a career-high three sacks while on the field for just 23 plays Sunday in an 18-17 victory over the New Orleans Saints.
"Like I told the team in the locker room, the main thing is I'm just happy to go out there and go to war with you guys," Gary said after the game. "That's something that I truly missed over the 9 1/2 months or so that I was out."
Gary tore the ACL in his right knee last November in a 15-9 loss at Detroit.
Although he returned for the start of this season, the Packers are remaining cautious in how they use him while gradually increasing his opportunities each week.
He played 16.2% of the Packers' defensive plays in a season-opening victory at Chicago. That rate increased to 26.8% the following week and 37.7% on Sunday. He figures to have a limited snap count again Thursday when the Packers (2-1) host the Lions (2-1).
"Rashan, he wants to be out there every single play," defensive coordinator Joe Barry said. "But he's definitely taken advantage of his at-bats, there's no doubt about it."
Gary, 25, isn't particularly surprised he's been able to play just as well as he did before his injury.
"All I did was get surgery," Gary said Tuesday. "It didn't change the way I get off the ball, my IQ of the game, how to read things."
But he acknowledges the knee injury and long recovery process changed him in at least one respect.
"It for sure made me a hungrier player," Gary said. "And I already was a hungry player."
In Gary's first game back from injury, he was credited with four pressures on eight pass rush attempts. He teamed up with Preston Smith on a sack in Atlanta and followed that up by getting the first three-sack game for any Packer since Za'Darius Smith did it against the Atlanta Falcons in October 2020.
One of Gary's three sacks knocked the Saints' Derek Carr out of the game with a shoulder injury.
"When he's able to play full go, it's going to be scary," defensive tackle Kenny Clark said. "He's doing it with 20-some snaps. When he's able to play 40 or 50 of them, it's going to be tough to stop him."
Gary's successful return comes at a crucial time for him. The 2019 first-round pick from Michigan is in the final season of his contract, and his bargaining power for a potential extension is seemingly increasing every week.
His value to the Packers was apparent last season when their pass rush suffered after his injury. Packers cornerback Rasul Douglas says Gary is "like our soul here on this team."
"He's all-out," Douglas said. "He's a killer. He's an emotional killer, I'll say that. Right now, you go tell him you're proud of him, he's going to start crying. But on that field, it's somebody else out there."
Douglas referenced Gary's emotional nature by noting how the pass rusher started crying last month after learning he could finally start participating in individual drills, a big step forward in his comeback from the knee injury.
Gary confirmed that story earlier this month and then explained why it meant so much to him.
"Football is something that offered myself, my family a great life," Gary said. "I just owe the game of football so much. That's all I wanted to do. This sport gives me the opportunity to provide for my family. There's no better feeling than saying you're able to do something or take care of something and you're able to do it. This game provides me that.
"I've got two nephews that are looking up to me. Having this game, showing them how men are supposed to go about their work and how it looks to take care of family, man, it's important."
NOTES: Green Bay players expressed optimism that RB Aaron Jones and WR Christian Watson could return from hamstring injuries for Thursday's game. WR Romeo Doubs said Tuesday that the Packers expect to have Jones back. When Watson was asked if he expects to play Thursday, he replied, "That's the plan." Packers coach Matt LaFleur noted both players still need to be medically cleared. Watson hasn't played yet this season, while Jones has missed two straight games.
---
TOP PHOTO: FILE – Baltimore Ravens quarterback Tyler Huntley (2) looks for a receiver as he is chased by Green Bay Packers outside linebacker Rashan Gary in the first half of an NFL football game, Sunday, Dec. 19, 2021, in Baltimore. (AP Photo/Nick Wass)