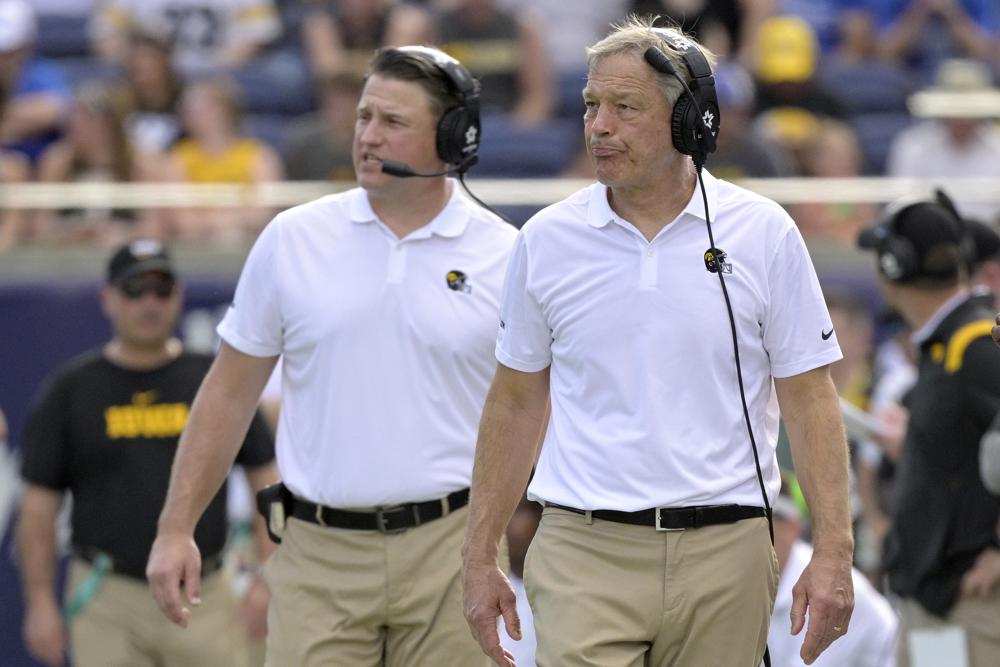 STAT WATCH: Iowa's 76 yards against Penn State were second-fewest in Kirk Ferentz's 25 years, his son, OC Brian Ferentz's, first under 100 since 2017
Iowa's 31-0 loss at Penn State certainly didn't help Hawkeyes offensive coordinator Brian Ferentz in his bid to meet metrics required for him to keep his job after this season.
The game marked the first time since 2000 the Hawkeyes were shut out and lowered their season average to 21.3 points per game. Of their 85 points through four games, 41 came in a win over Western Michigan.
Ferentz's contract, revised after last season, requires Iowa to win seven games and average 25 points per game (13-game total of 325).
The Hawkeyes' 76 total yards Saturday were the second-fewest in head coach Kirk Ferentz's 25 seasons. The only other time Iowa totaled under 100 yards was in a loss to Wisconsin in 2017 — Brian Ferentz's first year as OC.
In fact, nine of the 17 games since 1999 in which Iowa has failed to gain 200 yards have come with Kirk's son calling the plays.
Iowa is 131st out of 133 FBS teams in total offense (245.5 ypg). The Hawkeyes were 130th out of 131 FBS teams last season (251.6).
THE 200 CLUB
Four of the season's six 200-yard rushing performances occurred over the weekend.
Texas State's Ismail Mahdi led the way with 21 carries for 216 yards against Nevada. Toledo's Peny Boone ran 24 times for 211 yards against Western Michigan, with 132 coming in the fourth quarter.
Kansas State's DJ Giddens carried 30 times for 207 yards and four touchdowns against UCF and had eight catches for 86 yards to give him 293 from scrimmage, the most by a Power Five player this season.
Ashton Jeanty of Boise State carried 23 times for 205 against San Diego State.
17 IS ENOUGH
Ohio State, in its 17-14 victory over Notre Dame, scored its fewest points in a nonconference win in 31 years.
The Buckeyes' previous nonconference win with so few points was 17-6 over Bowling Green in 1992. A couple familiar names were involved in that one. Kirk Herbstreit, Ohio State's quarterback, had to leave the game with an injury and a freshman and future Heisman Trophy winner named Eddie George scored the go-ahead touchdown.
ALL THE WAY
Pittsburgh's Kenny Johnson became the first player this season to return a kick 100 yards, doing it in the third quarter of the Panthers' 41-14 loss to North Carolina.
The freshman, who ran back his first three kicks the previous week against West Virginia, was untouched as he scored Pitt's first 100-yard kick return touchdown since 2016.
SEASON-HIGH SACKS
Georgia Tech defensive lineman Kyle Kennard recorded a national season-high four sacks in his team's 30-16 win at Wake Forest. They were Kennard's first sacks of the season and the most by a Tech player since 2013. The Yellow Jackets finished with eight sacks. Wake Forest has allowed 18 sacks, fifth-most in the country.
NATIONAL LEADERS
Washington has the top offense in the country and Penn State has the top defense one-third of the way through the season.
The Huskies lead in total offense (593.3 ypg) and passing (467.3) and are third in scoring (49.8 ppg). Air Force leads in rushing (340.5 ypg) and Southern California in scoring (55 ppg).
On defense, Penn State is first in yards (219.5 ypg) and passing (138), James Madison in rushing (41.5 ypg) and Michigan in points (5.8 ppg).
Individual leaders are Minnesota's Darius Taylor in rushing (133 ypg), Washington's Michael Penix Jr. in passing (409 ypg) and South Carolina's Xavier Legette in receiving (139 ypg).
---
TOP PHOTO: FILE – Iowa head coach Kirk Ferentz, right, and offensive coordinator Brian Ferentz walk along the sideline during the first half of the Citrus Bowl NCAA college football game against Kentucky, Saturday, Jan. 1, 2022, in Orlando, Fla. (AP Photo/Phelan M. Ebenhack, File)