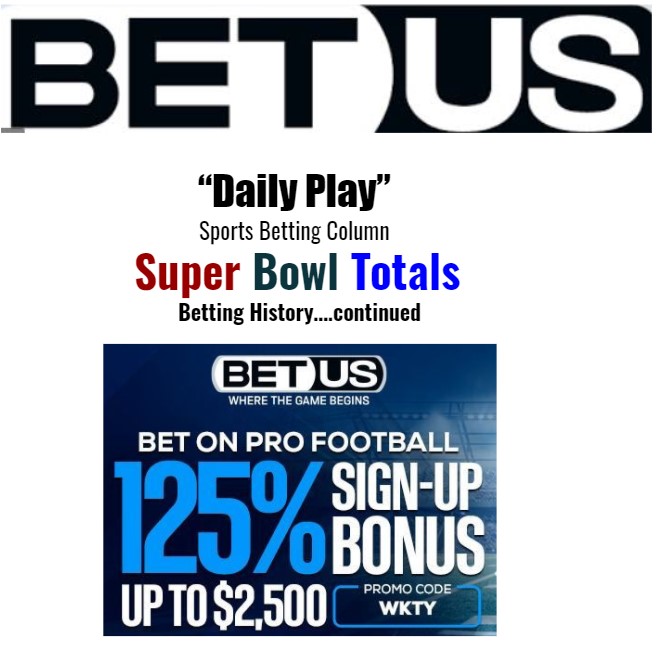 Super Bowl Betting History *Totals* (Continued)
Dave Carney 2/2/2022      
What's on the table today?: Super Bowl Betting History (Continued)
Today we take another look at Super Bowl betting history thanks again to our friends at VegasInsider as they've done a terrific deep dive into the "Big Game" and all of it's betting history.
Yesterday we showed Super Bowl spreads (AFC vs NFC history), Super Bowl Lines (point spreads rarely coming into play) and what exactly what "Black Sunday" (Super Bowl 13). 
Below, find the Super Bowl (Over/Under) history….and please do take this into consideration if you were planning on betting the total in the coming Super Bowl 56. 
SUPER BOWL OVER UNDER
The Super Bowl 'over/under' wager has often been called the total in the sports betting industry. An opening line is set based on the expected combined points scored from both teams in the game. Bettors can wager on the outcome and if it will be either higher or lower or put simply, over or under.
The 'over/under' has gone 27-27 in the first 55 Super Bowl matchups. No total was posted on Super Bowl I between the Green Bay Packers and Kansas City Chiefs.
In the 2019 Super Bowl, the New England Patriots defeated the Los Angeles Rams 13-3 and the combined 16 points was the lowest 'over/under' result in Super Bowl history. The three points by the Rams matched an all-time low in the big game, matching the Miami Dolphins from way back in Super Bowl VI.
The 'over/under' on that outcome closed at 56 points, which was the 11th Super Bowl to have a total close in the fifties.
The highest Super Bowl 'over/under' outcome occurred in Super Bowl XXIX when the San Francisco 49ers demolished the San Diego Chargers, 49-26.

Sign up and play the "Big Game" at BetUS and use the promo code WKTY to claim your 125% deposit match on your initial deposit.