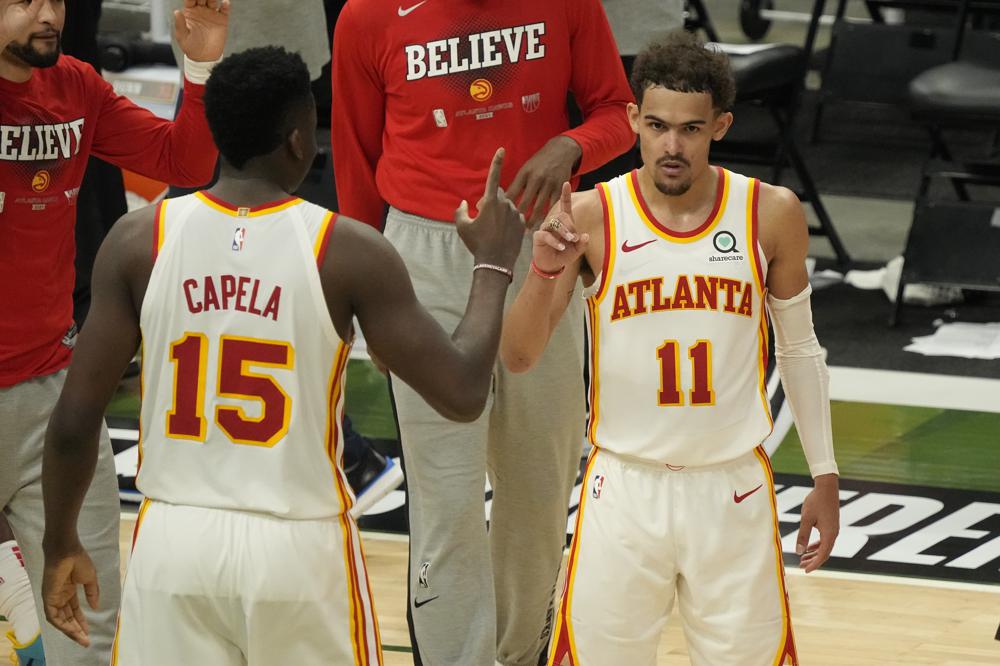 There's nothing quite like a Pat Connaughton 3-pointer.
You just never know what you're going to get. Actually, you know exactly what you're going to get — he's going to chuck it without hesitation, like he's Ray Allen. You just aren't quite sure where it's going to land.
Irrational confidence guy. Some say every team needs one.
Down one with 23.5 seconds left, with three max players on the court, including the two-time MVP, irrational Connaughton guy stepped into a 3-pointer — after having missed his previous three — looking for all the glory and getting none of the rim, net or anything.
It basically summed up the Milwaukee Bucks 116-113 loss to the Atlanta Hawks.
Trae Young will steal the headlines. But he settled for 30-footers in the fourth, going 1-for-7 from the field, and opened the door wide open for the Bucks to win the game.
But Young made up for those gassed heaves from deep with an and-1 on a Khris Middleton foul, an alley-oop to John Collins, a kickout to Collins for a corner 3 and the lead, and then making all his free throws down the stretch.
The Bucks just never quite figure things out. It's a phenomenon that should be called the Budenholzer.
The Bucks were Budenholzered again.
Still wondering if it's legal to fire Mike Budenholzer right now and hire fired Dallas Mavs coach Rick Carlisle. This is like Mike McCarthy all over again. How many years of prime Giannis Antetokounmpo and Aaron Rodgers is Wisconsin wasting?
It's clear, though, this series is not going to be as intense as the last for Milwaukee.
In Game 1, they just let the Hawks hang around. They let Young go off without making any adjustments.
You didn't need Charles Barkley and Kenny Smith on the TNT halftime show to tell you that having your center crouch under the hoop on a Young drive is probably not the best defense against his floaters.
It was, however, funny, watching the TNT crew argue after the game over Young's shimmy 3-pointer that was the responsibility of Bobby Portis, who was at least 20 feet from him on the ball screen.
Young was 17-for-34 from the field but only 4 of 13 from beyond the arc. He had 11 assists and seven rebounds, but also six turnovers.
He ended the Bucks down the stretch making plays, after he tried to give the game away jacking 30 footers.
Milwaukee, on the other hand, squandered a 105-98 with just under 4 minutes to go. If the Bucks weren't Budenholzered, you could say they were Middletoned again.
Middleton just has these games — 6-for-23 from the field, 0 of 9 from deep, including the final shot.
Regardless of the outcome, it's obvious the Bucks are not going to have as big a problem with Atlanta as they did with Brooklyn.
It's almost as if Milwaukee played down to the Hawks. And, like I said, they let them hang around.
A better Middleton game and this one's not a game.
Two things of note: Milwaukee signed Jrue Holiday to a max deal only to watch who is supposed to be one of the best defensive guards let 180-pound Young score 48. But, you could take Kenny and Charles' side, not Shaq's, and say a lot of that responsibility was on the other defender in the pick and roll or, simply, the entire gameplan against Young. BUDENHOLZER!
Also, Giannis Antetokounmpo did just about everything he was supposed to with 34 points, 12 rebounds, nine assists. He was 14-for-25 from the field and 6 of 8 from the line.
If you want to pick out one oddity with the 26-year-old forward in Game 1, it was his insistence on posting up Clinton Capela with his back to the basket.
Antetokounmpo rarely posted any of the undersized forwards and guards that were on him in the Brooklyn series. He always opted to dribble back out, face up and try and drive to the basket.
But, with Capela, on more than one occasion, he decided that now he'd be Shaq. Now that the matchup was even.
Antetokounmpo did pull the ball out and take Capela off the dribble, too. But on multiple occasions, he turned into a back-to-the-basket center, when it doesn't make any sense to do so.
Just to note, Antetokounmpo did also recognize a time when the 6-foot-1 Young was on him in the post. The 7-footer correctly tried to back him down, as well, but then opted to shoot a fadeaway in the middle of the lane that rattled out.
It's going to be a ridiculous time to watch when Antetokounmpo learns how to play basketball, while still at some semblance of a peak athletically. Hopefully the Bucks still have him when that time comes.
Oh, last thing, Young to Collins for that 'oop off the backboard was unreal. Collins said after the game they did it once in preseason and maybe once during the regular season. Neither team was playing much defense on the pick-and-roll alley-oops, but this one actually had some d but nobody expected Young to go glass — except Collins, somehow.