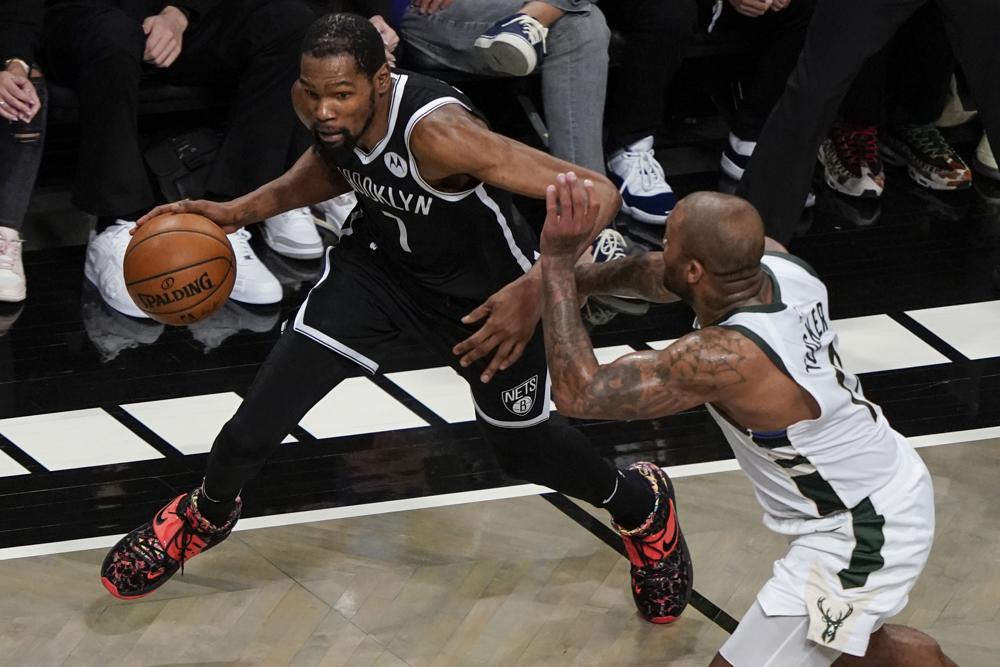 An NBA championship has to be this year for Bucks
This might be the only year the Milwaukee Bucks have a shot at an NBA championship for some time.
The Bucks were gifted a berth in the Eastern Conference Finals thanks to injuries to Kyrie Irving and James Harden and the length of Kevin Durant's toe.
Milwaukee is also gifted possibly, facing Joel Embiid with a torn meniscus. Beyond that, there's no LeBron James, possibly no Chris Paul due to COVID-19 or Kawhi Leonard because of an ACL injury.
The way it's set up now, this Milwaukee team isn't beating that Nets for at least two years — of course, the NBA offseason is wild and Kyrie Irving is a psycho, so who knows if that Big 3 stays intact.
But, on top of that, the entire rest of the playoff field has been thrown into disarray, while the only thing wrong with the Bucks is they have zero semblance of an offense and a clueless coach — which will be their demise.
Kevin Durant is 32. He'll be this for at least two more years and his job gets a lot easier when James Harden and Kyrie Irving play.
If the Bucks make the Finals, Mike Budenholzer will likely remain the coach, though Milwaukee should fire him right now and hire recently resigned/fired Dallas Mavs coach Rick Carlisle — there might be some rule against someone coaching two different teams in the same playoffs.
Budenholzer never had his team take advantage of Harden being on the floor defensively — let alone the rest of the Nets' misfits.
Think about it. Harden is one of the all-time worst defenders in history — by no statistical measure, just YouTube it.
Then add on his injured hamstring, that caused him to also miss from April 5 to May 12. The Bucks, somehow, couldn't figure out how to make the 31-year-old gimp work defensively, every possession.
On defense, the Bucks only had to worry about Durant, and the only reason that turned out is because he stepped on the 3-point line in nailing a buzzer-beater to end the series.
PJ Tucker will be 37 next year. Plus, he might not be on the team. Heck, he probably should go to the Nets and guard Antetokounmpo next season.
Maybe Antetokounmpo — remember, he was last year's Defensive Player of the Year — takes that rein in the future.
The 26-year-old two-time MVP looked like he may have had COVID-19 on Saturday. Something seemed off. But it's not like he took on Durant in any other game late, either.
It's not baffling that Milwaukee is in the Eastern Conference Finals. It's baffling they needed seven games to beat this version of the Nets.
The Bucks were the NBA's No. 1 scoring offense, while Brooklyn was 21st out of 30 teams in points allowed. In this round, Milwaukee 101.9 points, including 86 in two of the seven games.
How is it, they couldn't score on the Nets — though one could argue they'd have scored more with Irving playing defense.
Some of that lack of scoring is "playoff basketball," but point to a Brooklyn player not named Durant and ask yourself how good they are defensively.
So, Milwaukee has been given this path. They nearly squandered it. But there it lies. It's unclear, though, if it gets any easier. Durant is arguably the purest scorer in the history of the NBA. They won't have to face that again. But they also won't face a lineup of Bruce Browns and Jeff Greens, either.
---
TOP PHOTO: Brooklyn Nets' Kevin Durant, left, drives past Milwaukee Bucks' P.J. Tucker during the first half of Game 7 of a second-round NBA basketball playoff series Saturday, June 19, 2021, in New York. (AP Photo/Frank Franklin II)