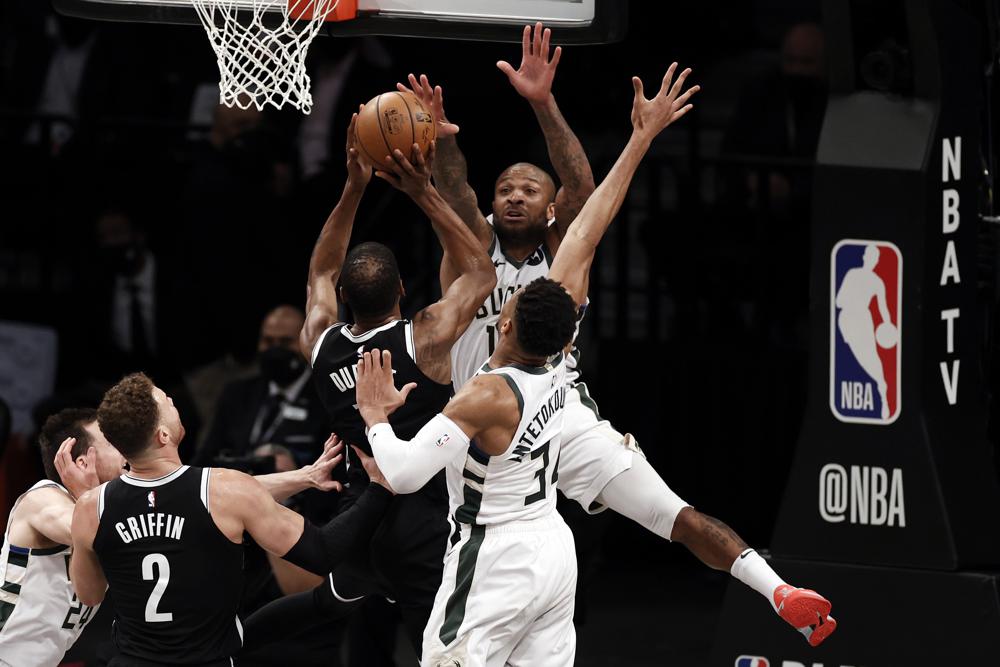 Most will point to the Milwaukee Bucks' atrocious shooting from beyond the arc.
But, the reason they lost to the Brooklyn Nets 115-107 in Game 1 of the second round Saturday was as simple as "playing basketball."
The Nets moved the ball and, for the most part, didn't settle for the first look at the rim.
Meanwhile, the Bucks would often have no- and one-pass possessions, and rarely recognized when either Giannis Antetokounpo or Brook Lopez had a mismatch that could be utilized in the paint.
For example, when Antetokounpo had 6-foot-4 Bruce Brown defending him, the 7-foot, reigning two-time MVP would try to take him off the dribble instead of moving the ball around and getting that mismatch in the post. Or he would pass the ball and never get it back.
Lopez was 8-for-11 from the field, scoring 19. Antetokounpo had 34 on 16-of-24 shooting. Nobody else needed to shoot. Nobody else should have shot. The rest of the team was 21-for-65 from the field (32.3%).
Overall, the two teams shot nearly identical from the field. But, as has plagued Milwaukee all season, their opponent shot 15 of 40 (37%) from deep. Milwaukee was 6 of 30 (20%).
The Bucks were gifted this game. James Harden left 43 seconds in. Instead of taking advantage, though, the Bucks let Mike James go for 12 points, seven rebounds off the street.
James didn't even play the past two games.
And somebody forgot to tell Lopez that it's not 2011. Brooklyn is not "Lob City." Blake Griffin is a 3-point shooter now, though he was also the garbage man diving for loose balls and cleaning up the glass.
Griffin scored 18 points on 7-of-13 shooting, including 5 of 9 from deep, and added 14 rebounds. The 18 were the fourth-most points he's scored all season.
Durant and Kyrie Irving finished with a combined 54 points on 23-of-51 shooting but only 4-for-15 from deep.
Game 2 is set for 6:30 p.m. Monday in Brooklyn. Time on on WKTY 96.7 FM / 580 AM.
TOP PHOTO: Milwaukee Bucks forward P.J. Tucker defends against a shot by Brooklyn Nets forward Kevin Durant during the first half of Game 1 of an NBA basketball second-round playoff series Saturday, June 5, 2021, in New York. (AP Photo/Adam)