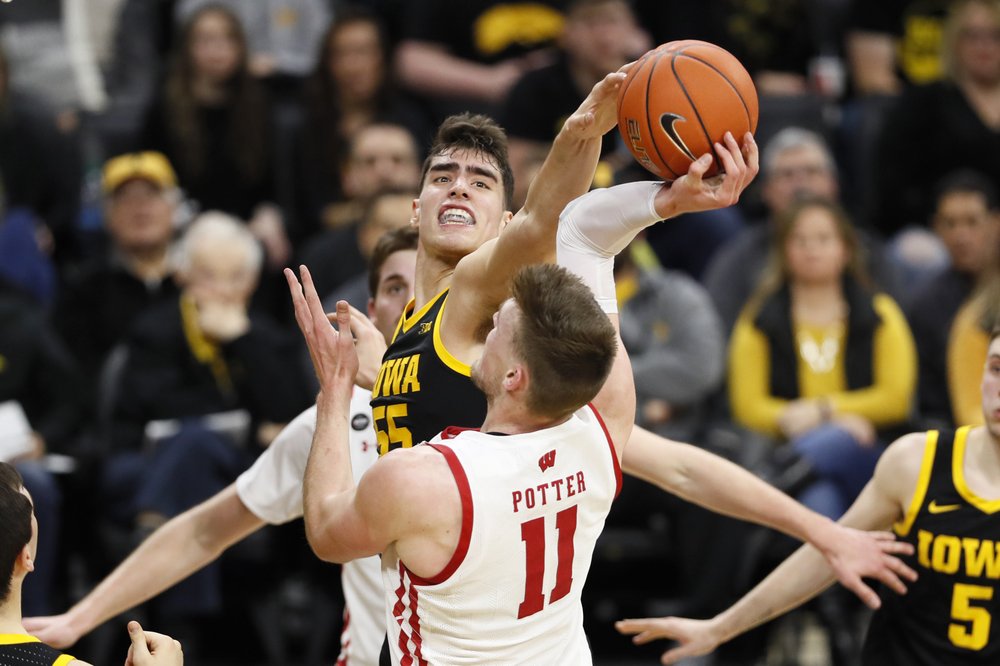 IOWA CITY, Iowa — We'll have to likely wait until Saturday to see if La Crosse native Kobe King takes the court for the University of Wisconsin men's basketball team.
King sat for "personal reasons" as the Badgers team blew a 12-point lead in losing to No. 18 Iowa, 68-62.
The Hawkeyes (15-5, 6-3 Big Ten) trailed 57-45 with 7:13 to play before going on a 19-2 run. Joe Toussaint's layup and free throw with 1:20 to go gave Iowa a 60-59 lead, and Iowa never trailed again.
As for King not making the trip to Iowa, UW coach Greg Gard said, "We'll wait. He's back in Madison, dealing with a personal matter. There's really no timeline on him."
Earlier in the day, Milwaukee Journal reporter Jeff Potrykus wrote, "King did not travel from Madison and, according to a source, is frustrated with the direction of the team this season."
After the game, he tweeted about King, "He is not hurt. Did not travel with the team. Still officially a member of the team, however."
King, Wisconsin's leading scorer at 10 points a game, had started 19 of 20 games — missing one early this season because of injury.
It'll be interesting at the Kohl Center at noon Saturday to see whether King is suited up or even at the game.
Wisconsin hosts conference leading and 14th-ranked Michigan State (15-5, 7-2).
As for the Iowa loss, Luka Garza had 21 points, 18 rebounds for the Hawkeyes, who shot an abysmal 20 of 60 from the field and 3-for-20 from deep.
The Badgers — who opened a 30-30 tie at halftime with an 18-8 run — shot 2-for-9 to end the game, as Iowa closed the game with a 23-5 run.
D'Mitrik Trice led Wisconsin (12-9, 5-5) with 16 points and nine rebounds. Nate Reuvers had 13 points.
---
TOP PHOTO: Iowa center Luka Garza blocks a shot by Wisconsin forward Micah Potter (11) during the first half of an NCAA college basketball game, Monday, Jan. 27, 2020, in Iowa City, Iowa. (AP Photo/Charlie Neibergall)