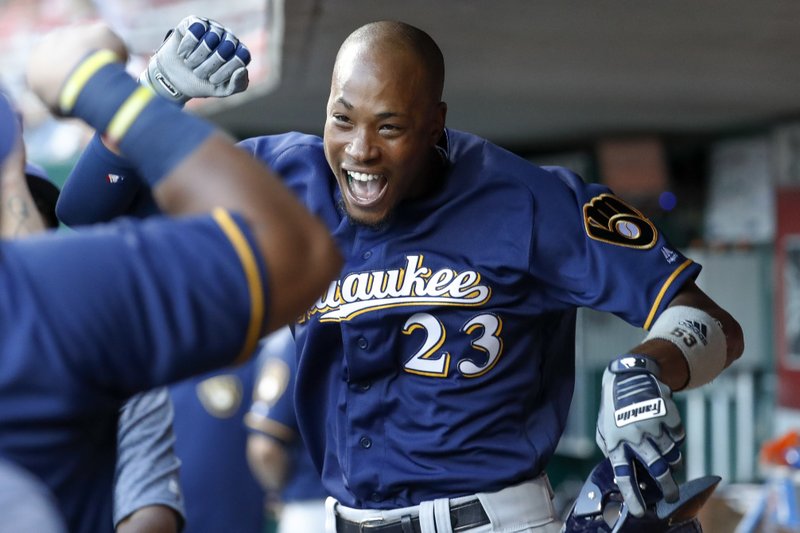 CINCINNATI (AP) — Keon Broxton homered twice, dashed home on a rundown and made a diving catch in the ninth inning. With the depleted Brewers needing a little help, the newest addition to the roster did it all.
Broxton drove in four runs Friday night, and Chase Anderson pitched two-hit ball for six innings, leading the Milwaukee Brewers to an 8-2 victory over the Cincinnati Reds.
The Brewers won their seventh straight against the Reds, their best such streak against Cincinnati in franchise history. Milwaukee is 7-1 overall in the season series.
Broxton was called up three days earlier when Lorenzo Cain suffered a groin strain. He had an RBI single, a solo homer , and a two-run shot as the Brewers pulled away with five runs in the ninth inning.
Broxton also scored from third during a rundown play in the eighth inning, going head-first to beat the throw.
"Probably one of my best games ever, honestly," Broxton said. "With the way they're doing, I just want to come in, fill a spot and keep it moving."
The NL Central leaders improved to are 48-33 at the midpoint of their season. The Brewers were 42-39 last season, when they finished second to the Cubs.
"Look, we've earned this," manager Craig Counsell said. "We've had a successful first half of the season. We've got to keep backing it up."
They suffered another setback when Ryan Braun came out of the game in the seventh inning with a stiff back, leaving the Brewers missing two regulars. Christian Yelich also was sidelined by a sore back. Braun missed six games last month with a back problem.
Counsell said Braun's back has bothered him lately. The Brewers are considering whether he'll need to go on the disabled list.
"He tried to play but it just was getting worse as the game went on," Counsell said.
Broxton and Anderson pulled them through.
Anderson (6-6) completed his rough month with one of his best performances. The right-hander was 1-3 in five previous June starts. He limited the Reds to Tucker Barnhart's single through the first five innings. Reliever Michael Lorenzen connected in the sixth inning for his second homer in a week and his fourth career.
Broxton singled home a run in the second inning and led off the fourth with his first homer of the season off Sal Romano (4-8), who has lost all of his five career starts against Milwaukee.
"Sal's better than that," Reds interim manager Jim Riggleman said. "He faced 25 batters in five innings. That isn't good enough. I don't take much positive out of this game."
In the eighth inning, Broxton walked, stole a base and made it safely home from third when the Reds initially caught him in a rundown, then turned to Orlando Arcia at second base. Broxton reversed course and scored.
"That was a wild one," he said. "High adrenalin, and it was fun."
He completed his big night with a two-run shot in the ninth off Jackson Stephens for his third career multi-homer game.
BREWERS PARK?
Milwaukee has homered in each of its last 17 games at Great American Ball Park, hitting a total of 38. It's the longest such streak by an opponent at GABP. Milwaukee has homered in each of its last five games overall, matching its longest streak of the season.
LORENZEN CONNECTION
Lorenzen has four homers in his last 23 plate appearances since 2016. He also homered on June 24 against the Cubs.
STREAK SNAPPED
Milwaukee's Jesus Aguilar singled twice but ended his streak of three straight games with a homer. He was trying to become the first Brewer to connect in four straight since Eric Thames did it last June. In his last 13 games, Aguilar is batting .432 with three doubles, eight homers and 17 RBIs.
TRAINER'S ROOM
Brewers: Yellich's back tightened as he ran to first base in the series opener on Thursday. Counsell said after the game that it was improving with treatment.
Reds: Homer Bailey threw 100 pitches in his third minor league rehab appearance on Thursday night without physical problem, but had trouble controlling his fastball, Riggleman said. Bailey has been sidelined since June 2 with a sore right knee. He's 1-7 with a 6.68 ERA.
UP NEXT
Brewers: Jhoulys Chacin (6-3) is 0-2 with a 4.67 ERA in five career appearances at Great American Ball Park.
Reds: Rookie Tyler Mahle (6-6) is undefeated in five June starts, going 3-0 with a 2.30 ERA.