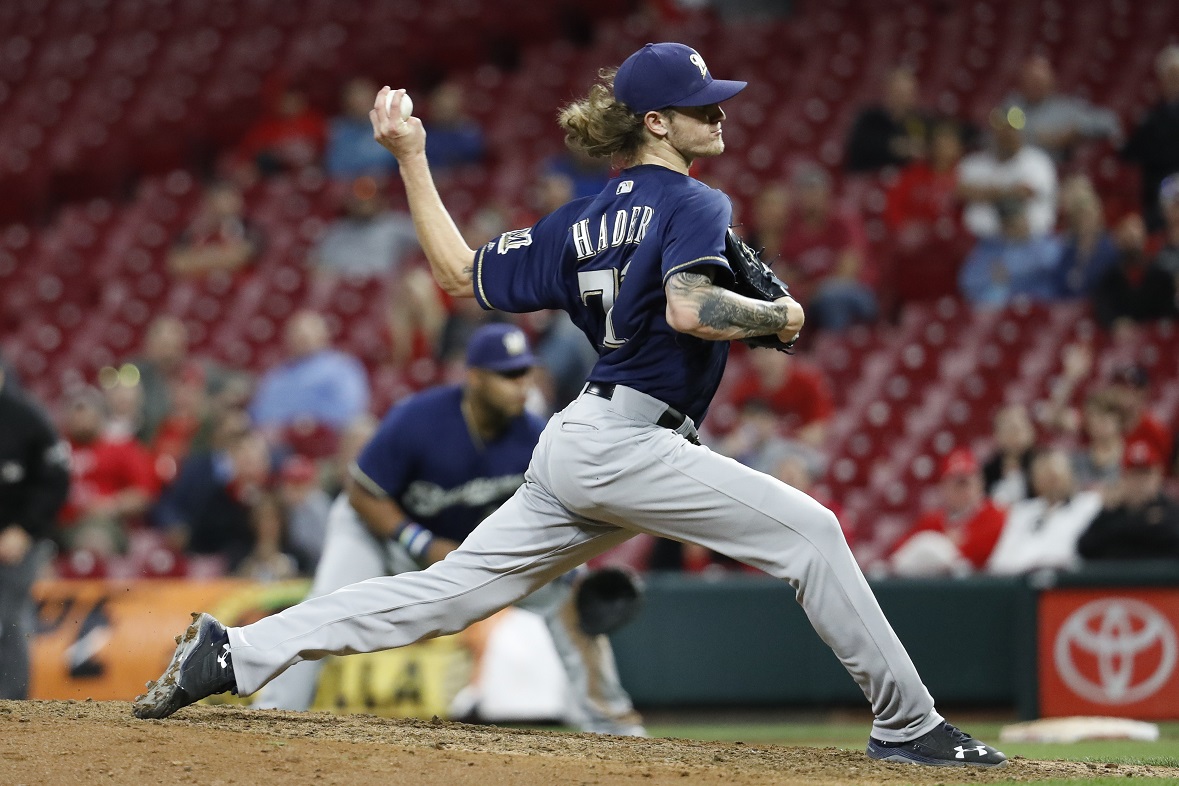 In 1964, Boston reliever Dick Radatz struck out 181 batters in 79 relief appearances, setting a mark that still stands.
According to Baseball-Reference.com, it's the most strikeouts in one year for a pitcher with zero starts.
Relievers were used differently back then — Radatz threw 157 innings while setting his record — but even in today's more specialized environment, Milwaukee's Josh Hader has a chance to finish the season with a staggering strikeout total. He already has 80 in 39 2/3 innings. The 24-year-old left-hander also has six saves and a 1.13 ERA in 25 games, part of a bullpen that has led the Brewers to the National League's best record.
The Brewers won 86 games last season and fell a game short of the second wild card. Now they have a two-game lead over the Chicago Cubs in the NL Central. Milwaukee's offense is just seventh in the league in OPS, and its starters have an ordinary ERA of 3.98. It's the relievers who have led this charge.
Closer Corey Knebel missed time with a hamstring injury, but the Brewers have shown plenty of depth in the bullpen. Three regular relievers have ERAs under 2.00 — Hader, Jeremy Jeffress (1.19) and Jacob Barnes (1.78). Milwaukee has had an NL-high 28 games decided by one run, and the Brewers have gone 18-10.
Hader was a starter as recently as last year in the minors, but with the Brewers he's pitched exclusively in relief. He had 68 strikeouts in 47 2/3 innings for Milwaukee last season, and he's already surpassed that strikeout total in 2018.
If he can't make it to Radatz's mark, perhaps Hader can threaten the record for most strikeouts in 100 innings or fewer. Brad Lidge set that one in 2004 with 157.
Other developments from around the majors:
PULLING AWAY
The Cleveland Indians have had their issues this season, but a forgiving AL Central gave them plenty of time to work out their problems. After a three-game sweep of second-place Detroit, Cleveland is now eight games ahead in the division. The Indians outscored the Tigers 26-3 in the weekend series, and Cleveland has won seven games in a row.
The Indians (43-33) actually have a better record now than they did after 76 games last season. They were 40-36 then, but went on a tear in the second half to finish with 102 wins.
HIGHLIGHT
Tampa Bay shortstop Adeiny Hechavarria was prepared for one of the quirks of his home ballpark Sunday. Clint Frazier of the Yankees hit a drive in the ninth inning that looked headed deep to left field, but the ball hit a speaker hanging from an overhead catwalk and caromed back down in shallow left. Hechavarria stayed with the play and made the catch for an out. The Rays went on to win 7-6 in 12 innings.
LINES OF THE WEEK
The Red Sox outslugged Seattle 14-10 on Friday night at Fenway Park. J.D. Martinez led the hosts, going 4 for 5 with a homer, five RBIs and three runs. Martinez now leads the majors with 60 RBIs and is tied for the lead with 23 homers.
Nelson Cruz also had a night to remember Friday in a losing effort. He went 4 for 5 with two home runs and seven RBIs.