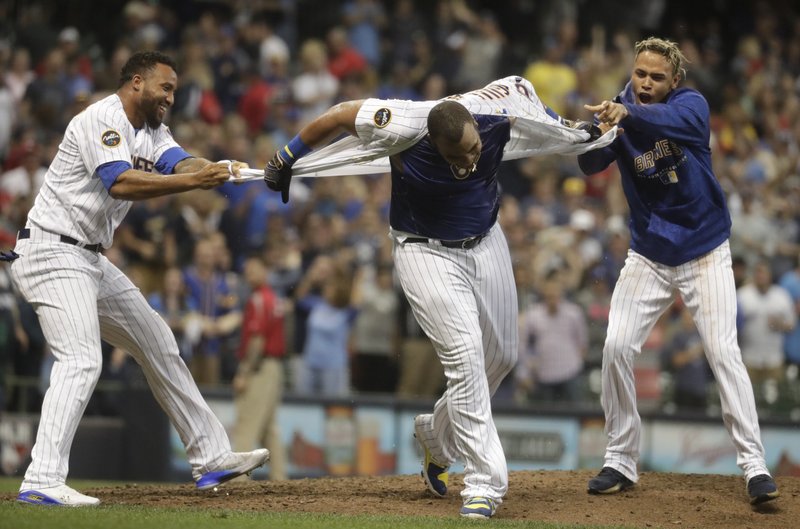 MILWAUKEE (AP) — The Milwaukee Brewers recalled veteran infielder Brad Miller from Triple-A Colorado Springs on Saturday and optioned struggling outfielder Domingo Santana there in an exchange of former 30-homer players.
Miller, acquired from Tampa Bay on June 10 for first baseman-outfielder Ji-Man Choi, was in the Brewers' starting lineup at second base and batting sixth Saturday against St. Louis.
"That first day, no matter how much sleep you have, no matter the travel, it doesn't really matter, you're running on adrenaline," Miller said before the game. "Excited to get in there right away and get to work."
Santana hit .278 last season for Milwaukee with 30 homers and 85 RBIs, but never got going this season. He hit .249 and just three homers and 17 RBIs in 189 at-bats.
"At some point, we're going to need Domingo and we'd prefer that he was kind of rolling and clicking when that times comes," manager Craig Counsell said.
"It's tough to do it when you're not playing that much. It's not something that you want to have to do, and he was a big part of our success last year. But, we just need to get him going and the best way to do that is have him playing," he said.
With Jesus Aguilar and his team-best 16 homers earning more time at first base, recently activated Eric Thames has been playing more outfield, reducing Santana's role.
The 28-year-old Miller batted .256 with five homers and 21 RBIs in 48 games this season with Tampa Bay. Miller hit .243 with 30 homers and 81 RBIs for the Rays in 2016, but dipped to .201 with nine homers and 40 RBIs last season.
"Each year is different and you kind of go with the ebbs and flows — but I think just being in this environment and in this culture they've created here, it seems pretty positive for everybody involved," Miller said.
Miller has started at seven different positions in the majors. He played 105 games at shortstop with Tampa Bay in 2016, then 98 games at second base with the Rays last season. This year, he played 35 games at first and six at second with Tampa Bay.
"What we may ask of him is to move around the field more regularly at different positions on a daily basis, whether it be double switches late in the game or in a starting role," Counsell said. "But, he is versatile, he's a pretty good athlete. He has done this all before, it's just kind of getting him comfortable with doing it again."