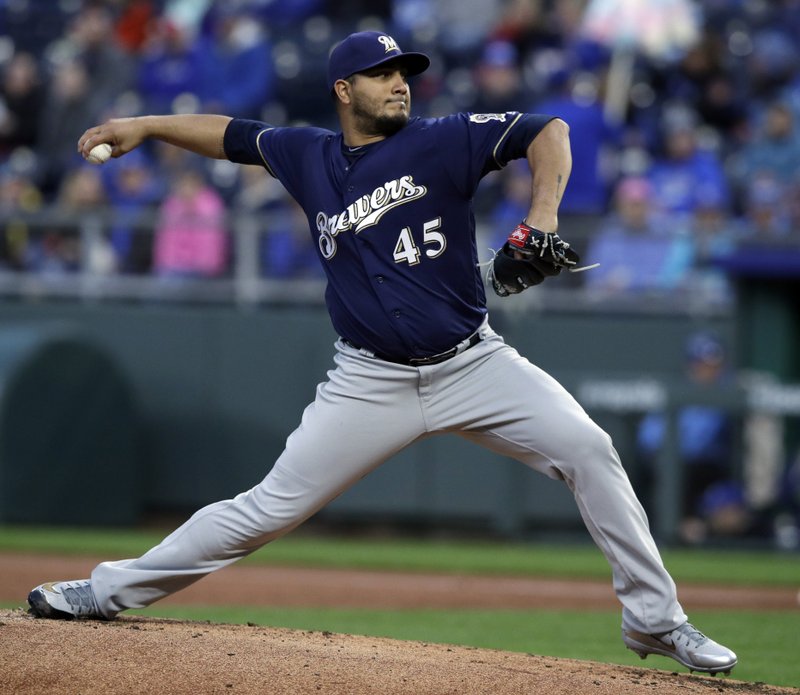 KANSAS CITY, Mo. — Jhoulys Chacin had walked three batters each of his last three outings, so the Brewers' veteran right-hander was surprised when the Kansas City Royals kept swinging early in the count.
They had no choice the way he was pounding the strike zone.
Chacin efficiently mowed through the Kansas City lineup Wednesday night, needing just 30 pitches through the first four innings, and ultimately left with two outs in the sixth. The Brewers' stout bullpen kept the Royals scoreless the rest of the way for a 6-2 victory — their eighth straight overall.
"They were real aggressive," Chacin said. "They were swinging at the first pitch a lot. I was commanding well. I felt especially my mechanics are getting better. That's helping my fastball."
Chacin (2-1) did not allow a hit until two outs in the fourth, when Mike Moustakas went deep. He bounced back to allow one more run on four hits and a walk before the bullpen took over.
Milwaukee's relief corps pushed its scoreless streak to 28 innings to wrap things up.
"They're just doing such a nice job of picking each other up," Brewers manager Craig Counsell said. "They're doing a heckuva job coming in with runners-on-base situations and putting up zeros."
The winning streak for Milwaukee matches its longest since June and July 2015, when the club also won eight straight. The run began with two wins over Cincinnati and included a four-game sweep of Miami before taking both midweek interleague matchups with the Royals.
"We're playing well," Counsell said. "You got to earn the wins. You have to earn them every day."
The Brewers scored all they needed off Jason Hamel (0-2) in the fourth inning on two hits, a walk, an error and a pair of sacrifice flies. Only three of the runs were earned after outfielder Jorge Soler dropped a would-be flyout to the groans of about 5,000 fans that braved the cold, wet weather.
"In the fourth inning, when they scored the runs off of him, I think Soler tried to be too quick," Royals manager Ned Yost said. "He was going to catch it and come up firing to third. They didn't hit him hard, but just found ways to find holes and score those runs."
Chacin tossed six shutout innings in beating the Marlins last week, and he was nearly as dominant Wednesday night. He held the Royals hitless until Moustakas went deep with two out in the fourth, got the next out and then left a pair of runners aboard in the fifth inning.
The Royals scratched out another run on Salvador Perez's fielder's choice before Brewers manager Craig Counsell lifted Chacin after 64 pitches. Dan Jennings got the final out of the sixth.
Hammel allowed five hits and a pair of walks over 6 2/3 innings. Eric Stout finished the seventh, then coughed up two runs in the eighth to cap his major league debut.
"I felt like we made good pitches all night. Just didn't get the breaks," Hammel said. "That (fourth) inning easily could have been one run instead of four."
THUMBS DOWN
Brewers 1B Eric Thames went on the disabled list Wednesday after an MRI exam revealed a torn ligament in his left thumb. The slugger was hurt fielding a grounder on Tuesday night and left after the eighth inning. He'll return to Milwaukee on Thursday to see team doctors and will likely have surgery soon. The Brewers hope to have him back in a couple of months.
TRAINER'S ROOM
Brewers: C Stephen Vogt (shoulder) left the club Wednesday for Arizona, where he will complete his throwing program in extended spring training. He could begin rehab games next week. … RHP Boone Logan (triceps) left for Double-A Biloxi to begin making rehab appearances.
Royals: The swelling in the right foot of RHP Ian Kennedy was down after he took a liner off it in the series opener. Kennedy left after the third inning Tuesday night but could make his next start Sunday.
UP NEXT
Kansas City plays the White Sox five times in the next four days, including a day-night doubleheader on Saturday. RHP Jakob Junis will start the series opener Thursday night.
Milwaukee RHP Chase Anderson will take the mound Thursday night against the Cubs in Chicago. After four games there, the Brewers will conclude a nine-game trip with three in Cincinnati.