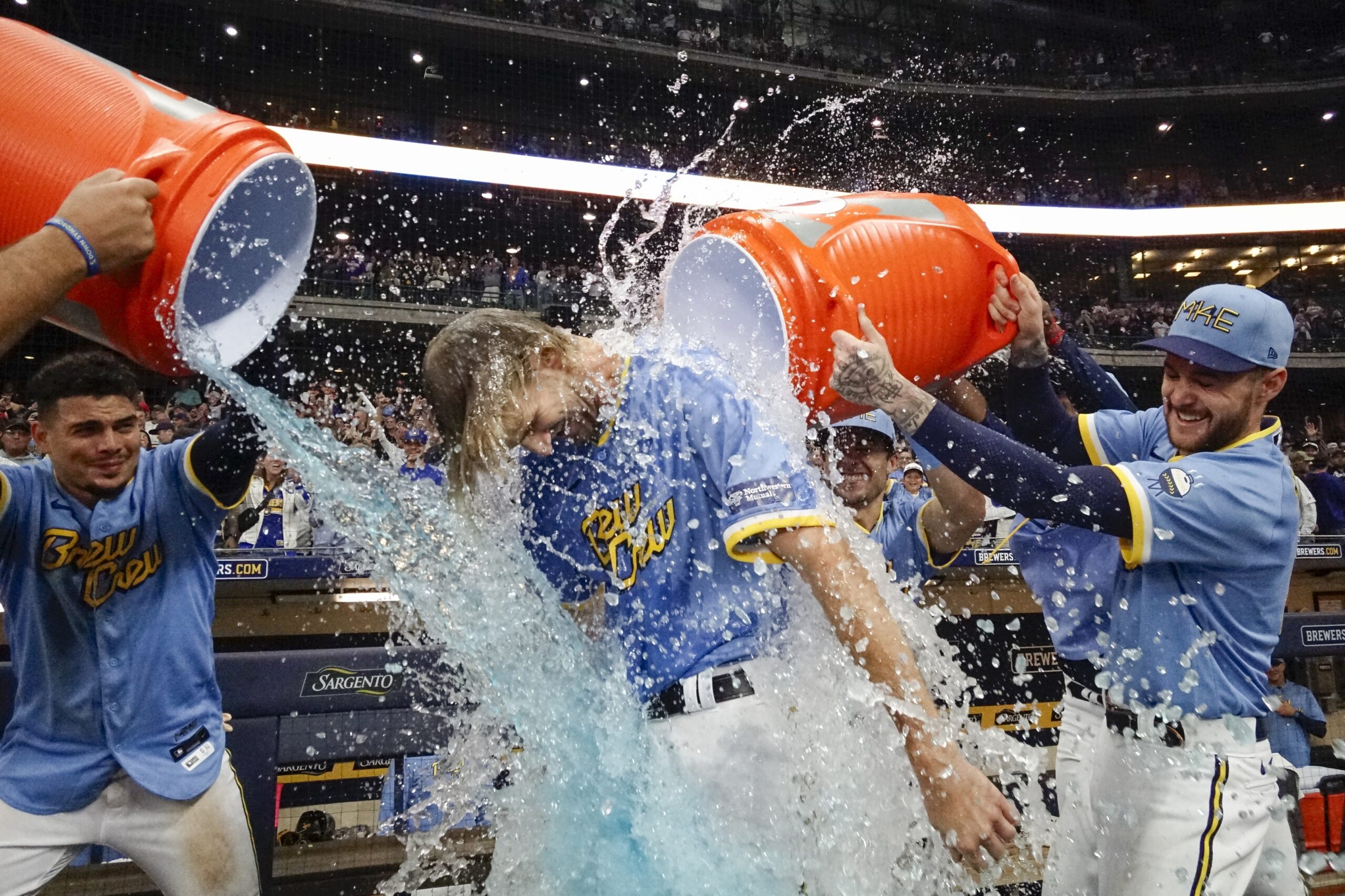 UW-La Crosse, Hortonville High grad. Caleb Boushley gets Brewers win in MLB debut
In his MLB debut, UW-La Crosse graduate and Hortonville, Wis., native Caleb Boushley picked up the win for the Milwaukee Brewers 4-3 over the Chicago Cubs on Friday at Am-Fam Field.
Two nights before his 30th birthday, Boushley got the call in the eighth and did not disappoint, striking out five in 2 1/3 innings.
"You think about when you're calling to get him up the situation you're putting him in because you want it to go well," Brewers manager Craig Counsell said postgame. "We put him in an incredibly tough situation and a great atmosphere and he handled it as well as anybody could handle it."
He entered the game with a one-run lead and two outs in the eighth and, with what Boushley said was about 400 friends and family in the crowd, the righty struck out the first MLB batter he faced.
In the ninth, however, Boushley gave up a 417-foot, tying homer to Ian Happ. Counsell, though, kept him in there and Boushley got a ground out and two more strike outs to get out of the inning.
In the 10th, Boushley got the first batter to fly out, walked the next, before getting a strike out.
After an intentional walk loaded the bases, Boushley ended the inning striking out Patrick Wisdom.
In the bottom of 10, Carlos Santana got Boushley the win with a run-scoring double to lead off the inning.
"You try to play out how it's going to go in your head and then when you're in the moment, just take it a pitch at a time, but it's better than a dream, man," Boushley said.
Boushley was called up earlier in the day.
He began in college at UW-Fox Valley before heading to La Crosse, where he played two seasons in 2016-17.
Boushley was then taken by the San Diego Padres in the 33rd round of the 2017 MLB Amateur Draft.
He joined the Brewers organization ahead of the 2022 season and pitched for the Triple-A Nashville Sounds, starting 25 games, with a 3.25 ERA. The righty hadn't performed as well this year, with a 5.11 ERA in 29 games (26 starts).
In two seasons at UW-L, Boushley holds the school record for career wins (24), career innings pitched (264.2), and innings pitched in a single season (103 in 2017). He's also second in career shutouts (4) and ERA (2.28) and third in strikeouts (227). 
He was named to the 2016 American Baseball Coaches Association (ABCA) and D3baseball.com First Team All-America and to the 2017 ABCA and D3baseball.com Second Team All-America. 
Boushley is the fifth UWL player to appear in the Major Leagues, joining Craig Kusick, Jerry Augustine, Vinny Rottino and Taylor Kohlwey.
---
TOP PHOTO: Milwaukee Brewers reliever Caleb Boushley is douced after picking with a win in his mahjor league debut during a baseball game against the Chicago Cubs Friday, Sept. 29, 2023, in Milwaukee. The Brewers won 4-3. (AP Photo/Morry Gash)