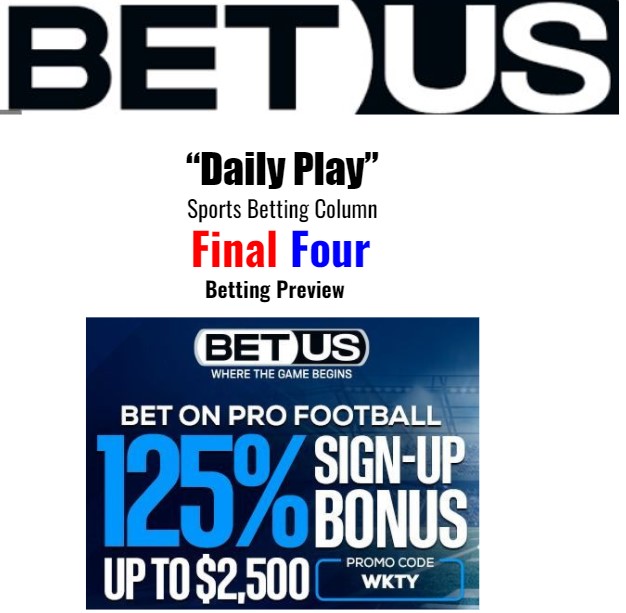 Final Four Betting Preview
Dave Carney 4/1/2022      
What's on the table today?: Final Four Betting Preview
The Final Four is finally here!!! What a pair of match ups we'll see – for the first time ever in NCAA Tournament history the Duke Blue Devils will face the North Carolina Tar Heels and Mike Krzyzewski could be coaching in his final game. 
Kansas, who were the odds-on-favorites to win the NCAA Tourney in 2020 when COVID shut the show down, will be looking to get back to the National Championship against a depleted but dangerous Villanova team.
Below find all the details, and some betting trends for each team, and don't forget to sign up at BETUS.com and use the promo code WKTY to get a 125% deposit match on your first deposit up to $2,500.
2 VILLANOVA WILDCATS vs. 1 KANSAS JAYHAWKS (-4 ½) 
Date: Saturday, April 2, 2022

Matchup: No. 2 vs. No. 1

Venue: Caesars Superdome

Location: New Orleans, Louisiana

TV-Time: TBS – 5:09 p.m. CT
VILLANOVA WILDCATS BETTING ANALYSIS
Straight Up – SU, Against the Spread – ATS, Over-Under (O/U)
SU: 30-7

ATS: 20-15-2

O/U: 17-19-1
KANSAS JAYHAWKS BETTING ANALYSIS
Straight Up – SU, Against the Spread – ATS, Over-Under (O/U)
SU: 32-6

ATS: 19-18

O/U: 19-17-2
8 UNC TAR HEELS vs. 2 DUKE BLUE DEVILS (-4)
Date: Saturday, April 2, 2022

Matchup: No. 8 vs. No. 2

Venue: Caesars Superdome

Location: New Orleans, Louisiana

TV-Time: TBS – 7:49 p.m. CT
UNC TAR HEELS BETTING ANALYSIS
Straight Up – SU, Against the Spread – ATS, Over-Under (O/U)
SU: 28-9

ATS: 20-16-1

O/U: 21-16
DUKE BLUE DEVILS BETTING ANALYSIS
Straight Up – SU, Against the Spread – ATS, Over-Under (O/U)
SU: 32-6

ATS: 20-15-3

O/U: 21-17