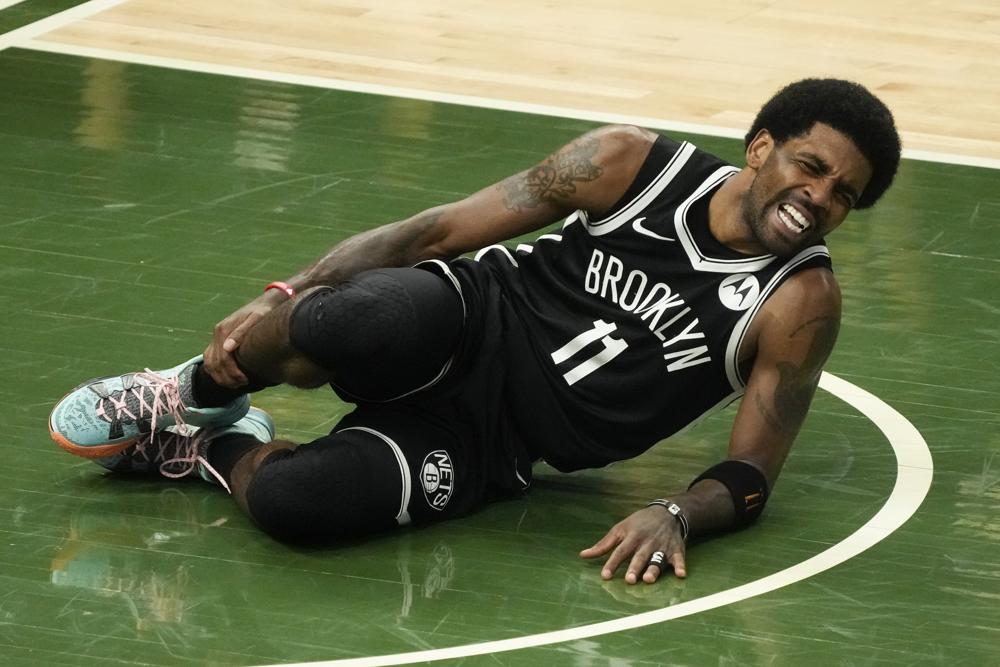 Two things changed in helping the Milwaukee Bucks tie the series with the Brooklyn Nets.
One obvious: Kyrie Irving sprained his ankle and the Nets were basically left to play 1-on-3 — Kevin Durant vs. Giannis Antetokounmpo, Khris Middleton and Jrue Holiday.
The second: For the first time in the series, the Bucks moved the ball. For the first three games, Milwaukee had a combined 50 assists on 116 field goals.
In Game 4, a 107-96 victory Sunday, the Bucks had 27 assists on 39 field goals — 21 of those on 30 made baskets after three quarters when Milwaukee was up 81-69.
Middleton and Holiday combined for 33 points, 17 assists. The two had 20 assists the first three games combined.
The Bucks still don't move much offensively, but they moved the ball Sunday, and that was enough — plus the whole Irving sprained ankle thing.
Remove Antetokounmpo, and Milwaukee even shot it well from beyond the arc — 15-for-32 (46.9%). The 26-year-old forward had 32 points, 12 rebounds.
Without Irving, Durant was left as last man standing — sort of ironically, considering his history in the playoffs. The 32-year-old was, again, terrible from the field in Milwaukee, going 9 of 25 for 28 points, including 1-for-8 from beyond the arc.
He was 11 of 28 from the field in Game 3. So, one could argue that, perhaps, PJ Tucker and the defensive gameplan are paying off. Or, nobody shot well in Game 3 and that whole "last man standing" thing again (Irving, James Harden injured equals Nets not very good).
Last note, going back to assists, Irving had two in 17 minutes before leaving the game. That's one more assist than he had in 45 minutes in Game 3.
The two teams are back in action at 7:30 p.m. Tuesday. Tune in on WKTY 96.7 FM / 580 AM with pregame beginning at 7 p.m.
TOP PHOTO: Brooklyn Nets' Kyrie Irving holds his leg after being injured during the first half of Game 4 of the NBA Eastern Conference basketball semifinals game against the Milwaukee Bucks Sunday, June 13, 2021, in Milwaukee. (AP Photo/Morry Gash)