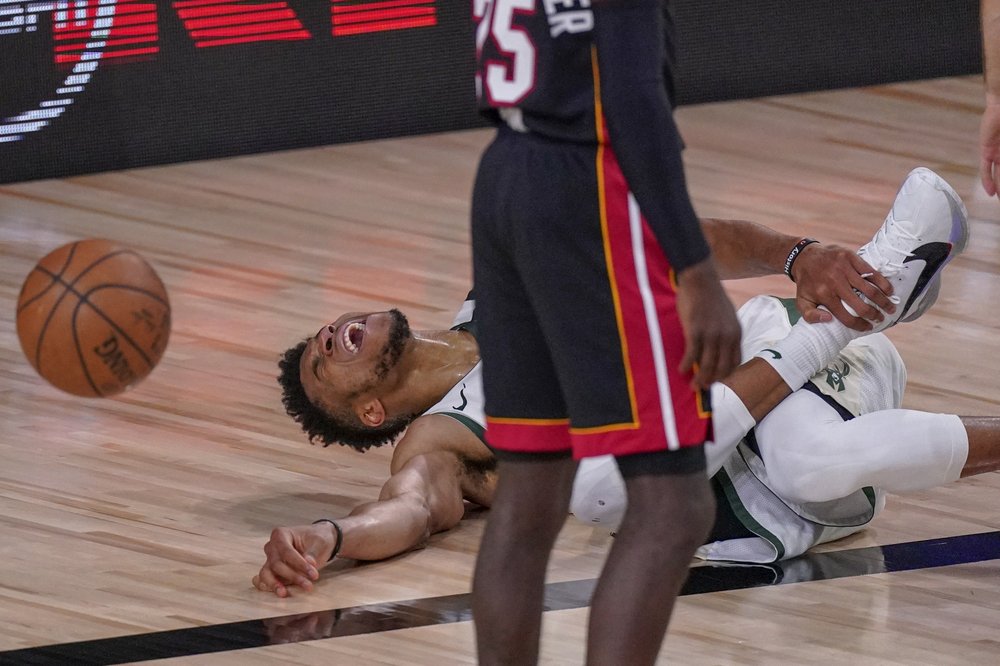 Bucks future hanging in the balance
Uh-oh, I think I've seen this movie before. Hope, optimism, faded, with the twist of an ankle and a 'simple twist of fate.'
On Sunday, Giannis Antetokounmpo sprained his ankle in Game 4 against the Miami Heat. In 11 minutes, he scored 19 points on 8 of 10 shooting. Eleven minutes of a game, in which the Milwaukee Bucks could have been swept, but Antetokounmpo wanted no part of it. He did what he could. Until he could do no more.
When Giannis limped in tears to the locker room, unable to answer the call of his own body, the rest of the team had one thing to do, step up. Play like the team that was on pace to win 70 games, regardless of who was on the court. Do it now or go home. Possibly never to come back as the same group.
I've been on record saying I do not think that Giannis leaves the Milwaukee Bucks for what would be considered greener pastures by some. A big market. I'm of the opinion that Giannis wants to take the max money from the Bucks, keep his family well healed forever, and see if he can't turn this team into a championship contender. A championship winner.
However in the last couple of months, as we are all accustomed to seeing, things have taken some incredibly improbable turns.
From the death of Kobe Bryant and his daughter, along with seven other souls, the NBA season getting shut down, with only 18 plus or minus games to go, the nation and the world shutting down, due to a global pandemic, a playoff bubble, and a twisted ankle hobbling one of the most dominant players in the NBA, everything is up for grabs in 2020.
In one respect I can look at Giannis turning his ankle and say, no big deal, the rest of the team wasn't playing that well, this bubble thing is really hard to do, let's come back next year. But it did start to remind me of a couple of situations, one recent, and one two decades ago, that forever changed the landscape of multiple franchises.
The most recent example of a superstar player, trying to will his way through injury, to propel his team to a championship, is Kevin Durant and the Golden State Warriors. Against the Toronto raptors in the 2019 championship series, Durant was visibly hurt, and was by some admission rushed back into the lineup, promptly tearing his Achilles tendon. An injury, that until very recently, meant the end of a productive basketball career. We still don't know what Kevin Durant will be, when he returns….to play for the Nets!!!
Yeah, KD was so pissed at the Warriors for reinserting them in that series, and the injury he sustained, that he wanted out! That's not all that went into Kevin's decision to leave the Warriors, but it surely was a factor, and he said as much.
The Warriors this year were the worst team, or one of the worst in the NBA. The Nets even though Durant didn't play for them, still managed to stumble through the Eastern Conference and make the playoffs. One team down another team up…even if it didn't really have anything to do with KD's on court activities.
The other example that comes to mind, is one that many basketball fans, who haven't been paying really close attention for the last 25 plus years, might have forgotten. This is the story of Grant Hill.
Hill was by far one of the best young players in the NBA at the time, and his stat lines over his first six seasons, points, rebounds, assists, we're up there with all-time greats, Oscar Robertson, LeBron James, and Larry Bird. Hill was destined to be a superstar, having been named to multiple All-Star teams, all NBA first team in 1997, co NBA rookie of the year, and of course a two-time national champion at Duke.
In his seventh season, just one more in then Giannis has under his belt right now, Grant Hill was playing on an April day against the Philadelphia 76ers. In that game Hill sprained his ankle severely. Just 7 days before the start of the playoffs. Grant Hill continued to play through that ankle injury, and in the first round against the Miami Heat, the ankle got worse, and in the second half of game two, Hill had to be taken out. He didn't come back, and the Heat swept the Pistons.
The US Olympic team in 2000 wanted to play Grant Hill, but due to injury, he wasn't available, or able. 
Hill signed a massive contract with the Orlando Magic in the summer of 2000 (7yr $93.3M), and set his sights to reinvigorate his career elsewhere, Florida, for a team he thought wouldn't put him in harm's way, and rush him back out onto the court. This is when the story of Grant Hill gets really sad…and exactly what I hope doesn't happen to our own "Greek Freak".
In the 2000-2001 season, Grant Hill suited up for a total of four games for the Magic. In 2001-2002, Hill suited up for 14. In 2002-2003, Hill managed to suit up for 29 games, before having to shut it down again. The 2004-2005 season for Hill was hailed as a comeback year, in which Hill played and started 67 games, averaging nearly 20 points a game, and making his first All-Star team in over 5 years.
What seemed like a comeback, a return to pre-injury form for Hill however, was merely a mirage. In 2005-2006 Hill managed to play in just 21 games, before finishing his career in Orlando in 2006-2007 mustering 65 more. If it weren't for Hill's late career healthy resurgence in Phoenix, the "what ifs" would have dwarfed whatever successes he may have found elsewhere. With the Suns Hill was a productive player on a very good team. But he was not even close to the guy he was pre-ankle injury.
The reason this story resonates so much with me right now is simply because the Milwaukee Bucks have a young superstar, who they are asking to lead their franchise, in a small market, to heights it has not reached since it's inaugural seasons. The same was asked of Grant Hill, and when Grant was asked to keep playing, he did, and it nearly ruined his career.
I'm not suggesting the Milwaukee Bucks are doing anything of this sort like the Detroit Pistons were with Grant Hill. But it makes you wonder, will Giannis look at the situation with the Bucks, think about the injury he sustained, the trajectory of his career, and the ability of this team, and this town to attract championship talent? Will he say "what am I doing here"? "Should I bolt"?
Just to go back to what I've been saying for quite some time, I do not think that Giannis will leave the Milwaukee Bucks. I think he'll try to make the most of it, until he's at least nearly 30. At which point if Milwaukee still isn't in a position to get him to the promised land, then I could see him looking elsewhere. Try to put a cap on a career that we hope is still going up in trajectory.
That said, the potential of Giannis leaving the Bucks, as with every professional athlete in every sport, you just never know. Who thought Brett Favre would be playing for the Jets? Then the Vikings?! Who would have thought we'd see Michael Jordan play for the Washington Wizards? Stranger things have happened.
If the Milwaukee Bucks do lose Giannis, they're in a bad spot. The max contract given to Khris Middleton (5yrs $178M), the big time money dulled out to Brook Lopez (4yrs $52M), the hefty extension given to Eric Bledsoe (4yrs $70M), it'll make it extremely hard for the Milwaukee Bucks to do much on the open market. A market they've never exactly aced anyhow.
Giannis is still under contract for another season after the crazy one we're in right now. But because of the compressed time frame of the season, when the trade deadline is, when the draft is going to be, things could get dicey quickly. How quickly will this Milwaukee Bucks team be to turn around, bounced in the second round? Will they have the gusto to fight through a highly charged political home front in Wisconsin, where they've been on the front lines? Will any of this affect Giannis or the Bucks ability to win next season?
Regardless of if the Bucks front office thinks that any of these things are a yes, big questions need to be answered and fast. Does Giannis want to stay…does he want to go? If he wants to stay let's ink that deal… If he wants to go we got to work on some place to get him to and fast!
Trading a superstar like Giannis is a disaster for a franchise, and often only works out for the traded superstar. Losing Giannis would be like losing the Rosetta Stone. The Milwaukee Bucks may never figure out how to get to a championship if it can't figure out how to get Giannis, their roadmap to success, the help he needs.
Perhaps it's all the drama of the NBA bubble getting me all worked up, perhaps it's the ramp up to the NFL football season with players getting cut and changing teams, but injuries, and the effects they can have on players and franchises, are real. And this injury to Giannis's ankle, makes me a little nervous.
I hope the Bucks don't rush him back, but I hope they don't hold him back either. I hope Milwaukee wins, but I hope they don't win by sacrificing the future, and potentially the fate of the franchise itself.