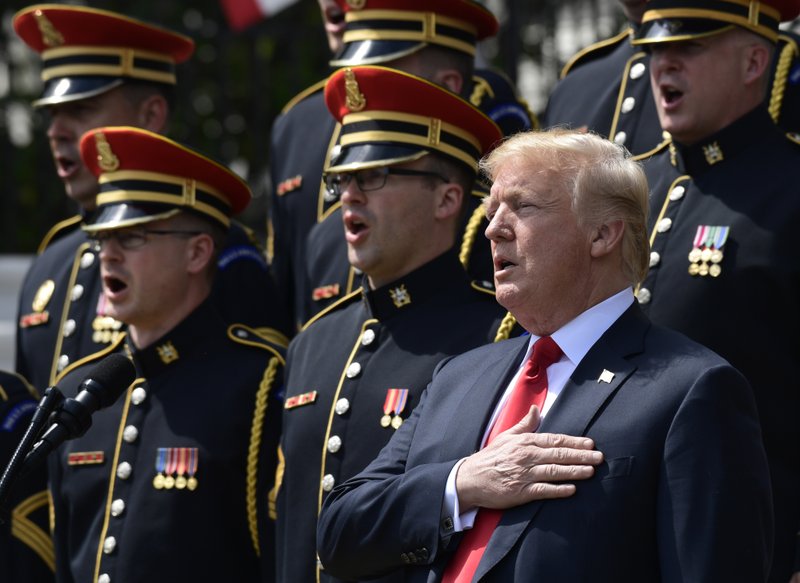 WASHINGTON — Whenever there's controversy, President Donald Trump can always fall back on … err stand up during that song we play before sports.
The president un-invited the Philadelphia Eagles to the White House. Instead, he held a "Celebration of America" rally, after it was clear most players weren't going to show up.
Trump tried to tie the visit over players having knelt during the national anthem, which they do to protest racism and police brutality. Just one problem. At no point last season did any Eagles players kneel during the "Star-Spangled Banner."
Trump even put out this release, saying the Eagles "disagree with the President, because he insists that they proudly stand for the National Anthem …" Also, is it odd to write a statement and call yourself "the President?" We've gotten to third-person statements.
Donald Trump issues a statement saying neither the #Eagles, nor team representatives, are welcome at the White House tomorrow for their Super Bowl visit. Unreal. pic.twitter.com/PXEoZ43XY0

— Ian Rapoport (@RapSheet) June 4, 2018
Fox News jumped on the bandwagon, posting pictures of Eagles players kneeling. That, too, was a problem, since the players were kneeling in prayer after a game, not during the anthem, you know, because they never knelt during the anthem.
Deplorable @FoxNews is using images of Eagles players kneeling to pray and pretending they are pictures of protest kneeling: pic.twitter.com/BGuX8Sw2qQ

— Kaivan Shroff (@KaivanShroff) June 5, 2018
Fox tweeted a correction, in quotes.
"During our report about President Trump canceling the Philadelphia Eagles trip to the White House to celebrate their Super Bowl win, we showed unrelated footage of players kneeling in prayer." (1 of 2)

— Fox News (@FoxNews) June 5, 2018
Regardless, Trump threw a "fan" party. Or a "patritaism" party. Either way, it's a little strange and, again, the easiest stance to always fall back on. But, here too, a couple problems. One on the patriotism. Trump had some issues singing "God Bless America." But, in his defense, the song was written, literally, 100 years ago in 1918.
President Trump appears to have trouble singing 'God Bless America' during event he held to celebrate America pic.twitter.com/baBVivmM1v

— Yahoo News (@YahooNews) June 5, 2018
And, as for those Eagles fans that replaced the team visiting the White House. Well, they weren't exactly fans.
I've asked 6 of the "fans" at the White House who was the @Eagles quarterback during the super bowl. Not ONE person knew. @NBCPhiladelphia

— Tim Furlong (@tfurlong) June 5, 2018
Not exactly sure who these @Eagles "fans" are but I have counted exactly one item of clothing with an eagles logo on it at the White House. #Eagles #EaglesNation @NBCPhiladelphia pic.twitter.com/XAo9u6L2F2

— Tim Furlong (@tfurlong) June 5, 2018
But, at least all the greats were in attendance, like Vice President Mike Pence and treasury secretary Steve Mnuchin (below).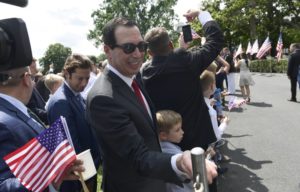 Also, during the rally, following the anthem, a heckler shouted, "Stop hiding behind the armed services and the national anthem!" prompting boos. A Swedish reporter posted this video of a man kneeling as the anthem was played.
Man kneels during national anthem

Footage from a Swedish journalist shows a man kneeling during the national anthem during a celebration at the White House. https://nbc4i.co/2xLADMwThe event was held in lieu of an event with the Philadelphia Eagles that was canceled over football players kneeling during the anthem.

Posted by NBC4 on Tuesday, June 5, 2018