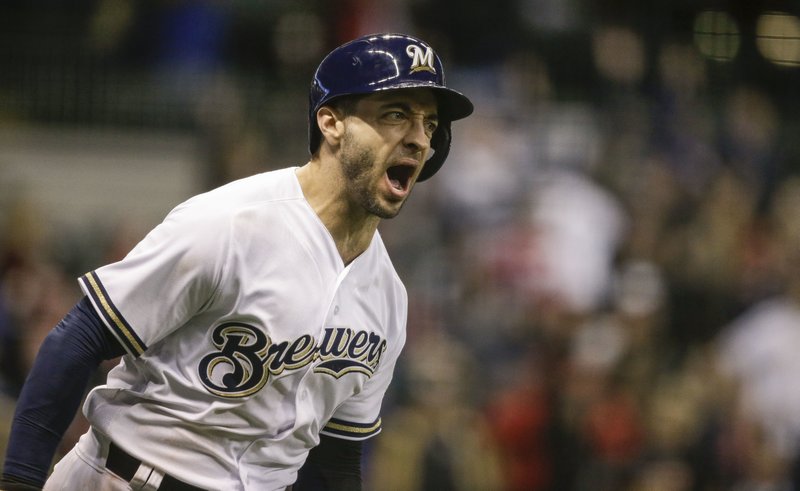 MILWAUKEE  — The Milwaukee Brewers were down a run with two outs in the bottom of the ninth inning.
Then Christian Yelich and Ryan Braun hit back-to-back home runs — Braun's in walk-off fashion — to take down the St. Louis Cardinals 5-4 at Miller Park on Tuesday night.
We're just getting started. #ThisIsMyCrew pic.twitter.com/uPS3LS9NpV

— Milwaukee Brewers (@Brewers) April 4, 2018
The Cardinals started the game with back-to-back home runs of their own. It was the first time in MLB history teams have started and finished a game with back-to-back home runs.
In the bottom of the ninth, Dominic Leone (0-1) retired the first two batters, but then lost Yelich on a 2-2 pitch. to tie the game 4-4. Braun followed on the very next pitch for his fourth career walk-off homer. It's the second ninth-inning, go-ahead home run for Braun this season, as well.
Tonight's @Cardinals–@Brewers game is the first in @MLB history to both start AND end with back-to-back homers. pic.twitter.com/hqKjK53KGA

— MLB Stat of the Day (@MLBStatoftheDay) April 4, 2018
Dan Jennings (1-0) picked up the victory with a perfect ninth.
The Brewers found themselves down 4-0 after the third inning after Dexter Fowler and Tommy Pham opened the game with consecutive home runs for St. Louis, and a Marcell Ozuna two-run shot two innings later.
The Brewers were down 4-1 heading into the eighth before RBI singles from Travis Shaw and Jonathan Villar pulled them within a run, leading up to Braun's heroics.
Jack Flaherty struck out a career-high nine while pitching five innings of one-run ball before the Cardinals' bullpen lost blew it.
Yelich started Milwaukee's rally with a two-out RBI single off the glove of shortstop Paul DeJong in the fifth to get the team on the scoreboard.
Fowler, mired in a 1-for-18 stretch, drove the first pitch from Chase Anderson into the Cardinals' bullpen for his 24th career leadoff home run. Pham looked at one pitch and then lined the next one over the wall in deep right-center.
Flaherty kept the Brewers guessing with a two-seam and four-seam fastball and a nasty slider in his sixth career start in seventh appearances. He was recalled March 28 from Triple-A Memphis when Adam Wainwright was placed in the disabled list.
Anderson was charged with four runs and eight hits in four innings.
UP NEXT
Cardinals: RHP Carlos Martinez (0-1, 8.31 ERA) makes his second start of the season. He is 5-4 with a 2.18 ERA in 23 career games against the Brewers, including 12 starts.
Brewers: RHP Jhoulys Chacin (0-0, 10.80 ERA) makes his second start of the season. A free-agent signee, he is 0-5 with a 6.10 ERA in six career games against the Cardinals.