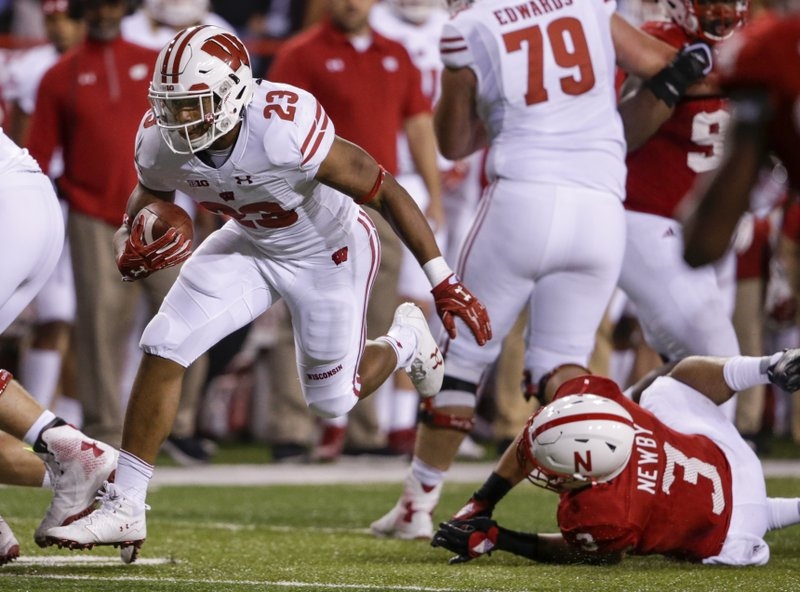 Clemson, Auburn, Oklahoma and Wisconsin will enter championship weekend positioned to earn a playoff spot with just one more victory.
But a potential Alabama-Ohio State controversy looms.
Clemson moved up to No. 1 in the final College Football Playoff rankings before the semifinals are set by the selection committee on Sunday.
Alabama fell from No. 1 to fifth in the new rankings Tuesday night after losing to Auburn, and Georgia was sixth. Miami slipped after taking its first loss of the season last week from No. 2 to seventh, just ahead of Ohio State at eighth.
"It's close separation from team No. 5 Alabama, six Georgia, seven Miami, eight Ohio State. Those teams are close," said committee chairman Kirby Hocutt, the athletic director at Texas Tech. "Very little separation in the committee's eyes between teams five through eight."
Each of the top four teams plays a conference title game this Saturday against another highly ranked team, creating potential play-in playoff games. Clemson faces Miami in the Atlantic Coast Conference championship; Auburn and Georgia play for the Southeastern Conference title; Wisconsin faces Ohio State for the Big Ten title; and Oklahoma faces No. 11 TCU for the Big 12 title.
If the top four win out, the semifinals likely would fall into place: Clemson would face Wisconsin in the Sugar Bowl semifinal on New Year's Day by virtue of giving the top seed a regional advantage, and Auburn and Oklahoma would play in the Rose Bowl semifinal.
It is likely Miami would jump into the top four by beating No. 1 Clemson and winning the ACC and same goes for Georgia if it can win a rematch against Auburn. The intrigue would start if Oklahoma and/or Wisconsin lose.
The selection committee could be faced with a choice between Alabama (11-1) and Ohio State (10-2). The Crimson Tide's resume has no wins against teams currently in the top 15 and it is done playing, but the Buckeyes have two losses by double digits, including a 31-point blowout at Iowa.
Penn State is ninth and Southern California is the highest ranked Pac-12 team at No. 10.
THE QUESTIONS
What is a conference championship worth?
That could be the deciding factor between Alabama and Ohio State if it comes down to those two schools. For those who want to try to read between the lines, Hocutt mentioned conference titles a few times Tuesday night. It is important to remember that the committee's protocol states when teams are similar conference titles should be used as essentially a tiebreaker. As of right now, Hocutt is saying the Buckeyes and Tide are close. It's also important to remember that this stuff is subjective so be cautious about reading too much into anything.
"I will be prepared and able to answer that question next Sunday," Hocutt said when asked about whether Ohio State and Alabama were close enough so that a conference title could be the difference.
Stay tuned.
Can Clemson lose to Miami and get in?
Looks like it, especially if Auburn wins the SEC, but it likely will require a loss by either Wisconsin or Oklahoma.
Clemson's resume is heavy with victories against winning teams, including beating Auburn back in September. That could give the Tigers a trump card on Alabama, which just lost to Auburn.
The only thing the other potential two-loss contenders, such as Ohio State, TCU or Southern California, would have on Clemson is a conference title. Would that be enough to drop the defending national champions all the way out of the top four? The Tigers might have some cushion.
Does the committee hate UCF, the American Athletic Conference and Group of Five teams in general?
Hate is a strong word. But UCF, the only other unbeaten team in FBS other than Wisconsin, moved up just one spot to No. 14 after beating USF (10-2) last week in a dramatic and thrilling game. Washington (10-2) and Stanford (9-3) both jumped the Knights.
That ranking prompted this tweet from UCF athletic director Danny White: "You've got to be kidding me!!!"
The Knights play Memphis, the committee's 20th-ranked team, on Saturday for the AAC championship. The winner will get the Group of Five's guaranteed spot in a New Year's Six bowl game, but those teams are not even an afterthought in the playoff conversation. UCF is the highest scoring team in the country, but Hocutt said overall strength of schedule and some defensive shortcomings were holding back UCF.
"The Selection Committee had questions as to are they as balanced of a team as some others that are ranked just above them, and we analyzed their schedule, have they really been tested on the defensive side of the ball this year, and if so, by who, and based on that conversation, we ranked them in that 14th spot this week," Hocutt said.