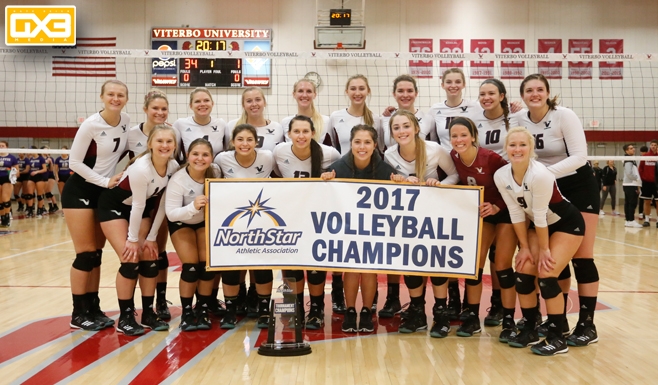 No. 2-ranked Viterbo awaits placement in NAIA tournament today
After winning its fourth consecutive conference tourney over the weekend, Viterbo University's volleyball team waits today to see where it will be placed in the NAIA tournament.
The V-Hawks are the No. 2-ranked team in the country with a 34-1 record, after sweeping their way through two North Star Athletic Association tournament matches at home this weekend.
Viterbo, which now has won 66 consecutive home games, invites fans to come watch the 10 a.m. selection show today at the Varsity Athletics Lobby (map here).
Or watch the selection show live here.
Last year in the NAIA tournament, the V-Hawks made it through pool play but lost in, essentially, the Sweet 16 — the first elimination round. They finished 42-3.
In 2015, the Viterbo made it to the quarterfinals, before being eliminated, finishing the season 40-5.
In 2014, it was the Elite Eight where Viterbo's season ended at 39-9, losing to the No. 1-ranked team in the tournament.
VITERBO RECENT HISTORY
2017: 32-1 (19-0 at home), 16-0 conf., won conf. tourney 
2016: 42-3 (11-0 at home), 16-0 conf., won conf. tourney
2015 40-5 (10-0 at home), 8-0 conf., won conf. tourney
2014 39-9 (12-0 at home), 6-0 conf., won conf. tourney
2013: 33-12 (11-0 at home), 5-1 conf., lost conf. tourney championship
*Last home loss came Oct. 31, 2012 to #18 Grand View St., 3-0.
Please follow and like us: