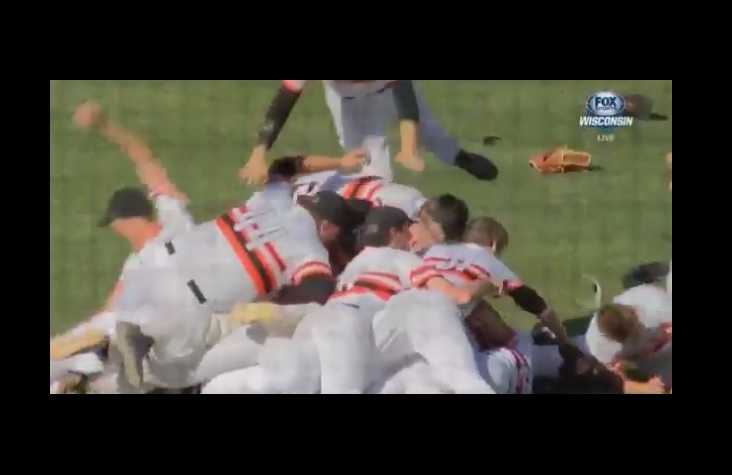 After 10 trips to state, West Salem brings home first championship
Third consecutive trip to state's the charm for Panthers
GRAND CHUTE, Wis. — For the first time in school history, the West Salem High School baseball team is state champs.
The Panthers won the Division 2 state title Thursday, doing all their damage in back-to-back, four-run innings to win 8-6 over Waupun at Fox Cities Stadium.
And the dog-pile ensued:
Dog pile? It's a Panther pile! West Salem wins the @wiaawi Division 2 championship! #wiaabase pic.twitter.com/rhCOZCa3Vu

— FOX Sports Wisconsin (@fswisconsin) June 15, 2017
It was the 10th trip to state for the Panthers – seven summer tourney trips and the third consecutive trip in the spring – but first championship.
Zach Ihle and Ryan Beirne each had two hits, while Braxton Ghelfi had two of the team's four stolen bases – once on a double steal with Austin Kennedy taking home – and scored two runs for the Panthers (24-4).
Alec Gorski picked up the win. He pitched the first four innings, giving up seven hits and three earned runs. Hunter Wakefield got the save, closing out the final three innings giving up three hits and one earned.
(more below)
West Salem scored four runs in both the second and third innings, taking advantage of three Waupun (26-6) errors. One of those errors allowed Kennedy to go from first to third.
Down 2-0 heading into the bottom of the second, Kennedy put West Salem on the board with an RBI single. Ghelfi and Beirne also had RBI singles in the four-hit inning.
In the third, Schultz two-run single down the right-field line capped off the scoring and gave the Panthers all the runs it would need, though it did have to hold on.
Waupun scored three runs in the fifth inning on four hits. After a two-run double pulled the Warriors within 8-5, Gorski came into pitch.
He shut the door in the fifth, put Waupun down in order in the sixth before running into some trouble in the seventh.
The Warriors led off with a single and, after an out, scored on a double. After another out, Waupun got another single – this one to left field – putting the tying run on first, but Gorski managed to end the game with a flyout to right.
Please follow and like us: