LeBron ruins Wiggins' house party
James scores 16 of 36 in fourth,
Wiggins drops career-high 33
MINNEAPOLIS – It was a coming out party for Andrew Wiggins on Saturday night.
Then LeBron James had to call the cops on the 19-year-old.
With Kevin Love visiting his old home, his replacement took center stage for most of the game.
But when it was all said and done, it was James that ruined the party for Wiggins and the Minnesota Timberwolves at the Target Center. 

James scored 16 of his 36 points in the fourth quarter in leading the Cleveland Cavs to a 106-90 win, their 10th in a row. 
It's as if James let Wiggins take center stage on his home turf, making the packed house forget about Love.
James and this seasons No.-1 overall pick went back and forth all game. Wiggins would score and the sellout crowd – something that hasn't even come close to happening this year for the 8-39 team – would erupt. James would answer, overpowering Wiggins and getting to the unprotected rim to hush the crowd.
And, when James and teammates were missing, it was Love cleaning up the glass as the crowd booed each time he touched the ball. Back home, where he demanded a trade last offseason, Love had 14 points, 17 rebounds – six offensive. Nobody in the stands cared.
Love was an afterthought as Wiggins poured in a career high 33 points on 12-of-25 shooting.
"It's always a motivation game against Cleveland, especially when they have one of the all-time greats in LeBron," Wiggins said. "That's motivation for me, I'm sure it is motivation for the whole team."
The future of the franchise had his best game of the season, out to prove that the man he was traded for was not a regrettable deal. In fact, he showed The King, himself – not Elvis, but James – that he wasn't just a player in this league, but a superstar in the making. Wiggins wasn't out to prove he was better than Love, he was proving he was as good as James.
At one point on defense, Wiggins slipped between Kyrie Irving and James for a steal and a jam. Before that, he got James to bite on an up-and-under in the lane for a bucket. He was nailing the 3-pointers (3-for-4), hitting fade-aways and coming off screens for catch-and-shoot jumpers. Kevin Love who?
"He's a great talent, great talent," James said following the win. "He has a very good feel for the game. That's good to see. He was calm, played the game the right way tonight. He made some mental mistakes but as a rookie you expect that. I think he's grown each month in this season. They've got a good piece."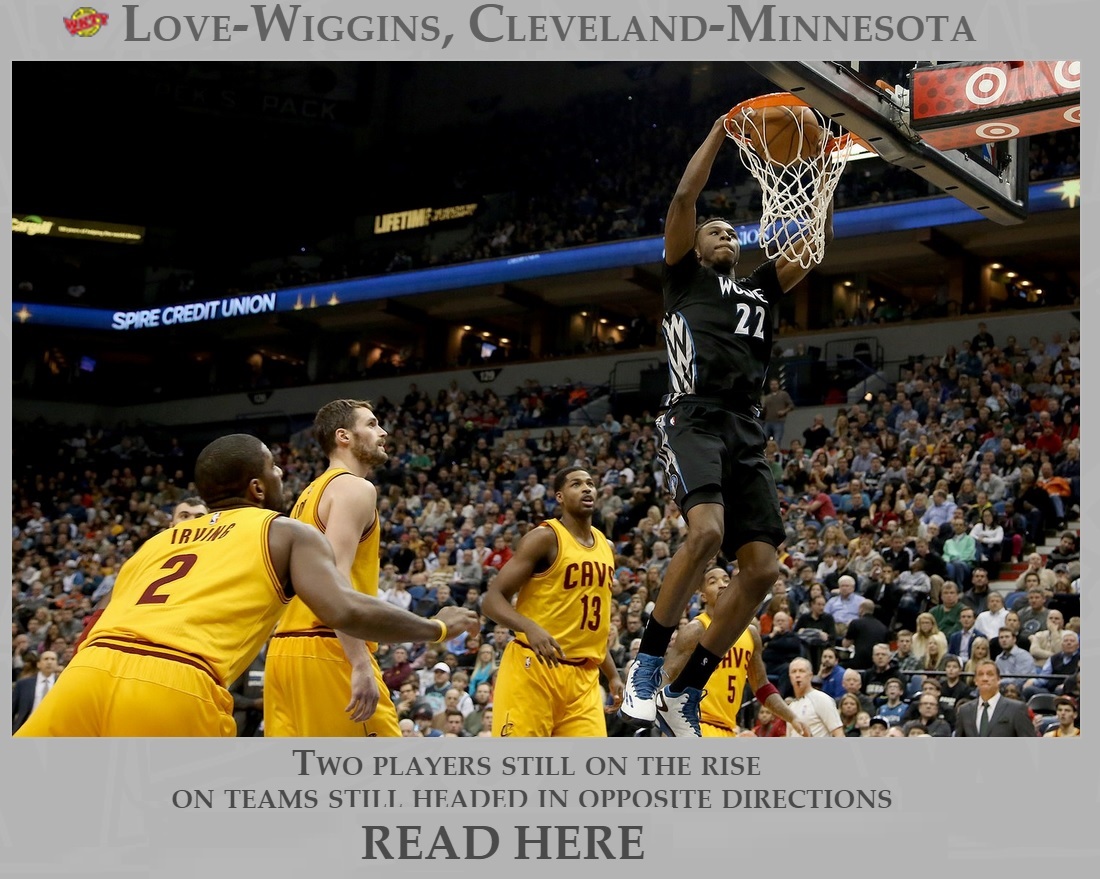 But the Timberwolves are far from a complete team, and while Wiggins would, time after time, score to tie the game or give his team the lead, James said enough was enough in the fourth.
A Wiggins layup from Gorgui Dieng – another piece of the Timberwolves' future – put Minnesota up 83-78. Cleveland went on a 28-12 run to close out the game, giving Love a win on his homecoming.
Please follow and like us: