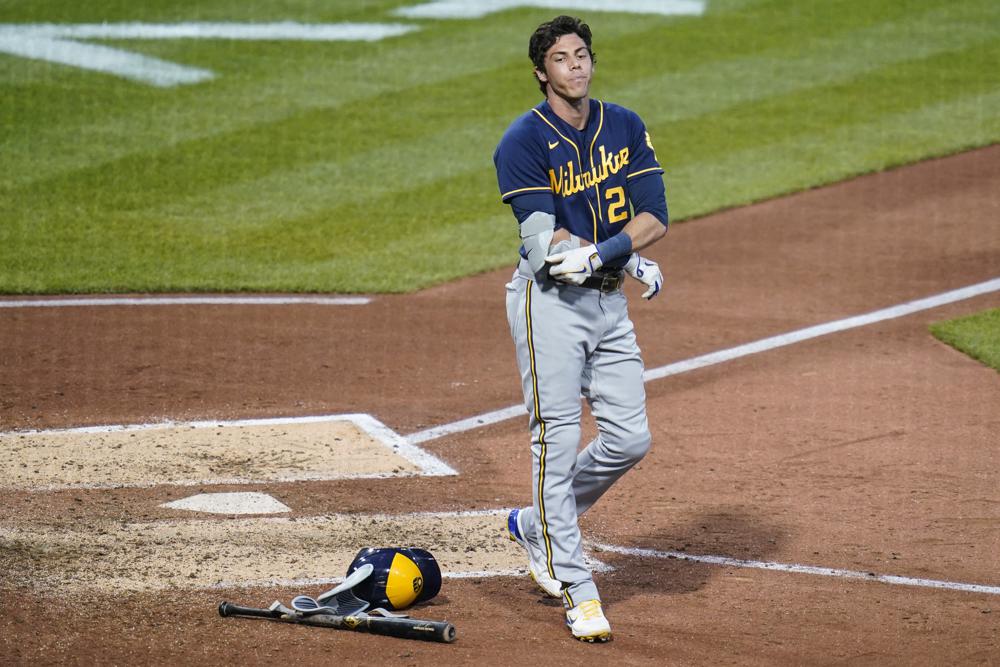 MILWAUKEE (AP) — The Milwaukee Brewers have operated the last handful of seasons under the philosophy that they want to contend for as long as possible rather than going all-in during a particular season.
---
Bob Uecker on the call for Brewers-Cubs on Opening Day, beginning with pregame on WKTY at 12:45 p.m. Tune in on 96.7 FM / 580 AM. WKTY Wisco Sports Show host Grant Bilse will be at Flipside Pub & Grill in La Crosse for a pregame party.
But a look at their roster indicates that championship window might not stay open much longer.
The Brewers' best two starting pitchers and their top returning position player all could become free agents at the end of the 2024 season. Craig Counsell, the NL's longest-tenured manager, has a contract that's set to expire after this season.
That makes this season particularly important as the Brewers seek the World Series berth that has eluded them since 1982. The Brewers also are trying to bounce back after they finished a game out of the NL's final wild-card spot last year, ending a franchise-record string of four straight playoff appearances.
The Brewers open the season Thursday afternoon against the Chicago Cubs at Wrigley Field.
"Whatever happens in the past is in the past," ace pitcher and 2021 Cy Young Award winner Corbin Burnes said. "We can't dictate what's going to happen in the future. 'Oh, you guys were on this run of making the postseason,' that ended last year. It's all about this year. It's all about where our feet are at and what we can do this year."
Counsell takes issue with the notion that the Brewers' potential future roster issues should add to their sense of urgency this season. As far as he's concerned, that motivation should be there every year.
"If you're a great player, you get 15 shots at winning a World Series," Counsell said. "So every season is a sacred season. Whatever situation is going on, you're very fortunate to have a uniform on and to have a chance to win a World Series, to have great moments in front of thousands of fans with a bunch of friends and brothers."
David Stearns, the Brewers' former president of baseball operations, often talked about getting as many "bites of the apple" as possible with the idea that multiple postseason runs increased the chances they eventually could win it all.
How many more opportunities the Brewers will have with this nucleus remains uncertain.
The list of Brewers who are arbitration-eligible for one more season after this one includes Burnes, two-time All-Star pitcher Brandon Woodruff and shortstop Willy Adames, who was voted by Milwaukee's Baseball Writers Association of America chapter as the team MVP each of the last two years.
And then there's the case of Counsell, who is entering his ninth season and became the Brewers' career leader in managerial victories last year. Counsell said his uncertain contract status doesn't make this season feel different to him than any others.
The signs of change around Milwaukee began last year.
Stearns, the architect of the Brewers teams that earned four straight playoff bids, stepped down as president of baseball operations in October. Matt Arnold, who had been Stearns' right-hand man during that run, has taken over.
One of Stearns' final major moves was to send four-time All-Star closer Josh Hader to San Diego at the trade deadline last year. Hader had one more year of arbitration left at the time of the move, the same position that Burnes, Woodruff and Adames find themselves in now.
The Brewers dealt Hader even though they were leading the NL Central at the time. If the Brewers have fallen out of contention by the trade deadline, who's to say they wouldn't deal another prominent player?
"We can't control what's going to happen at the end of the year," Burnes said. "We can't control what's going to happen halfway through the year. What we can control is going out, playing hard and playing with the group that's in the clubhouse, and that's what we're going to do."
The Brewers don't want to worry about what might happen in the future. Not when they see so much promise in the present.
"I wish we could stay together for the rest of our careers, because it's a really fun group," Adames said. "But, like you say, there's a lot of motivation. Obviously, we want to perform on the field and put up numbers. But I feel like at the end of the day, everybody has the same mindset, to win a championship. So I think as players we just want to have fun, enjoy our time together and try to win a championship together."
NOTES: RHP Adrian Houser will open the season on the injured list with a groin issue. Counsell said Houser likely will miss three weeks. … Counsell said utilityman Brian Anderson could get much of the playing time at right field early in the season. With Tyrone Taylor out for the start of the season with an elbow injury, the Brewers figure to have an outfield including Christian Yelich in left, rookie Garrett Mitchell in center and Anderson in right.
---
TOP PHOTO: FILE – Milwaukee Brewers' Christian Yelich (22) tugs at his padding as he reacts to striking out swinging for the last out of the top of the fifth inning of the team's baseball game against the Pittsburgh Pirates on Tuesday, Aug. 2, 2022, in Pittsburgh. (AP Photo/Keith Srakocic)