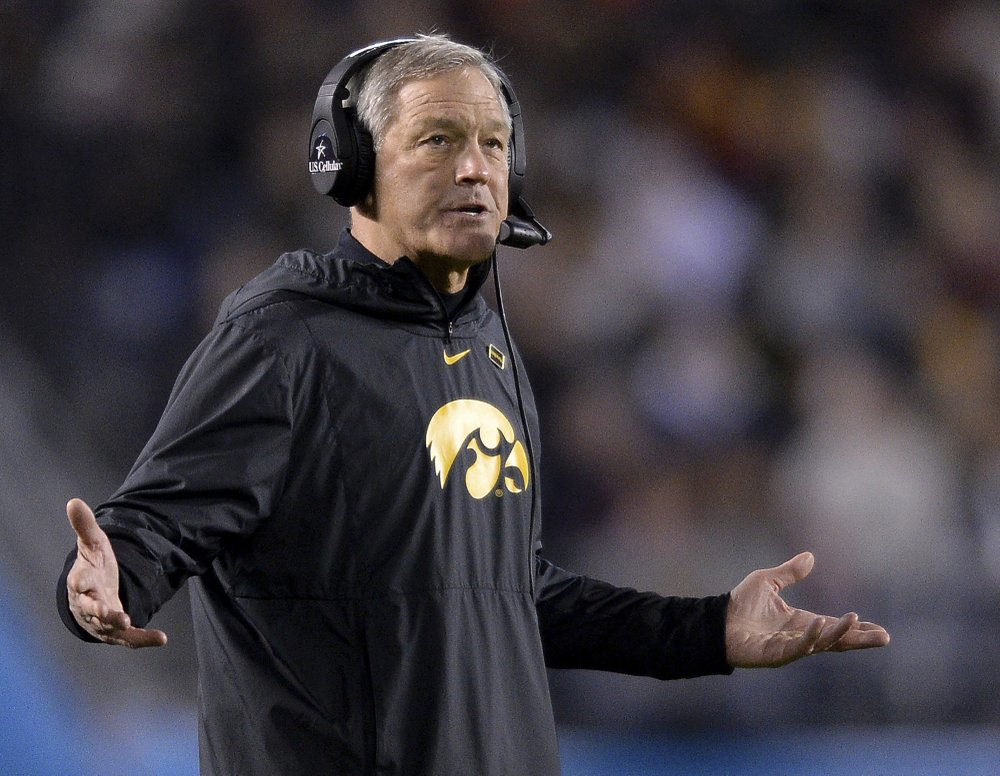 The attorney representing a dozen former Iowa football players who settled their racial discrimination lawsuit with the university's athletic department for over $4 million — half of which is coming from taxpayer funds — said Tuesday that Black Hawkeyes players will continue to be at risk of harassment "as long as Kirk Ferentz is in charge."
Attorney Damario Solomon-Simmons said in a news release his clients have been vindicated and he is pleased with the state Appeal Board approving the $4.175 million settlement.
The board voted 2-1 on Monday in favor of contributing $2 million in taxpayer funds. Board member and State Auditor Rob Sand voted down the proposal, saying the university's athletic department has the funds to cover the settlement.
"The broadcast deal brings tens of millions of dollars every year going forward," Sand said. "I don't know why they can't cover their own mistakes and pay for their own mistakes instead of having taxpayers do it."
Coach Ferentz said Monday he was "greatly disappointed" in how the matter was resolved. He said he and others named in the lawsuit believed "the case would have been dismissed with prejudice before trial" if it hadn't been settled and "there is no admission of any wrongdoing."
Solomon-Simmons said he was disappointed to see Ferentz continue to "claim that he and his coaches did nothing wrong."
A report commissioned and paid for by the athletic department "confirmed the racially hostile environment in his Hawkeye Football Program," Solomon-Simmons said.
The lawsuit filed in November 2020 involved former players including former star running back Akrum Wadley and career receptions leader Kevonte Martin-Manley. They alleged they were demeaned with racial slurs, forced to abandon Black hairstyles, fashion and culture to fit the "Iowa Way" promoted by Ferentz, and retaliated against for speaking out.
The players initially sought $20 million in damages plus the firings of athletic director Gary Barta, Ferentz and his son and offensive coordinator Brian Ferentz.
Sand agreed that Gary Barta should be fired.
"I can't imagine a private company that would still have someone at the helm after four discrimination lawsuits under that person's leadership," he said at his news conference Monday.
Barta has been Iowa's athletic director since 2006. In a statement to the Appeal Board, Sand noted four discrimination cases totaling nearly $7 million in damages under Barta's watch. The largest of those was $6.5 million to settle a lawsuit in 2017 over the firing of former field hockey coach Tracey Griesbaum. The money used to pay that settlement came from the athletic department, which does not rely on taxpayer funding.
In response to a request for comment from Barta, the athletic department sent a statement Monday attributed to him, saying the department "remains committed to providing an inclusive and welcoming environment for every student-athlete and staff member involved in our program."
"The Hawkeyes over-arching goal to win every time we compete, graduate every student-athlete that comes to Iowa, and to do it right, remains our focus," the statement reads.
State treasurer Roby Smith and Department of Management director Kraig Paulsen are the other two Appeal Board members.
Paulsen, before voting yes, said it's not up to the board to play a role in Barta's employment status.
"We're here to make a decision as to what's in the best interest of (Iowa) and it seems to me, upon the recommendation of the Attorney General, this is the wise decision to make," Paulsen said, according to Des Moines television station KCCI.
Barta, Kirk Ferentz, Brian Ferentz and former strength coach Chris Doyle were dismissed from the lawsuit last week, which signaled that a proposed settlement was imminent.
Doyle agreed to leave Iowa five months before the lawsuit was filed after widespread accusations that the longtime strength coach used his position to bully and disparage former players, particularly those who are Black. Iowa agreed to pay Doyle $1.1 million in a resignation agreement.
---
TOP PHOTO: FILE – In this Dec. 27, 2019, file photo, Iowa head coach Kirk Ferentz reacts during the second half of the Holiday Bowl NCAA college football game against Southern California. (AP Photo/Orlando Ramirez, File)