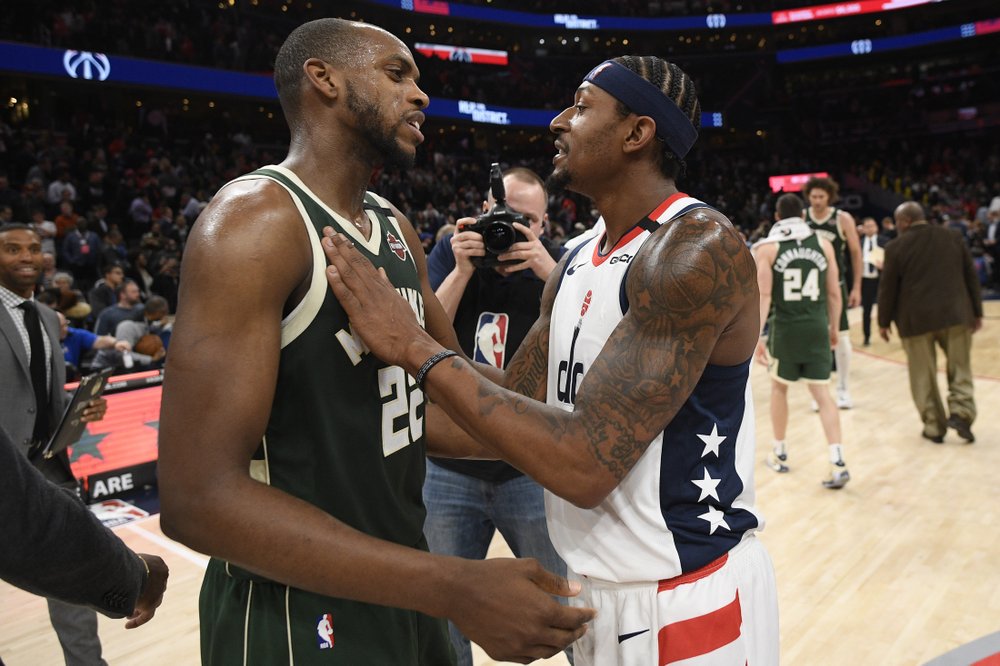 Bucks survive trap and Beal's 55 points as they head to Toronto for 2nd of back-to-back
WASHINGTON — It took overtime, and a 40-point night from Khris Middleton, for the Milwaukee Bucks to hold off the Washington Wizards 137-134 on Monday.
It was the NBA version of a trap game came, sandwiched between Milwaukee's two biggest rivals — they beat the Philadelphia 76ers on Saturday, and head to the Toronto Raptors on Tuesday.
That game can be heard on WKTY. Coverage begins at 6:30 p.m. on 96.7 FM / 580 AM.
Bradley Beal, coming off a 53-point game Saturday, had 55 more against the Bucks. He scored 22 of those in the fourth, and had a chance to win it at the end of regulation.
Instead, he found rookie Rui Hachimura wide open under the basket. With a second left, however, Robin Lopez — starting for his brother Brook who missed the game — blocked the shot and the teams headed to overtime.
Beal's effort, though, came on the day of Kobe Bryant's Memorial Service in Los Angeles. The 26-year-old shooting guard became the first player since Bryant in March 2007 to score 50-plus points on consecutive days.
"Oh man, that's crazy," Beal said. "Didn't know that. That's who Kobe was. That was his drive and that ceremony today just brought the feeling, the tears all back again."
Washington was down 17 before taking a 123-121 lead on Beal's 3 with 1:01 remaining.
In OT, Middleton got hot, scoring the Bucks final nine points, while Giannis Antetokounmpo sat on the bench, fouled out. Middleton's 3 with 30.2 seconds left gave the Bucks a 135-132 lead to seal it.
In 25 minutes, Antetokounmpo had 22 points on 8-of-12 shooting, to go along with 14 rebounds and eight turnovers.
The win tied Milwaukee with the Cincinnati Royals (81 games from Nov. 18, 1960 – Nov. 21, 1961) for the third-longest streak of 100-point games in NBA history.
---
TOP PHOTO: Washington Wizards guard Bradley Beal, right, meets with Milwaukee Bucks forward Khris Middleton (22) after an NBA basketball game, Monday, Feb. 24, 2020, in Washington. (AP Photo/Nick Wass)