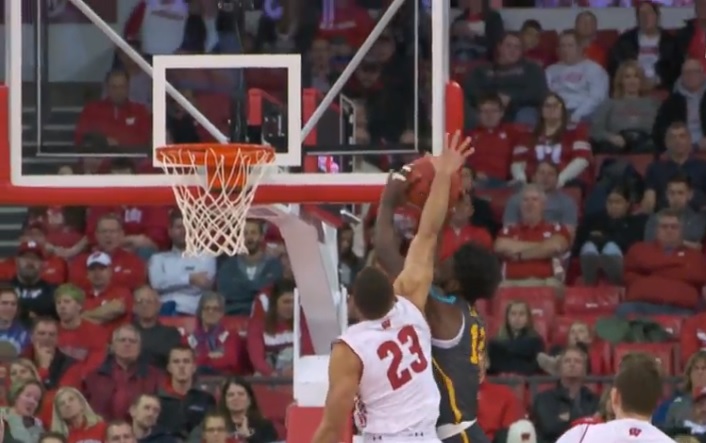 MADISON, Wis. (AP) — D'Mtrik Trice scored 21 points and Brevin Pritzl added 16 and Wisconsin upended Coppin State for an 85-63 win Tuesday night to open the season.
Ethan Happ recorded the second triple-double in program history with 10 points, 11 rebounds and a career-high 12 assists.
La Crosse native Kobe King, a redshirt freshman coming off fractured patella on his left knee last season, scored eight points on 3-for-6 shooting to go with four rebounds and this block:
Had King, who averaged 5.2 points last season, played one more game last season, he would have been ineligible for a medical redshirt.
Happ didn't score a basket until the 10:48 mark of the first half. Happ faced double teams nearly every time he touched the ball.
Pritzl capped a 20-2 Badgers run with a 3-pointer that gave Wisconsin a 26-13 lead with 9:37 to go in the first half.
Lamar Morgan scored 15 points, including four 3-pointers for the Eagles, who had 14 turnovers. Taqwain Drummond scored 11 points and had five rebounds.
Chad Andrews-Fulton scored six points, but went to the bench for a spell with his third foul with 17:42 remaining in the game.
BIG PICTURE
Coppin State: The Eagles aren't afraid of hanging out beyond the perimeter to find an open look. They shot 39 percent from the field from 3-point range, and six different players drained a 3.
Wisconsin: Pritzl scored 16 points off the bench, and reserves contributed 30 points overall. Trice, a point guard who played 10 games last season before breaking his right foot, received a medical hardship waiver for the 2018-19 season.
UP NEXT
Wisconsin plays Xavier in the Gavitt Tipoff Games in Cincinnati on Nov. 13. The Musketeers upended the Badgers 80-70 in the tournament last season.
Coppin State travels to Dayton on Saturday, for the second game of an eight-game road trip. The Eagles don't play their first home game until Dec. 3 against Maryland-Baltimore County.