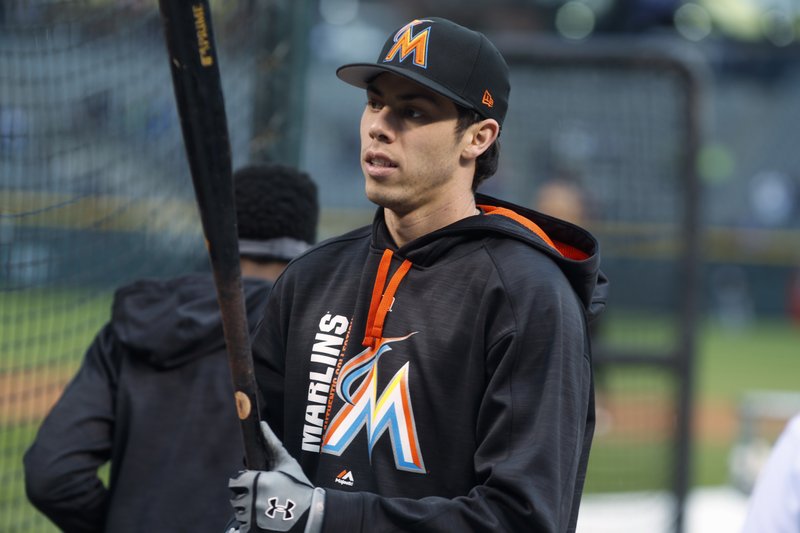 After Yelich trade, Brewers linked to flurry of moves, including biggest FA signing so far
It isn't often someone goes from Miami to Milwaukee and is happy about it.
Enter, Christian Yelich.
"Honestly, it was getting exhausting," the 26-year-old Yelich told reporters of the circus that Derek Jeter has brought to running the Miami Marlins. "I'm glad it's over and excited for the new opportunity."
Yelich, who is under team control for five years with $58.25 million remaining on his contract, was traded for outfielders Lewis Brinson and Monte Harrison, infielder Isan Diaz, and right-hander Jordan Yamamoto.
Brinson, 23, was Milwaukee's top prospect and the No. 7 outfielder prospect in all of baseball, according to MLB Pipeline. In 21 games for Milwaukee last year, he hit just .106/.236/.277.
Shortly after the Yelich trade, the Brewers signed free-agent outfielder signed Lorenzo Cain to a five-year, $80-million deal, according to ESPN.
After that, the team, now with a plethora of outfielders – Cain, Yelich, Ryan Braun, Domingo Santana and Keon Broxton – was rumored to be shopping Santana and Broxton for starting pitching, according to USA TODAY. Milwaukee has also been well linked to going after Yu Darvish, along with Chris Archer and Jake Arrieta.
The contract for the 31-year-old Cain will include a full, no-trade clause that will become limited in later years.
Since the Kansas City Royals did extend a qualifying offer to Cain, they will receive a third-round pick in 2018 as compensation from Milwaukee, according to the Milwaukee Journal Sentinel.
In 2004, the Brewers drafted Cain in the 17th round. He was later traded to the Royals as part of the Zack Greinke deal.
In eight seasons, Cain has hit .290/.342/.421 with 57 home runs and 127 stolen bases. He's also developed a reputation as one of baseball's best defensive outfielders.
The signing is the biggest free-agent deal so far this offseason.
Prior to Cain, no player had signed for longer than three years, with Carlos Santana receiving the largest sum at $60 million after inking a deal with the Philadelphia Phillies.
Santana, 25, hasn't hit arbitration and is under Milwaukee control until 2022. Last season, he broke out hitting .278/.371/.505 with 30 home runs and 85 RBI.
Phillips, in his MLB debut in 2017, hit .276/.351/.448 with four home runs in 37 games.
So far, the Brewers have signed Jhoulys Chacin and Yovani Gallardo, while Jimmy Nelson will miss the start of the season.
-RickSolem@580wkty.com