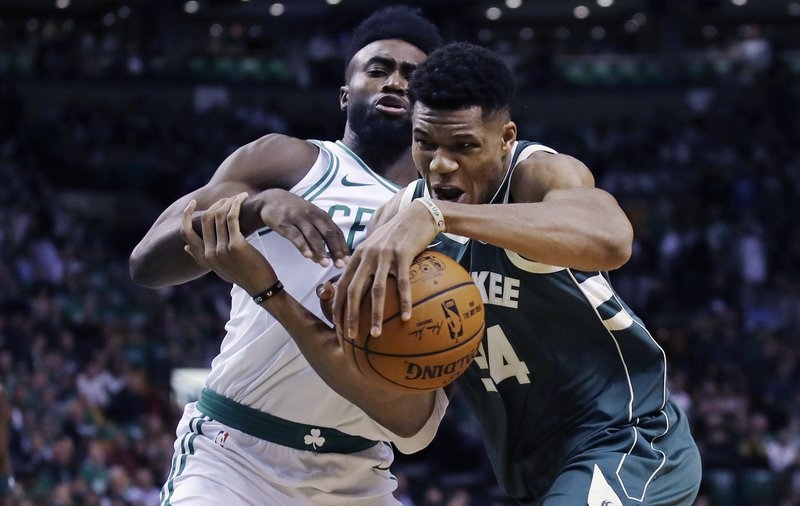 Giannis carries Bucks past Celtics with 37, bring on LeBron and Cavs
BOSTON — Giannis Antetokounmpo had 37 points. The Milwaukee Bucks spoiled the Boston Celtics home-opener with a 108-100 win. And next, bring on LeBron James and the Cleveland Cavs in Milwaukee.
The first two games for the Bucks season couldn't be any more intriguing and beating the two favorites to win the Eastern Conference to start the season could make a statement. The Cavs-Bucks game can be heard on WKTY, with pregame at 6 p.m.
Wednesday's win is a tad tainted, being the Celtics were a day removed from losing Gordon Hayward — possibly for the season — with a broken leg.
Antetokounmpo was 13-for-22 from the field and 11-for-13 from the free-throw line. His 37 was the third-highest total of his career. He added 13 rebounds, three assists, three steals but did have five turnovers.
The best plays from tonight's WIN in under 120 seconds!! #FearTheDeer pic.twitter.com/ZcGDBayRB4

— Milwaukee Bucks (@Bucks) October 19, 2017
Sophomore Malcolm Brogdon scored 19 on 6-of-10 shooting, including 3-for-5 from beyond the arc, while Khris Middleton added 15 points, nine rebounds and six assists.
Without Hayward, Kyrie Irving, opting to leave James for the spotlight in Boston, is now 0-2. Irving shot 7 of 25 from the field, 2 of 7 from beyond the arc in scoring 17. He had three assists and three turnovers.
Milwaukee pulled away in the fourth quarter, as Antetokounmpo did what Irving couldn't, putting the team on his back with 16 points in the finale frame. The Bucks went on an 11-1 run to take a 97-90 lead with just under 3 minutes to play.
Matthew Dellavedova scored 15 points, including the 3-pointer on a drive and dish from Antetokounmpo, with 45 seconds left after the Celtics cut the lead to two.
"I passed the ball to Delly," said Antetokounmpo, who had 16 of his 37 points in the fourth quarter— and the biggest assist of the game, as well. "And that's what Delly does."
Please follow and like us: