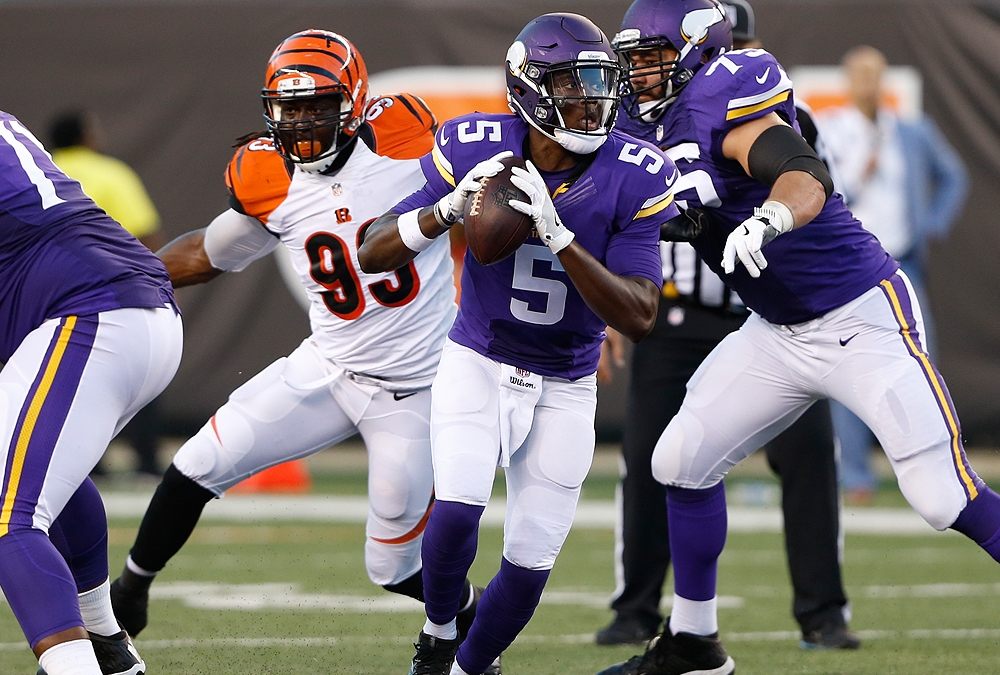 The 24-year-old QB may return to live action with Vikings
EDEN PRAIRIE, Minn. — Teddy Bridgewater has reached the point in rehabilitation where he's able to drop back to pass on his surgically repaired left knee.
Just when the 24-year-old quarterback might return to live action with the Minnesota Vikings remains largely unknown.
"Just hoping that eventually he'll be able to come back on the field, but that's still the unknown," said general manager Rick Spielman, who clarified Wednesday that Bridgewater has not been given the green light for full practice.
That's predictable, considering he's less than nine months removed from the dislocation, torn ACL and other ligament damage that occurred to his knee during a non-contact drill .
But the Vikings raised some optimism about Bridgewater's recovery Tuesday by posting to their website a 38-second, slow-motion video clip of him taking a handful of drop-backs and throws. Their first organized on-field offseason workout was closed to the media.
"We wanted to at least put something out there to show that this is part of his rehab," Spielman said.
With practice open to reporters Wednesday, Bridgewater was absent, attending a regularly scheduled appointment with his doctor, Spielman said.
"Very limited in what he's able to do at this point," Spielman said, "but it's progress."
Spielman declined to answer any questions about specifics, including whether Bridgewater was ahead, behind or on schedule or if there's hope of having Bridgewater take part in training camp.
What's next?
"Can he do a little bit more? I don't know where that's going. We'll just take it a day at a time," Spielman said.
Bridgewater has yet to address the media since his injury, leaving only a breadcrumb trail of cryptic Instagram and Twitter posts about his status. What's clear, at least, is his unrelentingly positive attitude.
"You almost have to hold Teddy back from doing too much because he's so diligent in what he's trying to get accomplished," Spielman said.
Resilient, too, considering the calamitous nature of the injury he suffered.
"Teddy is a tough son of a gun," offensive coordinator Pat Shurmur said.