Derrick Rose could help Bucks more than Bulls
Derrick Rose looks like the scariest name the Milwaukee Bucks will have to face heading into the first round of the playoffs.
But the return of the injury-plagued point guard may be a blessing in disguise for sixth-seeded Milwaukee, which plays No. 3 Chicago in Game 1 at 6 p.m. Saturday.
What? Why? Because all Rose's injuries started when he blew out his ACL in the first game of the first series of the 2012 playoffs. He hasn't seen the playoffs since. He even elected to sit out one postseason while his team was dominating.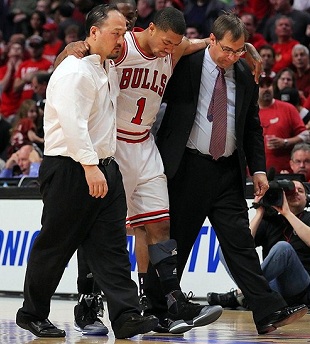 Coming into this matchup, he's going to want to do it all. Show everyone he's back. What Bucks fans should hope for is Rose tries to do too much, because he's not the key to beating Milwaukee.
In Rose's five games back from a torn meniscus on Feb. 25, he's shooting 37.3 percent from the field and 20 percent from beyond the arc, while turning it over 2.6 times and dishing out just 4 assists per game. And, he removed himself after 10 minutes of the regular-season finale because of knee soreness, though that's nothing to worry about, he says.
"It's nothing serious at all," Rose said after the game. "I'm just being cautious. I'm used to knee injuries and my knees being sore. It's just that it was the last game and we didn't want it to linger into a couple of more days."
So, we're in the midst of Rose Returns III. Hopefully, for Chicago fans, the last in the trilogy.
After tearing his ACL in those 2012 playoffs, he sat out the entire 2012-13 season – electing to play it safe and not come back for that season's playoffs while his team pushed the LeBron James-led Miami Heat to the limits (in five games). At the time, he was practicing in full.
Playing it safe and not playing for a year and a half got him nothing. Ten games into the 2013-14 season, he tore his meniscus, ending his season … again. Something he had to look back on as foolish, given how well his team was playing in those previous playoffs, while the Heat went on and won the NBA title. He should have played.
On Feb. 25 of this season, another torn meniscus. But, instead of playing it safe this time, Rose made a comeback five games ago and is determined to play in the postseason. How determined he is to stand out will be the key to the series.
If Rose tries to do too much, it may be good news for the Bucks. He could shoot the Bulls right out of the playoffs.
Milwaukee is 1-3 vs. Chicago this season. It is, however, hard to gauge those matchups. With Rose, the Bulls are 2-0 against the Bucks. Rose, however, was 1-for-13 from the field in one of those games (an 87-71 blowout). 

Milwaukee is 1-0 against Chicago with Michael Carter-Williams. But Rose didn't play in that one. 
OK, enough about Rose, he's not what the Bucks need to worry about. If Rose is good, they're done. If Rose defers to Pau Gasol, Joakim Noah, Nikola Mirotic and maybe even Taj Gibson, the Bucks are seriously done. 
Milwaukee may have the best defensive backcourt in the league. Carter-Williams, Khris Middleton and Giannis Antetokounmpo can wreak havoc on defense. Zaza Pachulia, Ersan Ilyasoa and John Henson, however, not so much. 
Gasol had a field day back in January, scoring 46 points on 17-of-30 shooting to go with 18 rebounds against the Bucks. Noah hasn't done much offensively, but when Rose is out, he's the facilitator, and everyone is involved.
Defensively, Noah and Gasol are also the key. With them, the Bucks can't get to the rim. They also have no consistent outside shooting. Middleton, Ilyasova O.J. Mayo and Jared Dudley are all just OK. Between them, maybe someone can get hot. That's what it's going to take. A couple hot shooters for more than a game. It hasn't happened all season.
Nothing comes easy in the playoffs. The lane isn't going to be open. Players are going to get fouled going to the basket. To win, the Bucks will need to be relentless going to the rim, and someone will have to get hot from the outside. That happens, an upset isn't out of the question. More likely to happen: Mike Dunleavy and Mirotic shoot the Bulls to a five-game-series win.
Please follow and like us: