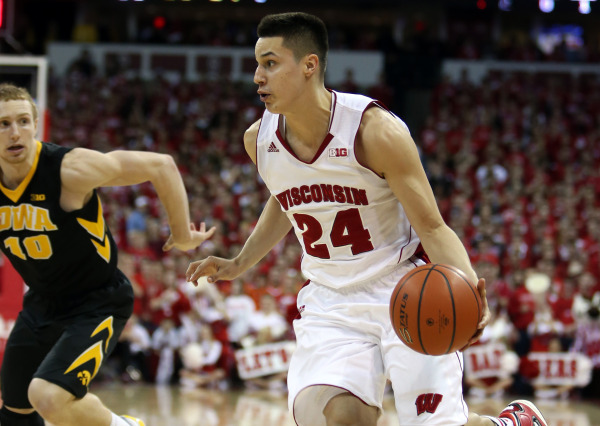 Koenig's third straight in double figures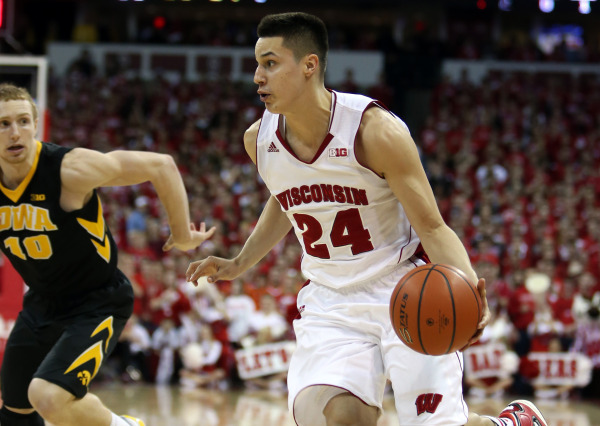 Badgers cruise past Iowa in

La Crosse native's third start
By RICK SOLEM
MADISON – Three starts, three double-figure games for Bronson Koenig.
The La Crosse, Wis., native had 13 points, going 3 of 6 from beyond the arc, as the University of Wisconsin men's basketball team walked all over No. 25 Iowa, 82-50 on Tuesday at the Kohl Center.
Koenig was 4-for-11 from the field and had three rebounds, two assists, a steal and no turnovers starting in place of the injured Traevon Jackson. As a starter, the sophomore is averaging 12 points a game. As a reserve, he was averaging 4.4.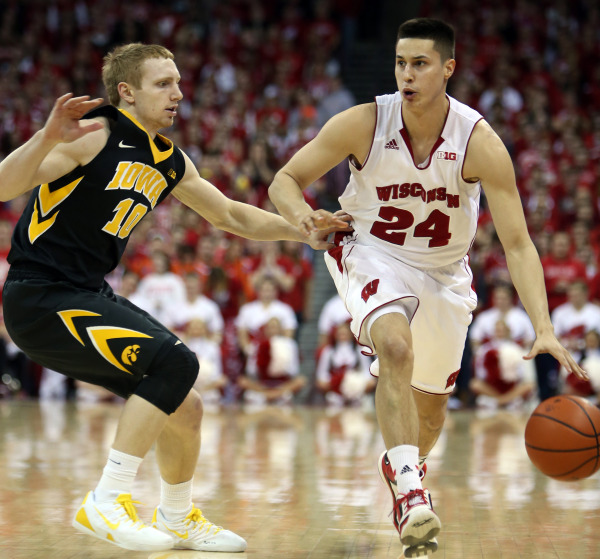 The sixth-ranked Badgers (17-2, 5-1) were up 35-17 at halftime. Despite the blowout, only seven players saw 18 or more minutes, led by Koenig's 34.
Wisconsin had one turnover, a team turnover. 
This is what coach Bo Ryan had to say about it: "One turnover? Come on. I thought our guys did an excellent job making the extra pass, using the ball fakes, and as long as Iowa lent wingspans and quickness, you have to give our guys a lot of credit. There (are) not too many times you can do that."
Three others were in double figures for the Badgers – Frank Kaminsky (13), Sam Dekker (17) and Nigel Hayes (16). Wisconsin shot 49.2 percent from the field and held the Hawkeyes (13-6, 4-2) to 43.5 percent.
Kaminsky led Wisconsin with six of his team's 16 assists on 29 field goals.
Kaminsky also had 11 rebounds to lead all players. Wisconsin had 37 boards – 15 on the offensive end. Iowa finished with just 23 – six offensive. Despite that, the two teams finished with nine second-chance points apiece.
Click here for the highlights from the Big Ten Network.
Please follow and like us: