Caledonia gets BOLD in state semis
By RICK SOLEM
The team is undefeated. The last 101 games, it's 96-5. It just beat last year's state runners-up.
For nearly the entire season, it's been the No. 2-ranked team in the class. In the last seven seasons prior, it's come away with five state championships. Since 2005, it's been to the state tournament seven times and the state championship, six.
Yet somehow, Caledonia High School football coach Brent Schroeder takes the humble route and makes it sound like his team is the underdog.
The 12-0 Warriors play 11-1 and seventh-ranked BOLD at noon Saturday in Eden Prairie, Minn. On the line, a trip to the University of Minnesota's TCF Bank Stadium and the Class 2A state championship berth – something Caledonia is all-too familiar with.
"They are the complete package," Schroeder said of BOLD. "They're very physical. They'll definitely play some smash-mouth football."
When asked about BOLD's top two running backs, who have 16 touchdowns between them, Schroeder described them, not as a thunder and lightning combination but, "they look like all thunder to me," he said. "And they both have decent speed. They're very physical backs."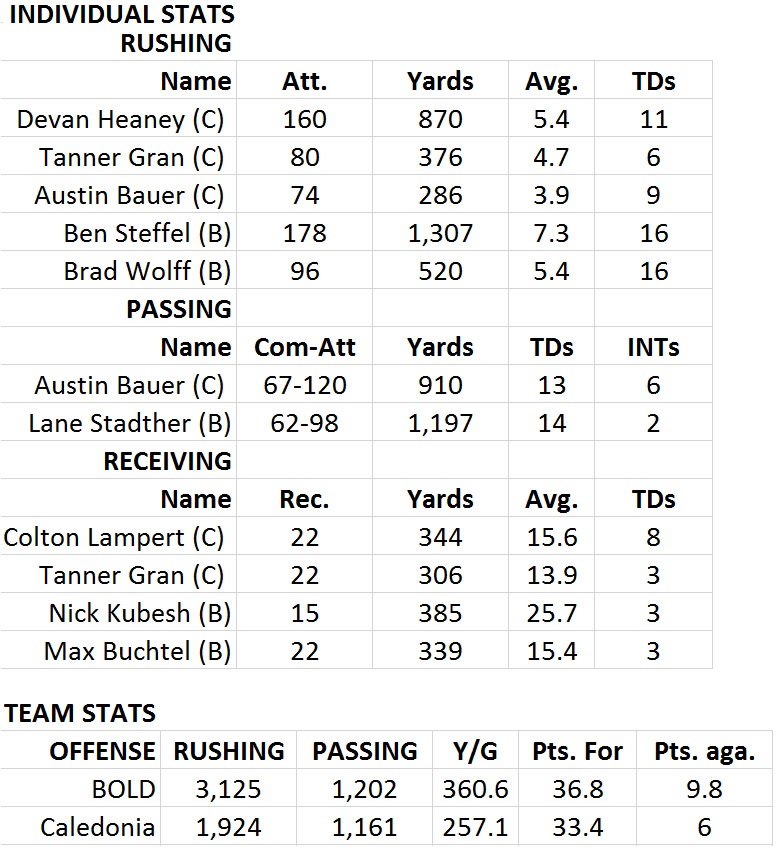 Senior Ben Steffel is the workhorse of the horses. The 6-foot-1, 195-pounder has 178 carries for 1,307 yards (7.3 avg.). His 6-2, 215-pound counterpart, junior Brad Wolfe, has 520 yards (5.4 avg.).
"Offensively, I think they probably feel good," Schroeder said. "They have us out-sized, so I'm suspecting they think they're going to win on the line of scrimmage and we have to find a way to top them."
The key to what Schroeder said, there, was "they think they're going to win…"
Because, yes, they may be out-sized, but teams don't beat Caledonia on the line of scrimmage.
That was evident in the quarterfinal against Maple Lake, when it was going for the lead on the Warriors late in the third quarter.
Maple Lake's Cal Redemske is a 6-foot-2, 210-pound grind-you-down RB that came in with 235 carries for 1,361 yards and 17 TDs. Everyone knew he was getting the carry on the two-point conversion. He did, the Warriors stuffed him, maintained the lead and here they are, back in the state semifinals after a year off.
As for the underdog, it's not just how Schroeder spins it. Caledonia also looks like the underdog statistically, because it has no standouts on offense.
Devan Heaney leads the team in rushing with 870 yards (5.4 avg.) and 11 TDs. Nobody else is even close to BOLD's second-leading rusher.
"What we're creating in Caledonia is a better athlete than everyone else and teaching our (players) the game of football and to love the sport," Schroeder said. "We really don't care about stats in Caledonia."
If there was a go-to guy on the team, it would be quarterback Austin Bauer. Not so much in putting up ridiculous numbers, but in terms of leadership and setting an example.
"He's kind of the brains behind the operation offensively and defensively," Schroeder said. "I shouldn't say brains, but more the commander and chief. He knows where every single guy, offensively and defensively, where they're supposed to line up, what they're supposed to be doing. That's a compliment to that kid and what a smart ballplayer he is."
And everyone else just falls into line.