NBA: Eastern Conference preview
By RICK SOLEM
15. Philadelphia 76ers
The problem with the Sixers' strategy is setting in a losing mentality. With Hollis Thompson and Henry Sims in the starting lineup, this team is a joke. If the NBA can veto a 
New Orleans-L.A. Lakers trade
, then it should step in here. Hopefully losing doesn't kill Michael Carter Williams or Nerlens Noel's psyche. K.J. McDaniels could also emerge as an NBA bench player … starting on this team.
14. Indiana Pacers
Paul George is out for the season, Lance Stephenson signed with Charlotte for less guaranteed money as an F.U. to Indiana. David West – already injured – most likely gets traded, and Roy Hibbert probably does, too. They have nobody at shooting guard to start the year, or point guard, and C.J. Miles is the starting small forward. It's ugly. They could compete with Philly for the worst record.
13. Boston Celtics
Here's another team that doesn't want to win, but the roster as it is, isn't terrible. Minus Kelly Olynyk at C, everyone here is a solid player. If they're here. The problem, nobody is great, which is why they'll lose and want to lose. Rajon Rondo is likely traded, which is sad for Boston (video below) and probably Jeff Green. Avery Bradley and his new $32 million needs to turn the corner.
http://youtu.be/j-9w_a464No
12. Orlando Magic
They're slowly turning themselves into solid team, but kind of like Minnesota in the West, they don't know if they're coming or going. They trade Arron Affalo in the offseason, an obvious 'tank' move, but then sign Ben Gordon and Channing Frye? OK, Gordon helps them lose, but Frye for four years and $32 million is lot for a 31-year-old 3-point shooting center that doesn't fit the roster. Elfrid Payton is a great pick at PG and combined with rookie Aaron Gordon these two could shine in a few years. Tobias Harris is slowly becoming a disappointment and in a contract year.  
11. New York Knicks
How this team is predicted to hover around .500 this season is baffling. They're worse than last year. Jason Smith and Samuel Dalembert start in the front court with Amare Stoudemire coming off the bench. Jose Calderon replaces the atrocious Raymond Felton last year. He's an upgrade, but not by much. Iman Shumpert and J.R. 'selfish' Smith (
read this garbage
) are the SGs. This team is a joke led by the most overrated player in the league, Carmelo Anthony.
10. Milwaukee Bucks
This is the most promising team in the NBA, but still years away from winning. Plus, the Bucks may actually have too many good players, if that is even possible for a team that won 15 games last season. But it's true. What the Bucks need to do is figure out who they want to develop and go with it. If Giannis Antetokounmpo is going to play PG, then do it. That gives Kris Middleton more minutes and maybe he re-signs in the offseason, but it also sends Brandon Knight, another free-agent, out the door. Larry Sanders should be back this season and flourish – when not in foul trouble – but where Ersan Ilyasova and John Henson fit in with Jabari Parker playing PF at just 235 pounds, is another question. Parker can't defend PFs, but, in turn, they won't be able to keep up with him. Or that is the hope.
http://youtu.be/GlUthrQbF_c
9. Miami Heat 
They signed Josh McRoberts to replace LeBron James and that's all you need to know. Chris Bosh doesn't care James is gone, he's going to carry this team, like he did Toronto five years ago, apparnetly. Problem is, that was five years ago. Bosh is 30, doesn't rebound, doesn't have a PG to get him the ball in pick and rolls and doesn't post up. He's the softest PF in the league. But he'll put up some stats, because Dwayne Wade won't play the entire year, like he says he wants, and newcomer Luol Deng always gets injured. It could be ugly, but this is the East.
8. Brooklyn Nets
This may be the most injury-prone team. The starters: Kevin Garnett (38 years old), Joe Johnson (33), Andrei Kirlenko (33), Deron Williams (30, but may as well be 52) and Brook Lopez (26, but is already injured). The frontcourt can withstand some injuries with Mason Plumlee and Mirza Teletovic, while Jarrett Jack (31) backs up D-Will, but that's where the bench ends. They've put a lot of stock into five players that don't stay healthy.
7. Toronto Raptors
Kyle Lowry is coming off his best season, which was , of course, a contract season. He's paid now, so he'll likely drop off. Jonas Valanciunas is developing into a great C. Their PFs – Amir Johnson, Patrick Patterson – are junkyard dogs. DeMar DeRozan is solid in the backcourt, but can't shoot. He's unselfish, however, and that's always a good thing. James Johnson could be a sneaky good signing for them. Between Terrence Ross and newly-signed Louis Williams, one has to pan out … maybe?
6. Charlotte Hornets 
Getting Lance Stephenson was a godsend. He allows PG Kemba Walker to do what he does best: shoot. Stephenson and Michael Kidd-Gilchrist make for a deadly combination on defense. Al Jefferson gave Miami a run for its money in the playoffs, despite being injured, last season. Everything will run through him. They don't have enough shooters around him, however. Marvin Williams at PF isn't awful in that regard. Cody Zeller needs to turn the corner this season or he's another bust drafted by Michel Jordan.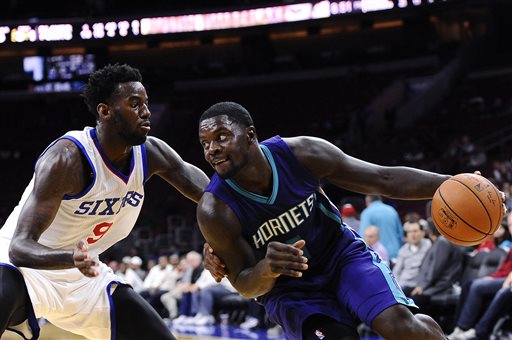 5. Atlanta Hawks
Al Horford is back, Paul Milsap led this team to the playoffs alone last year. Those two combined, with Kyle Korver bombing away and Demarre Carroll doing all the little things will be deadly. And getting all that going, Jeff Teague, an up-and-coming PG that can drive, shoot and distribute. The starting five are solid, the bench is somewhat thin, however. Pero Antic is some muscle at C and Thabo Sefolosha maybe just needed a change of scenery from OKC.
4 Detroit Pistons
New GM/coach Stan Van Gundy may be the best move this offseason next to LeBron James. Brandon Jennings and Josh Smith need a coach that will help them learn shot selection. That's all that's needed for those two to be all-stars. OK, Jennings will never be an all-star, let's be real. Andre Drummond is one of the best young centers in the league and Van Gundy could take him and Detroit to the next level. They're light at small forward – signing Caron Butler wasn't the answer – and shooting guard, until Jodie Meeks comes back. His injury could be good, in letting sophomore Kentavious Caldwell-Pope develop. It all revolves around Van Gundy, though, and that's a good thing.
3. Washington Wizards
The off-season signings, like Paul Pierce, were smart. This team needs Bradley Beal to come back to make a push to the conference finals, though. Combined with John Wall, they make up the best backcourt in the East. John Wall could be the best PG this season. His offense continues to improve and nobody is better on defense. If sophomore Otto Porter Jr. makes a leap, the conference finals may just be a stepping stone.
2. Cleveland Caveliers
They have no center, no rim protector. Anderson Varejao is a great fit for what Kevin Love and Kyrie Irving will be chucking at the basket (combined 44% FGs last season). And he can shoot well enough from 15 to give LeBron James room in the lane to drive or post up. But, Varejao will be injured. And Tristan Thompson isn't the answer when he goes down. And Brendan Haywood certainly isn't. Shawn Marion is a great fit for this team, but after that, they're thin. Irving, also, hasn't been the most healthy in his career. Nobody likes Dion Waiters, except James, and that's all you need to know. The key is how Irving plays PG – selfish or a distributor.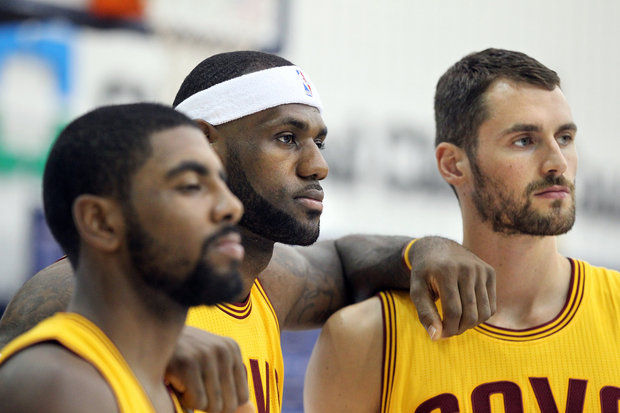 1. Chicago Bulls
This team won 48 games while trying to tank last year. They lost Rose 10 games in, traded Deng soon after and it backfired to a degree. They got better, thanks to Joakim Noah playing point-center. Rose is back, Pau Gasol was added, along with rookie Doug McDermott, who hasn't shown anything yet. Jimmy Butler should have a breakout campaign (in a contract year). They can afford to lose Gasol or Noah – who are prone to injury – with Taj Gibson and Nikola Mirotic backing them up. They've proved they can lose Rose and win. Now they have to prove they can win with Rose, who needs the ball in his hands – which takes it out of Noah's and Gasol's hands. If they're smart, that doesn't happen. Rose can play the slasher without the ball.
Please follow and like us: