Michigan coach credits career to years at Logan
Mattison coached last unbeaten Rangers team back in '75
By RICK SOLEM
He's Wisconsin native. He's a UW-La Crosse graduate. He's coached for Notre Dame, won a National Championship with Florida, went on to the NFL and is presently the defensive coordinator at the University of Michigan.

But Greg Mattison gives all the credit to his illustrious career to one of his first jobs, the head coach of La Crosse Logan High School's football team. That 1975 squad was the last time the Rangers went undefeated, headed by their 25-year-old coach Mattison. 
"I look back a lot of times and say they coached me, they helped me be a coach," Mattison, 64, said. "I've been fortunate enough to go on from there and have some great experiences, but it all started there. They're the group that gave me the opportunity to do this."
This year's Rangers are 9-0 heading into the WIAA Division 3 playoffs at 7 p.m. tonight against Antigo (4-5) at Swanson Field in La Crosse. 
Coach Mattison had a message for them: "Tell my Rangers, the best of luck. I'm proud of those guys. That's awesome (they're undefeated)."
It was a long time ago, coaching Logan back in 1974-75, his second gig as a head coach. The team he took over went undefeated the season before.
"I quickly showed what a great coach I was by going 5-4 in a hurry," Mattison joked of his first season.
The next year, however, was his springboard to bigger things, and Mattison remembers like it was yesterday.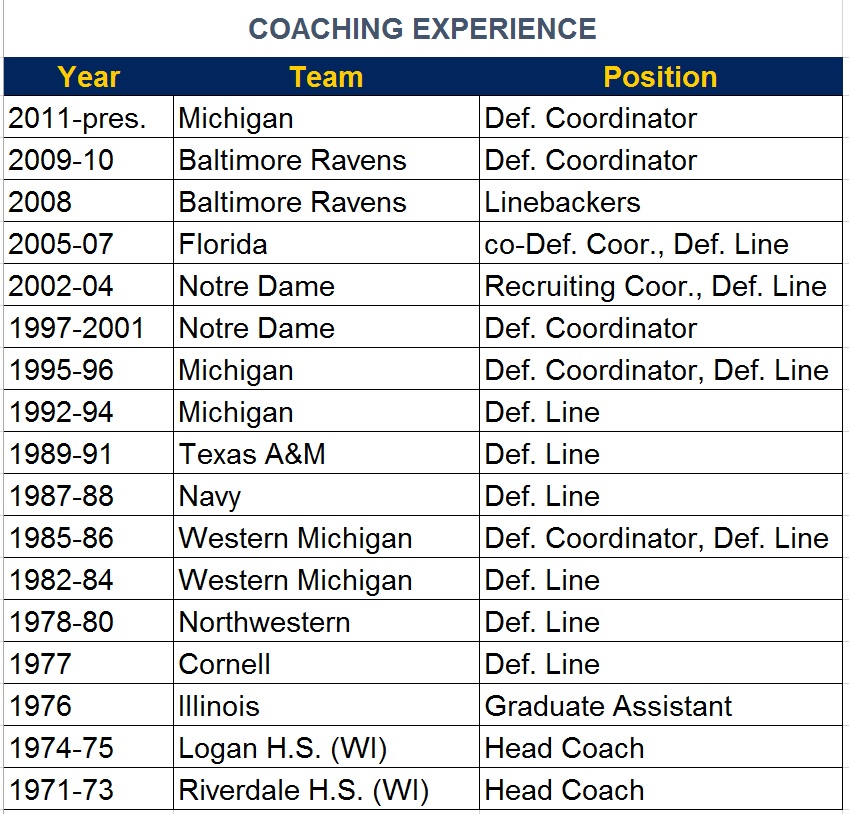 "It's kind of different, seeing as how I've coached so many young men," he said, "but that group will always stand out in my mind because of the resolve they had."
Mattison, who played for legendary UW-La Crosse coach Roger Harring and graduated in 1971, never thought about coaching as a career until his experiences at Logan.
"Ironically, it was because of the guys on that team that allowed me to get the opportunity to coach major college football," he said. "In my mind, I never dreamed of doing this. I never had that as a goal … but we had two twins by the name the Hauser brothers.
"Some major college coaches scouted them. As they would come, they mentioned to me, 'You outta think of becoming a college coach.' My first reaction was, 'I don't want to do that. I don't want to be a graduate assistant somewhere and start all over.'"
But Mattison's wife knew better, since her husband was obsessing over, not school, but football.
"My wife was the one that really said I should do it. She was in charge of student teachers and she would come around and say, "You're always working on football and never working on student teaching.'
"So we decided to go into college football and it all came about because of La Crosse Logan."
COACH MATTISON'S Bio (click here)
Age – 64
Date of Birth – Nov. 15, 1949
Hometown – Madison, Wis.
High School – Madison East
College – Wisconsin La-Crosse (1971, physical education)
Family – Wife Ann, daughter Lisa and son Bryan
Bowl Experience (18) – Texas A&M: 1989 John Hancock Bowl; 1990 Holiday Bowl; 1992 Cotton Bowl. Michigan: 1993 Rose Bowl, 1994 Hall of Fame Bowl, 1994 Holiday Bowl, 1995 Alamo Bowl, 1997 Outback Bowl , 2012 Sugar Bowl, 2013 Outback Bowl, 2013 Buffalo Wild Wings Bowl. Notre Dame: 1997 Independence Bowl, 1999 Gator Bowl, 2001 Fiesta Bowl, 2004 Insight.com Bowl. Florida: 2006 Outback Bowl, 2007 BCS National Championship Game, 2008 Capital One Bowl.
All-Conference Players – 2013: Blake Countess (All-Big Ten first team), Frank Clark (All-Big Ten second team). 2012: Jordan Kovacs (All-Big Ten second team), Craig Roh (All-Big Ten second team), Jake Ryan (All-Big Ten second team); 2011: Mike Martin. 2006: De Ray McDonald (All-SEC first team), Jeremy Mincey (All-SEC second team).
All-Americans – 1996: William Carr (Michigan). 1993: Sam Adams (Texas A&M).
Please follow and like us: