Packers' Nelson a bargain, considering
Vikings, Falcons lock up old, unproven
By RICK SOLEM
The Green Bay Packers got a bargain this weekend when it signed Jordy Nelson.
Not a bargain considering his $4.4 million salary last season, but a bargain compared to the deal the Minnesota Vikings just inked for tight end Kyle Rudolph or the Atlanta Falcons gave Roddy White.
The difference when considering the three deals? Nelson is 29 and in his prime, White is 33 and on his way out and Rudolph is 24 and still has something to prove.
Who would you rather have? The answer is fairly simple: Nelson will make $8.6 million a year, Rudolph, $7.3 million and White $10 million.
On the first day of training camp practice, the Packers signed Nelson to a four-year, $39 million contact – $14.2 million guaranteed – with an $11.5 million signing bonus, according to NFL.com.
"Now he can buy all the land in Kansas," Aaron Rodgers told the Associated Press. Nelson is a Kansas native who went to Kansas State.
Sunday, the Vikings gave Rudolph a five-year extension worth $36.5 million – $19.4 million guaranteed.
Late last week, the Falcons signed White for three years, around $30 million with $18 million guaranteed, according to ESPN's Adam Schefter.
All three players are talented and NFL contracts usually end two years before they're up, but the White deal one that looked like it would hurt the Packers ability to lock down Nelson.
Signing a 33 year old for that much money could only mean Nelson's $10-million asking price would surely escalate. It didn't.
Nelson will make Pierre Garcon-Victor Cruz money and, if you were to pick between any of those players, most would pick Nelson without blinking.
Rudolph's deal is for less and he's younger, but he hasn't eclipsed 500 yards in any of his three seasons – he only played eight games last season because of a broken foot.
There is also the Christian Ponder factor to make up for those numbers, but then you can't argue for Rudolph because of his nine-touchdown season in 2012 – a year Ponder targeted Rudolph 93 times for 53 receptions.
White has been one of the most productive receivers in the NFL since 2007, but he was limited to 13 games because of a hamstring injury last year that saw him produce just 711 yards and three touchdowns. Before that, you could mark him up for 1,300 yards and eight TDs a year.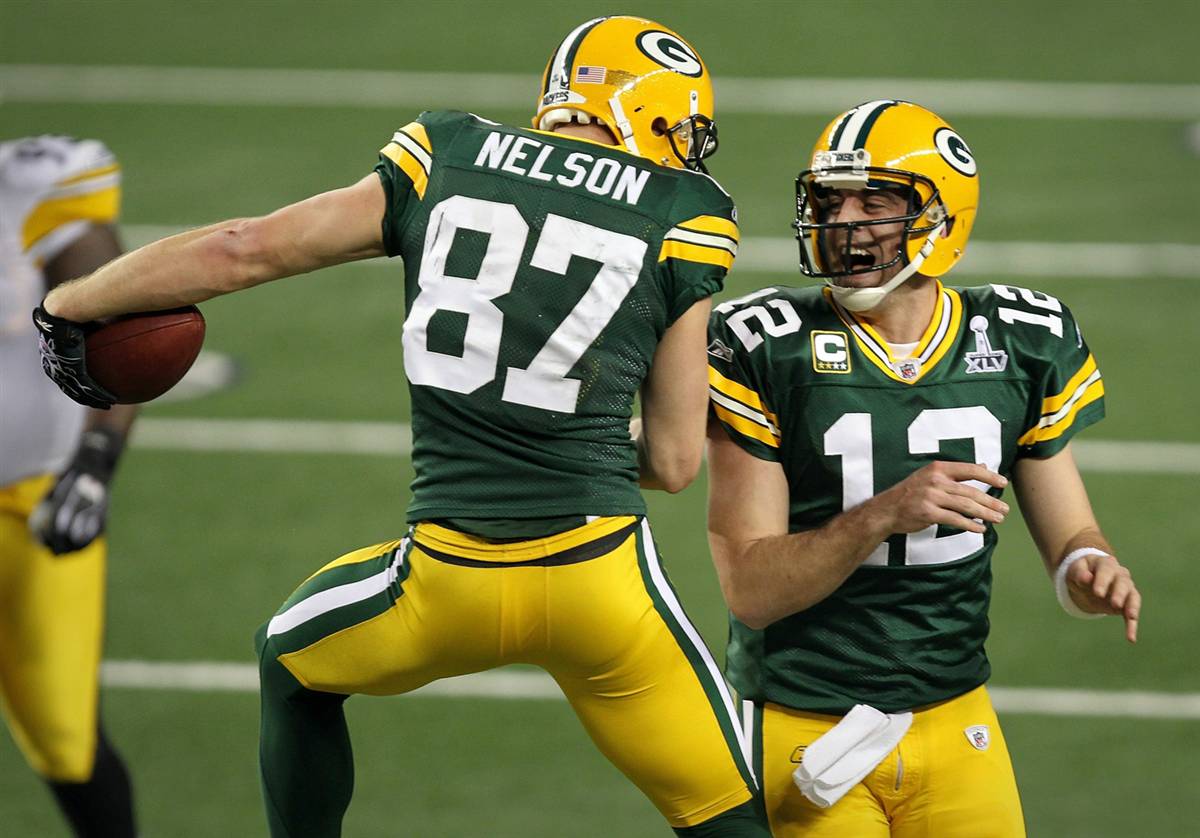 And that's precisely what the Packers are hoping – expecting – Nelson will produce over the next four years. Last year he proved he could beat double-teams as a No. 1 wideout with Randall Cobb and Jermichael Finley injured – not to mention Aaron Rodgers.
He missed four games in 2012 because of a hamstring injury, which slowed him for another two games prior to that. In between that season, he had a 1,263-yards, 15 touchdowns in 2011 and 1,314 and eight last year.
There's little doubt the sure-handed Nelson will produce – unlike the questions that surround White's age/injury and Rudolph's development or, moreover, the development of the Vikings' passing game.
The question now, can the Packers re-sign Randall Cobb?
Please follow and like us: